Outdoor kitchens are very interesting with designs that look extremely beautiful. Cooking amidst nature, listening to the birds chirping, make cooking enjoyable. In a country like India, you can make an outdoor kitchen in the spring or autumn season when the weather is not too cold or too hot. 
Such seasons make you feel like cooking outdoors. Sometimes shifting your kitchen outdoors relieves you from the boredom and monotony of cooking in the same kitchen inside your home. 
Outdoor kitchen is made in such a way that it is not very difficult to shift anytime. You can choose different themes for your outdoor kitchen ideas that are on a budget. 
You can give an aura of rustic look to your outdoor kitchen or a modern design, looking sophisticated. But instead of getting it built by a professional which is expensive you can choose some DIY outdoor kitchen ideas that will look amazing and will be on a budget.
Outdoor kitchen is normally temporary for shifting your mood or for having a change in your cooking from your regular indoor kitchen to an exciting outdoor kitchen built. 
Try to build your outdoor kitchen in your unused backyard or in your garden. Make it in such a way that it will be portable and easily shifted when you want to move back to your normal indoor kitchen. 
The DIY outdoor kitchen ideas are very creative and on a budget that will make you shift your kitchen instantly outside.
Some Creative Diy Outdoor Kitchen Ideas under Budget 
These DIY outdoor kitchen ideas which are on a budget will make you love cooking. You will try to spend most of the time in your newly built outdoor kitchen.
Outdoor Kitchen In An Unused Wall
Build an outdoor kitchen in your backyard. You may have a wall that you have not been using recently. Such a spare wall is the best DIY outdoor kitchen idea that is fully within your budget.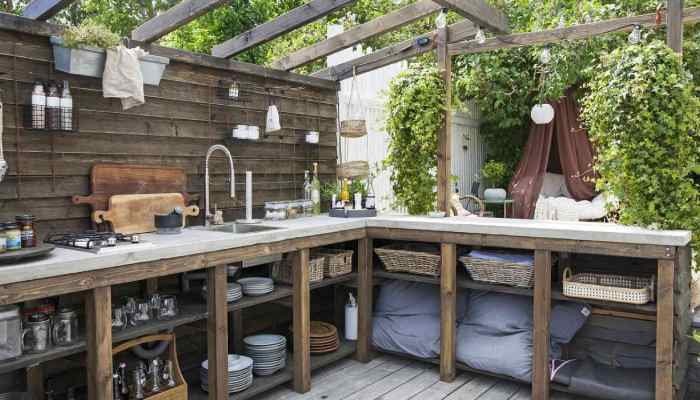 You can make a cabinet where you keep the kitchen appliances with a single gas oven on the top of it. This mini outdoor kitchen looks extremely gorgeous within your budget.
To make your kitchen more decorative try apply these G shaped modular kitchen designs on your outdoor kitchen.
Pergola Kitchen 
Pergola is a perfect idea for an outdoor kitchen which is also on a budget. You can build a beautiful design pergola and under it make your amazing kitchen. 
You can decorate the pergola with some vines and flowering plants to give it a greenery look. This pergola kitchen will provide shade from the extreme heat of the sun as well as protect you from drizzling.
Here are some decorative pergola designs for balcony in India which you can try it with kitchen. 
Window Side Outdoor Kitchen 
It is a great DIY outdoor kitchen idea which is also in your budget. This budget-friendly window-side kitchen looks unique and classy. You can place a movable rack, which moves on wheels. 
This movable rack can be carried away when you plan to shift your kitchen. You can keep the necessary kitchen appliances on this rack with an induction cooktop. 
You can use the window for easily passing the various commodities through the window. You can use the window also for taking power from the plug of the room attached to that window. 
The window sunshade will act as a shade to your mini kitchen, preventing you from rain and heat. 
Bamboo Outside Kitchen 
you can construct an outdoor kitchen with bamboo which comes at an affordable price. To give a rustic look you can cook on charcoal. You can use some bamboo utensils to make your outdoor kitchen more stylish.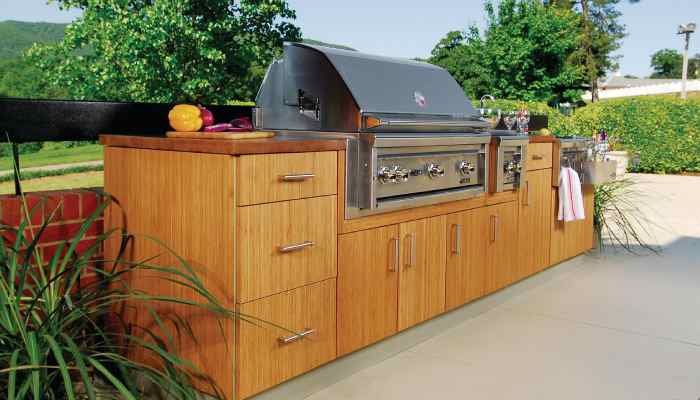 Rooftop Kitchen 
Such DIY outdoor kitchen ideas have a different elegance which is too on a budget. You can place a big umbrella and make your unique kitchen just under it. Place some decorative items to make it more attractive. 
You can mount a shelf on the wall of the terrace and place a table below it. The table will be used for cooking purposes and the shelf for keeping the necessary kitchen items. 
You can also put a mini refrigerator for your comfort. And arrange a dining area in one part of it. After cooking your meal, the whole family can enjoy lunch or dinner under the open sky.
If you believe in vastu and want to make your kitchen accordingly then read here – Which color is best for kitchen slab according to vastu?
Stainless Steel Kitchen 
This type of idea with stainless steel is used for outdoor kitchens and it is also on a budget. You can use a stainless-steel top with the four sides partially closed with the steel.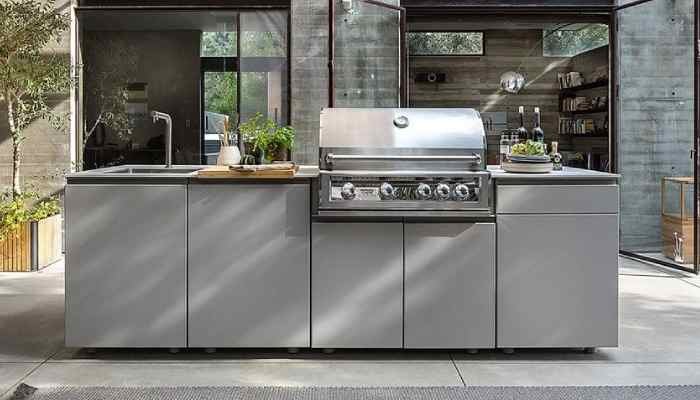 You can add beauty to this outside kitchen with various modern kitchen appliances such as a refrigerator, mixer and grinder etc. You can also keep a grill for preparing grilled dishes. 
You can use decorative lights for using this outdoor kitchen during the evening.
Concrete Outdoor Kitchen 
Making a kitchen with precious stones like marble, and granite is very expensive. Making your outdoor kitchen with concrete is a great DIY outdoor kitchen idea on a budget that really sounds impressive.
You can build your outdoor kitchen with concrete, which is like cement. The concrete walls give an aesthetic look to your outdoor kitchen.
Concrete is also a very strong substance that will resist rain and heat. You can decorate it with some crafts.
These various DIY outdoor kitchen ideas are on a budget to make your outdoor kitchen a style icon. Use these various innovative ideas to build a new outdoor kitchen and experience a new style of cooking.
Considering Reading:-