A balcony is an integral part of exterior designing. Decorative Balcony gives an aesthetic look, making you connect closer to nature. It is the center of attraction of a house by making it look mesmerizing with different pergola designs. The concept of the Pergola was prevalent for many centuries back. 
It is used as a passage for walking or dining or as a resting place in the garden, balcony, or terrace area. Imagine a pergola as an outdoor chamber. It is a decorative shade made with mostly timber or glass or iron with pillars for supporting the structure or frame.
Pergola plays a vital role in decorating your balcony to make it a cozy place for spending quality time with your near and dear ones. Pergola also provides shade to your balcony, preventing you from heat due to warm weather.
Best Materials for Pergola Design
Pergola Designs in pressure treated lumber – Pressure-treated pergola design is the best option to choose if you are seeking a beautiful pergola design at a lower price.
They last for a couple of years; however, they can form cracks over time. You can paint such a pergola that matches the color of your balcony for more fancy.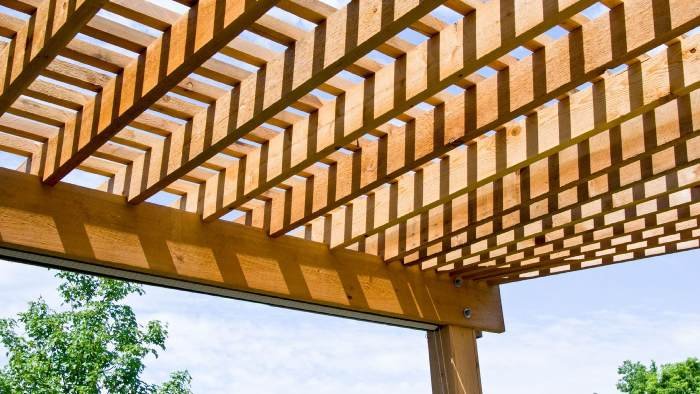 Pergola designs in Cedar – Cedarwood Pergola is the most common choice for a pergola, looks very stylish and gorgeous, and has more advantages than pressure-treated lumber. It is long-lasting and insect resistant, although it is more expensive than pressure-treated wood for its superior traits.
Pergola Design in Vinyl – Decorative Vinyl pergola is also a good choice. It has an aluminum coating, making it durable. Unlike wooden pergolas, it does not rot or get damaged by insects. It is also inexpensive with a low maintenance cost, making it perfect as a pergola.

Pergola Design in Fiberglass – This type of pergola, though the most expensive, has value for money. You can paint it with beautiful colors. The colors look great on fiberglass than on wood. They are the most durable than any other pergolas with light weighted structure.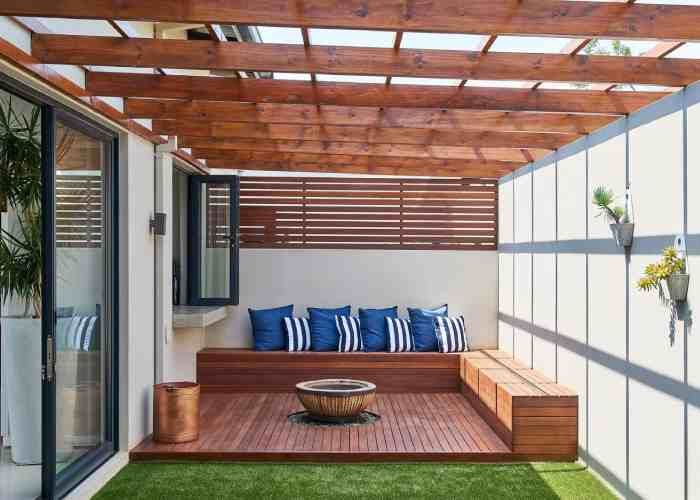 It does not get affected by harsh weather since it is corrosion and rust-free. You can also use it on the terrace area. First, you should know about terrace gardening ideas that will match with Pergola. It enhances the beauty of your balcony
The landscape of your balcony with a pergola that supports everything from fans, and light to furniture looks amazing. I have selected some pergola designs for your balcony, to make it look mesmerizing.
Wooden Deck sitting area Pergola – Decorate your big open balcony with a wooden deck pergola. Place a table with a few chairs under the shade of your pergola.

This type of pergola design is best for arranging occasional kitty parties with your friends. To give a greenery effect, hang some natural or artificial vines on the surrounding walls. Make the sitting area, all in wooden green colors for a more soothing look.

Luxurious Arbour pergola balcony – You can make a landscape of a small shaded garden with vines surrounding the pillars and roof of the pergola.
This type of arbor looks very trendy with chairs and tables under it, making it a grand outdoor space on your balcony. You can apply these useful ideas and tips for your garden to make it more beautiful with Pergola.
You can also try different garden decoration ideas with the Luxurious Arbour pergola for the balcony.

Outdoor living room Pergola – You can utilize the whole space of your open balcony by making a pergola with decorative fiberglass. This type of pergola will resist any climate, whether hot or cold, rainy or snowy.
Thus, it will give a beautiful picture of an outdoor living room. You can utilize this extra room for your various uses. To add more elegance, you can decorate it with colorful fairy lights.

Aluminum pergola for growing plants – If you have a long balcony to decorate, you can create a pergola utilizing the whole space for growing small and flowering outdoor plants. This will appear like a small garden mesmerized by the aluminum pergola. You can also grow vines all over the roof of the Pergola.

Small decorative pergola for outdoor dining – You can place a pergola on half a portion of your massive balcony to make a dining space. You can make either a wooden or aluminum pergola and adorn it with some wooden crafts.
Put a fan and some lights on the roof, making it suitable for open-sky dining. You can dine out there on special occasions like Christmas, and New Year, or events such as a birthday party.
Some of the readymade pergola kits available online for your small and big balconies are Vinyl Arbors, free-standing pergolas, attached pergolas, custom pergolas, etc. You can buy a pergola online and add an extra dimension to your balcony. 
You will get splendid and charming pergolas online from various sites such as amazon, IndiaMart, Etsy, IKEA, Ubuy India, etc. at reasonable prices and attractive designs. For buying the best quality pergola designs for your balcony, keep in mind the following points.
Pergolas which have good paint do not get easily faded.

It should resist any sort of weather. It should stand strong against rain, wind, heat, and snow.

It should have a rust-free surface

If wooden, should not rot for a longer period.

It should be long-lasting, at least 15-20 years.
Here you can also apply these beautiful home decor artificial plants with a pergola. This combination helps you to make your pergola more decorative.  
Buy Pergola Online
Brown FRP Pergola at price Rs 315 from Aajjo.com.

Aleko Diy 13 x10 feet Aluminum Grape Trellis Pergola Canopy Gazebo at Rs 20459.58

on eBay.

Garden Pergola Woodworking Diy Plans at Rs 1407.04 on eBay.

Leisure Time Products

12 x 10 Cedar Pergola

at RS 563014 on ubuy.co.in.

Pergola Garden

at Rs 100000 is available onTradeindia.com.

MS pergola comes at price Rs.130 on Aajjo.com.

Mild Steel Pergola

from Aajjo.com at a price of Rs 125 only.

Outdoor Stone Pergola at Rs 27000 on Aajjo.com.

Malibu 10'x10'

Vinyl Pergola

comes at the price of Rs348480 on Ubuy India.

Laurel Canyon 10'x10' steel Arched Pergola at Rs 35140 on Ubuy India.