No matter how spacious our homes are. We always look for using it for a bit more space. We try to use our walls for decorating and matching the aesthetic of our house. We use hooks to hang things around. Hooks really complete the look of our walls along with great curtains.
Hooks are used for various purposes and hence they come under various ranges and options too. In this blog we will discuss how wall hooks are used and what are their salient features . We will proceed with all these things one by one.
They are sticky or adhesive, along with that they can come in different forms too. It depends upon the need of the buyer which type of wall hook one wants to go with. Let us start exploring hooks in further sections.
Wall hooks and their different types and shapes
Shapes of wall hooks can vary and in this section we will discuss how the shapes can vary among each other. Wall hooks are of various shapes and few of the shapes are written as follows-
A moulding hook which is a bit curvy in nature.

Askon chrome that is slightly edgy.

A panel hook that is broader from top.

A panel interselect hook which is thin from the bottom.

Aluverwol type hook is broader from top and slightly curvy from bottom.
This was the list of a few wall hooks. All these hooks may vary in colours. One can decide by looking at them to choose which hook shape to go with.
Have a look at wall hanging designs.
Why are wall hooks used and what are their benefits?
Wall hooks are used for various reasons. They are very advantageous. Let us start discussing wall hooks and their benefits. Wall hooks have numerous benefits. Few of which are as follows-
Wall hooks are used to hang clothes.

Wall hooks are used to hang coffee mugs.

Wall hooks are used to hang towels.

Wall hooks do not take much of the space.

It is very easy to use wall hooks.

They help by keeping things at place.

They look admirable.

They are affordable too.

They come in various designs and hence provide a great range of options.
These were the various benefits of wall hooks. They are used for these purposes.
Get information about – Wall stickers for bedroom
Finishes of wall hooks and the types of wall hook finishing
Wall hooks have few main types of finishes which complete their look. They look more adorable and great when the hooks are brought with a good finishing layer. The main type of finishings that hooks have are as follows-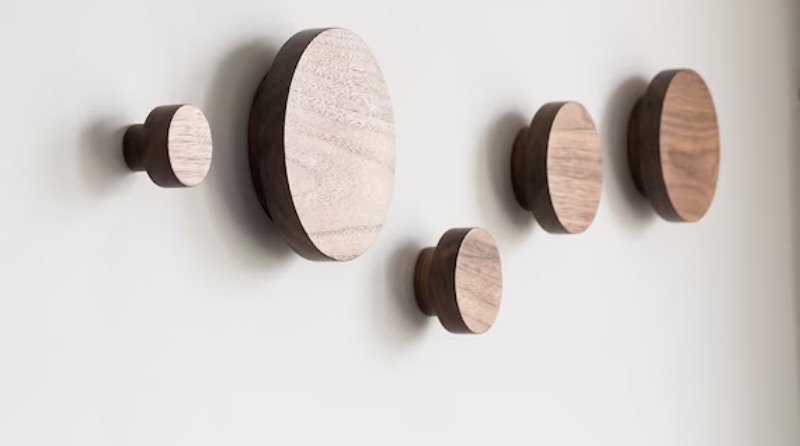 Brass touch finish which looks perfect.

Zinc plated steel which looks steady.

Nickel plated hooks which look great.
All these finishes add a touch of specific quality which enables them to differentiate among each other.
You Can also look at wall tiles design.
Designs of wall hooks
Now let us discuss what kind of designs one can have or choose from while buying wall hooks. Following is the list of various designs that one can look for-
Artisan floral wall hooks that are sticky and adhesive in nature. With their floral look they look perfect on walls.

Belle ceramic metal wall hook which gives an antique yet cool look. If you are someone who likes to add an antique touch then these are the ones.

Pottery decorative hooks that consist of an art piece and are hence bit larger than others.

Multi design hooks that are adhesive in nature and come in varied ranges.

Three mounted hooks in one single plate makes it easier to hold a large number of things.

Square hook hanger in the form of squares which looks elegant.

Floral hook keys in one plate which gives a naturalistic touch to your walls.
They are self adhesive: With all these varied range of options one can choose which type of hook they want to get on their walls. One can explore more options by visiting online sites or one can visit any offline shop too.
Explore more about – Hanging lights for dining room
How to choose the perfect hooks?
One needs to choose the perfect hooks so that they can get the experience of having admirable hooks of their choice on the walls.
Let us discuss what qualities or things need to be kept in mind while buying hooks. One needs to keep these following things in mind while buying hooks-
Know what type of adhesive property they have.

Know the durability of their stickiness.

Go for the design that suits you the best.

Check the shape of the hooks.

Check what kind of finishing they have.

Check their price range.

Check their holding capacity.

Check whether they match the aesthetic of your wall or not.
With all these things in mind one can easily select the best wall hooks for their walls. One needs to be specific in terms of qualities that they are looking for.
Here is balcony lights hanging.
Price ranges of various wall hooks
Here is the list of various wall hooks that one can get in a very affordable range and with various designs too. The list is as follows-
Aluminium wall hooks with glossy appearance for cloth hanging under the range of Rs.15 per piece.

Transparent utility hook which comes with a feature of self adhesiveness under the range of Rs.25 per plate.

Screw in hook for cloth hanging under the range of Rs.12 per piece.

Stainless steel hook for cloth and key hanging under the range of Rs.36 per piece.

Zinc cloth hook with chrome finishing type under the range of Rs.45 per piece.

Adhesive steel hook under the range of Rs.4 per piece.
Also read about – Hanging wine glass rack
Conclusion
These were few options that one can consider while buying new wall hooks. One can definitely check more options on online and offline stores.
Do not forget to check the material and their other salient features such as installation type before buying.
With all these mentioned benefits and types of wall hooks. When are you going to get these wall hooks installed on your walls?
Consider reading -