If you are Wine-Love and you want to show off your wine collection in your home, then you need a well-organized method to display your collection. A Wine rack is an ideal choice for this. We'll look at several modern wall wine rack designs for your home decor that won't only hold your wine bottles, they'll also give your living area a great look.
Highlight Points Stating The Benefits Of Having A Wall Wine Rack For Your Home
Wall wine racks are a good space-saving option for smaller houses or flats. 

They are fashionable and are used to

showcase your wine collection

.

A wall wine rack can be a fantastic option if you want to add individuality to your home design. 

Wall wine racks may be

utilized in a range of spaces

, including the kitchen, dining room, or even the living room.

You can clear the space that you use for keeping bottles by putting your wine collection on a wall wine rack.

Wall wine racks are a good way to show off your passion for wine and make your

house look warm and welcoming

.
Wine Rack Ideas
There are several varieties of wine racks available. Here are a few of the most popular designs for wine racks in homes:
Wall-Mounted Wine Rack: To keep your wine bottles, you may attach a stylish shelf to your wall using a wall-mounted wine rack. It's a clever method to save some room in your house and keep your wine organized. You may keep your bottles of wine in a location other than a large wine cellar. 
Any blank wall in your home can be transformed into a showcase for your favorite wine collection with the help of a wall-mounted wine rack. You may select the wine rack that best suits your space and taste because it is available in a variety of sizes.
You may also like to read: Kitchen Corner Racks: Explore The Pros and Cons
Some can contain a small number of bottles, while others can many more. Some are made of glass, while others are constructed of metal or wood. You will get a wine rack that suits your taste.
It's simple to install and gives any area a touch of beauty. So a wall-mounted wine rack is an ideal option whether you're a wine lover or just looking for a way to store your bottles.
Wine Rack Cabinet: If you enjoy a large collection of wine bottles, you may require a particular location to keep them all. For your wine, it's like a spacious closet!
A unique piece of furniture called a wine rack cabinet is made to store multiple bottles of wine. It is comparable to a large closet with shelves where you may store your bottles.
The cabinet is designed to allow for horizontal wine bottle storage, which is crucial since it keeps the cork wet. The wine can be ruined by air entering the bottle when a cork dries up. So, if you want your wine to remain flavourful, it's crucial to keep the cork wet.
For the safety and security of your wine bottles, the cabinet is often built of wood and includes a door. To preserve your wine at the ideal temperature, some cabinets even add temperature controls. This is important because wine can deteriorate if it becomes too hot or cold.
A wine rack cabinet is a good method to store your bottles and keep them secure if you're a wine collector. It's also a fantastic method to brag to your loved ones about your collection!
May you should also know: Latest Kitchen Cabinet Hinges And Knobs Designs For 2023
DIY Wine Rack: If you're on a tight budget or want a custom wine rack design, think about building your own. There are several DIY wine rack designs that are simple to construct and can be altered to suit your preferences.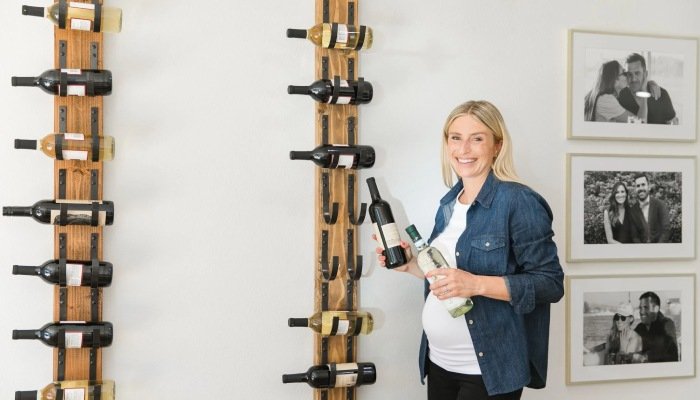 Under-Cabinet Wine Glass Rack: An under-cabinet wine glass rack is a great alternative if you want to store your wine glasses with your wine bottles. These racks may hold many glasses at once and are attached under cabinets.
Hanging Wine Glass Rack: If you're looking for a creative method to display your wine glasses, think about a hanging wine glass rack. These racks, which can be fixed on a wall or suspended from the ceiling, give a great look to any home.
Small Wine Rack: A small wine rack can be all you need if your wine collection isn't too large. These racks are ideal for people who simply have a few bottles of wine and are available in a range of designs and sizes.
Tall Wine Rack: A tall wine rack can be the ideal choice if you have a sizable collection of wine bottles. These wine racks may be positioned in a corner or up against a wall and are made to store many bottles of wine.
Wine Glass Rack: Keeping your wine glasses organized and in storage is easy with a wine glass rack. These are available in a range of variety allowing you to choose the design of your requirement and desire.
May you also read: Latest Modern Tv Stand Designs for Hall. Wall & Wooden Design
Wine Rack on a Wall
If you want to showcase your wine collection in style, a wall wine rack is the ideal option. Here are some modern designs for wine racks for your home's walls:
Wooden Wall Wine Rack: Wooden wall wine racks are a dependable and traditional option. These racks are available in a wide range of wood species and design aesthetics, from classic to modern.
Metal Wall Wine Rack: A flexible and strong Wine rack is a metal wall wine rack. These racks may be produced in many various designs and materials, such as stainless steel and wrought iron which is very strong and durable.
Floating Wall Wine Rack: A floating wall wine rack is an eye-catching option. These racks give any area a touch of elegance and give the impression that they are floating on the wall.
Conclusion: 
To sum up, installing these Trendy Wall Wine Racks to your Home gives a Modern look and Elegance. However, one needs to do enough research and choose a well-suitable Wall Wine Rack before buying one.
Consider reading:-