The quote "Art is not what you see, But what makes others see" suggests that art is not about capturing what is visible but also evoking ideas and emotions or we can also say art is not a reality but an imaginative interpretation of thoughts.
Though artists can convey their message through their art in front of viewers; similarly you can also address your emotions and moods through the choice of art you want to incorporate at your home.
One such type is Wall Hangings; they are considered as decorative materials that are hung on walls to capture the mood and enhance the appearance of a room. Power of art is to communicate, connect and inspire.
Wall hangings come in a variety of styles, shapes and sizes that can be used to compliment or contrast with your existing decor. Some common types of wall hanging include:
Express Yourself through the Beauty of Art
Tapestries: Large fabric pieces that are woven with intricate designs that depict modern history or architecture.
Wall art: Paintings, prints and posters that are framed or unframed and can be hung individually or in groups to create a gallery wall.
Macrame: Handmade wall hangings that use different patterns and combinations to depict a meaningful void.
Mirrors: Reflective surface that can be hung to add light and depth to a room
Woven wall hangings: Handmade pieces that are woven together in different patterns using a variety of materials such as cotton, wool or even recycled materials.
Metal art: Decorative pieces made from metal are hung on a wall to create a unique space and industrial feel.
Benefits of Wall-Hanging
Add personality and character to space

Drawing the eyes in front of viewers

Enhances the decor with different colors, textures and visual interest

Provides inspiration and motivation

Reflects light and creates an ambience vibe

Improves the sound quality of a room
Let's have a look at how you can express yourself through the beauty of art!!
Metal Abstract Wall
It is a popular choice for adding modern and contemporary feel to a space. Metal art comes in a variety of shapes, sizes and materials and can be hung as a single piece or a group to create a beautiful statement. The three dimensional abstract art will give an eye looking catch to viewers and a modern twist to your house.
Wooden Wall Hanging
Wooden wall hangings are a great way to add warmth and texture to a room. They come in a variety of styles, from rustic to modern, and can be hung in a range of different ways to create different looks. It includes carved wooden art, wooden shelves, wooden signs, wooden frames and wooden panels.
Abstract Paintings
Abstract paintings are a form of art that emphasizes color, textures, form over realistic representation. This can be a great way to add pop up colors and visual interest to a room. Some ideas include large statement pieces, grouping of different colors, adding of media and DIY abstract arts.
Wall Mirror Hanging
Wall mirrors can be a great addition to any room in your home. They can add light, depth, and visual interest to a space. You can choose a mirror of different shapes and sizes and can layer up like a mirror collage or can layer up large mirrors over the small ones to create a dynamic and three dimensional look.
Read more- Interior design ideas for small homes
Woven Wall Hanging
Woven wall hangings can add warmth, texture, and visual interest to a room. They come in a range of styles, from simple and minimalistic to intricate and colorful. You can hang a large scale woven wall hanging with bold colors and neutral tone to create a relaxed and casual vibe.
Macrame Wall Hanging
Macrame wall hangings are a popular way to add a bohemian and textural touch to any space. They are made by knotting cords or ropes together in various patterns to create a piece of art. You can even create your own simple style macrame by using any woven fabric cotton,wool or jute; this will create a more unique and personalized style in a minimalistic way.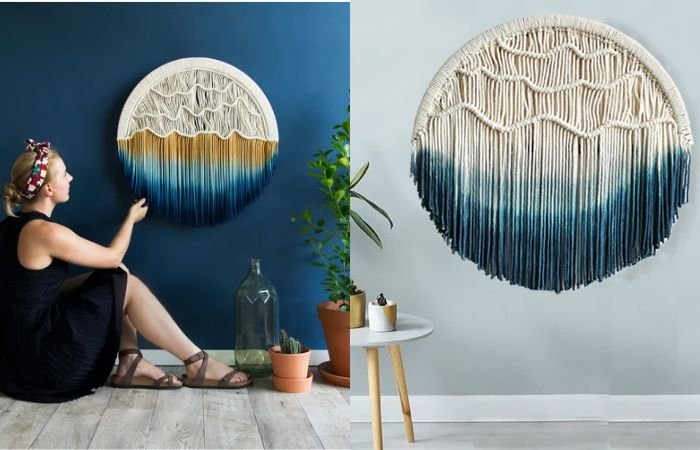 Plant Wall Hanging
A plant wall hanging is a creative and unique way to bring some greenery into your home without taking up floor space. You can use hanging planters, wall mounted planters, terrarium wall hanging or you can create your own macrame plant hanging; that will be a fun and unique DIY project.
You may like this one- Ways to decorate your home on a budget
Wall Art or Art Street Photo
Both wall art and street art photography can be great options for adding visual interest to your home.
Wall Art
Wall art can come in a wide range of styles, from abstract paintings to vintage posters to modern prints. This can make it easier to find a piece that fits your personal style.

Wall art can be hung in any room of the house, from the living room to the bedroom to the bathroom.

Wall art can be made from a variety of materials, such as canvas, paper, metal, or wood. This can create a unique and interesting texture or surface
Street Art Photography
Street art photography can capture the energy and creativity of a city, and it can be a great way to showcase your love of urban culture.

Street art photography can be a great conversation starter, as it can spark discussions about the meaning and symbolism behind the art.

Street art photography can be a more affordable option than purchasing original artwork, and it can be a great way to support emerging artists.
CONCLUSION
In conclusion, wall hangings are a versatile and creative way to add visual interest and personality to your home. There are many different types of wall hangings to choose from, including paintings, prints, textiles, mirrors, and planters.
Whether you prefer modern or traditional styles, bold or subtle colors, or natural or industrial materials, there is a wall hanging that will fit your taste and decor.
By choosing the right wall hanging for your space, you can create a focal point, add texture and depth, and express your unique sense of style. So, whether you're looking to update a room or simply add some flair to your walls, consider incorporating a wall hanging into your home decor.
For more reference – Wall cladding design