Wall clocks are more than just timepieces; they are also ornamental elements that may improve the look of your living space.
There is a wall clock to fit any style, whether minimalist, modern, or vintage. In this detailed guide, we will look at the many types of wall clocks available for your living room and highlight several prominent brands recognised for their quality and style.
Let's get started and choose the right wall clock to improve your home area.
Types of Wall Clocks 
Analog Wall Clocks
Classic Analog Clocks: These clocks have a classic design with conventional hour and minute hands and a numbered display.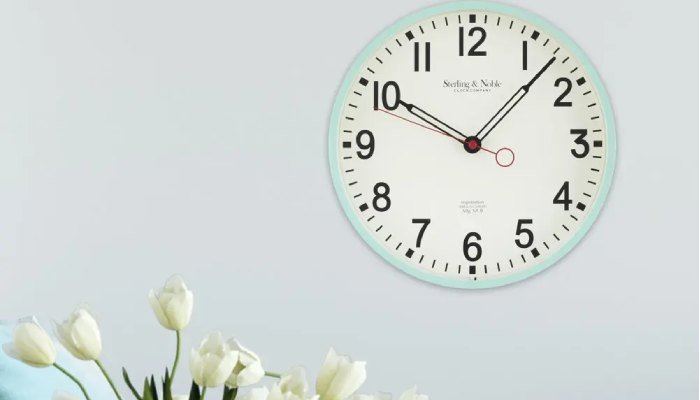 Roman Numeral Clocks: Roman numeral clocks provide a refined and beautiful touch to your living area, conveying a feeling of luxury and finesse.
Contemporary Designs: Modern analog time clocks come in a variety of forms, formats, and elements, allowing you to make an impression on your wall.
Digital Wall Clocks
LED Display Clocks: Digital clocks for the wall with LED indicators have a sleek and future-oriented appearance, displaying the time, date, and even temperature on them.
Flip Clocks: These retro-style digital timepieces indicate the time by turning decks or discs, giving your living area a vintage feel.
Pendulum Wall Clocks
Traditional Pendulum Clocks: These clocks blend the utility of a timepiece with the hypnotic rhythm of an oscillating pendulum, giving a timeless appeal to the living room of your home.
You may also like to read: Two colour combination for living room
Cuckoo Clocks
Traditional Cuckoo Clocks: Cuckoo clocks, which originated in Germany's Black Forest area, have beautifully carved motifs and a cute cuckoo bird that rises to tell the time, adding a bit of playfulness to your living room.
Decorative Wall Clock
Artistic Wall Clocks: These clocks include one-of-a-kind creative designs that incorporate features such as abstract forms, brilliant colours, or even iconic artworks, making them a centrepiece of your living area.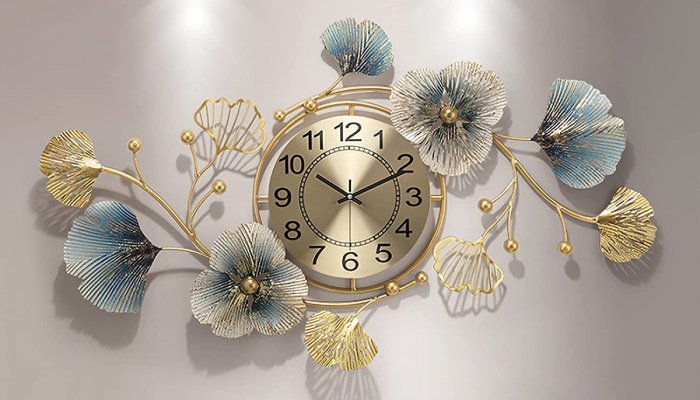 DIY Clock Kits: DIY clock kits offer you to express your creativity by creating your own personalised wall clock that is customised to the style and theme of your living space.
Popular Brands 
Seiko
Seiko, recognised for their accuracy and workmanship, provides a wide choice of wall clocks in a variety of styles, from vintage to modern.
Howard Miller
Howard Miller is well-known for its premium pendulum clocks, which frequently include elaborate detailing and classic designs that may be passed down through generations.
Karlsson
Karlsson is an established manufacturer that is noted for its unique and contemporary clock designs. They have a wide range of wall clocks available, including simplistic and abstract designs.
Rhythm
Rhythm is well-known for their melodious wall clocks, which mix clockwork with tunes. These clocks frequently have rotating pendulums, glistening lights, and calming music.
Ajanta
Ajanta is a well-known Indian company that sells reasonably priced but attractive wall clocks. They have a variety of designs to suit a variety of preferences and wallets.
Also read about: Wall stickers
Price Range in INR 
The price of wall clocks can differentiate depending on factors such as brand, design, materials used, and additional features. Here is an approximate price range for wall clocks:
Analog Wall Clocks: Prices can vary from INR 500 to INR 5,000, depending on the brand, structure, features and size.
Digital Wall Clocks: LED display clocks usually range from INR 1,000 to INR 8,000, while flip clocks might cost between INR 2,000 and INR 10,000, or more.
Pendulum Wall Clocks: Traditional pendulum clocks are available in the price range of INR 2,000 to INR 15,000, depending on the density of the design and craftsmanship.
Cuckoo Clocks: Traditional cuckoo clocks can range from INR 5,000 to INR 50,000 or more, depending on the complexity of the carving and the quality of the movement.
Decorative Wall Clocks: Artistic wall clocks vary greatly in price, starting from INR 1,000 and going up to several lakhs, depending on the artistic value and exclusivity of the design.
Factors to Consider
Several elements should be considered when choosing a wall clock for your living room to achieve the best match for your area. Here are some important considerations to think about:
Size and proportions: Consider the limited wall space as well as the ideal appeal. Pick a size that is properly proportional to the room's wall and other furnishings.
Theme and style: The general design and concept of your living room should be determined. Choose a wall clock that compliments the current décor and adds to the desired atmosphere.
Material and sturdiness: Consider the clock's longevity and quality of materials. Choose materials that are strong, long-lasting, and simple to maintain.
Noise Level: Various clocks can give off ticking or hourly chimes. Consider if you prefer the calming sound of clicking or chiming or a quiet clock.
Budget: Establish a cost range that meets what you desire and need. To guarantee a pleasant purchase, keep in mind to equalise pricing with durability and usefulness.
May you also know: Pop arch design in india
Emerging Trends in Wall Clocks 
Here are some of the current trends in wall clocks that you can consider for your living room:
Smart Wall Clocks: As technological innovation in homes has grown in popularity, smart wall clocks have also grown trendy. These clocks have Wi-Fi connection, voice command, app integration, as well as smart home compatibility with devices.
Minimalist Designs: Minimalism is a popular interior design style that has impacted wall clock designs. Chic, geometric shapes, monochromatic color palettes, and uncluttered dial patterns are popular choices for a modern, understated appearance.
Oversized Clocks: As statement items, oversized wall clocks are becoming increasingly fashionable. These clocks are bigger than typical in size, allowing them to stand out and make a striking visual effect on your living room wall.
Eco-friendly Materials: Plenty of enterprises are now selling wall clocks built from sustainable and environmentally friendly resources such as bamboo, repurposed wood, or reused metal. These clocks are not just aesthetically beautiful, but they also help to a healthier living situation.
Multi-functional Clocks: Wall clocks with extra functions are becoming more common. These clocks may contain features such as a climate display, calendar year, lunar phase, or possibly built-in Bluetooth speakers.
Wall clocks are not only useful timepieces, but also beautiful and decorative additions to your living space. With so many different styles, patterns, and brands to select from, you can discover the ideal wall clock to fit the aesthetic of your living area. 
There is a wall clock out there to fit your style and budget, whether you choose a classic analogue clock, a modern digital display, or an artistic masterpiece.
So go ahead, look into your alternatives, and use a magnificent wall clock to convert your living room into a location that is both practical and artistically attractive.
Consider reading: