There are many reasons why the POP arch design is gaining popularity in Indian homes. One reason is that it can be used to create a number of different looks, both traditional and contemporary.
Another reason is that it is relatively easy to construct, which makes it ideal for those who are not experienced in construction.
One of the most popular ways to use a POP arch design is to create an entranceway for a home or business.
If you are looking for an elegant way to improve the look of your home or business, consider using a POP arch design. You will be glad you did!
Another great thing about them is that they're very easy to construct, which makes them ideal for those who are not experienced in construction.
POP with Wood Arch Design
The living room features a beautiful POP wooden dome. The dome has a stylish design.
POP with Glass Arch Design
The beautiful glass archway is an excellent way to elegantly decorate any room in your house. Did you notice the intricate detail work on the semi-circular glass?
The metal partitioning on the outside of the dome protects the delicate glass and adds style simultaneously. 
And, since everything else in this room is white including the archway itself the bright colours used for artistic design are striking and elevate what might be an ordinary space into something extraordinary. 
Finally, plants and other decorations add their own natural beauty to complete this lovely scene with new pop design.
Mediterranean POP Arch Design
The archway has a rough stone that gives the building an individual and raw appeal in a Mediterranean-style house.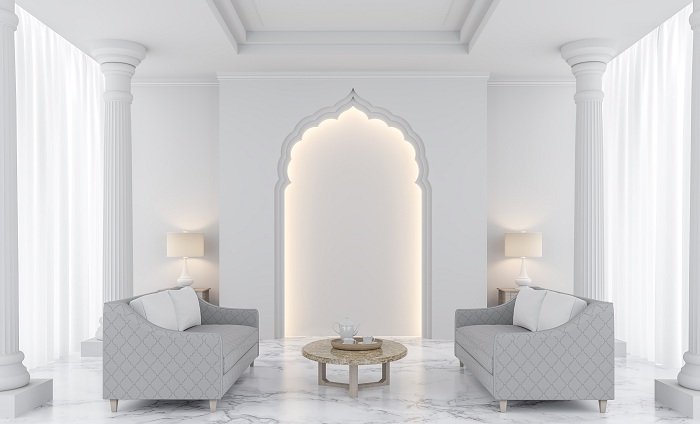 The tone of this area is light and warm. This area's chandelier is simple and circularly lit with candles, which adds to its appeal.
Individual features such as the stoned archway and the dining space's look complement each other beautifully.
Traditional POP Arch Design
This is a straightforward arch design in pop design for hall that may be used not only in hall but in any room. This arch's style is basic, yet it fits well with the space.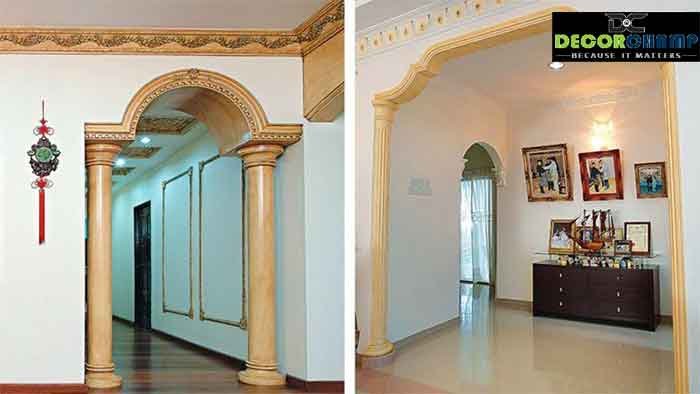 The dining room features a thick cream carpet on the floor and a beautiful glass chandelier over the table. It's ideal if you want a simple arch for your elegant dining area.
POP Hall Arch Design
The dual arched design in this hallway is an excellent way to construct a wall while still forming an arch.
The white theme palette with wooden flooring accents creates a blend of colors that pop without being too overbearing.
Indian Style POP Arch Design
This archway design has a regal air to it. It appears very elegant when decorated in all white.
The marble flooring, grayish-white furniture, and all-white decor contribute to the all-white appearance of this living area. The dome's semi-circle part has a wavy design.
Also try these kitchen modern pop plus minus design in your home.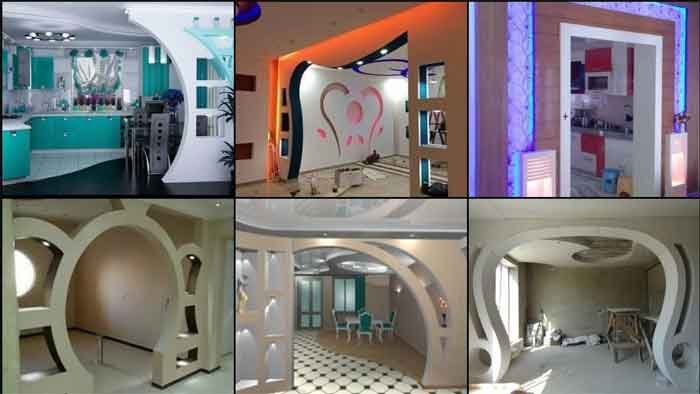 If your house is kid-free and there are no people to spoil your white walls, you may use this design.
POP Arch Design For Dining Room
This elevated arch design in the dining hall is both elegant and classic. This simple yet beautiful archway is truly stunning.
Have a look at latest images of living room pop design here.
White POP Arch Design
This hall is elegant, with a white theme. You can add to the room's elegance by hanging a glass chandelier.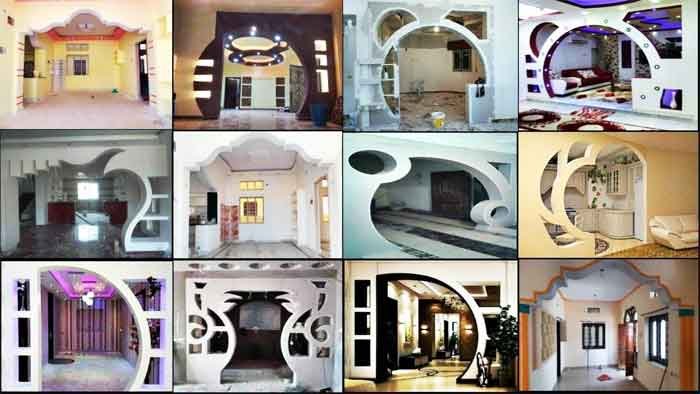 Two strong pillars flank either side of the round table in the centre, and an arch design connects them overhead. The faint lavender shade on the walls makes it seem as though blossoms are in bloom.
The furniture throughout the hall is grey and black, which pairs well with the simplicity of the white archway overhead
POP Brick Style Arch Design
The name of this design–an arch made from bricks–is quite self-explanatory. The beauty of it lies in the symmetry of the blocks, which are placed so that they are pleasing to the eye.
In addition, the shiny wooden flooring mirrors and enhances the look of the rustic arch. This type of design would be perfect for your farmhouse;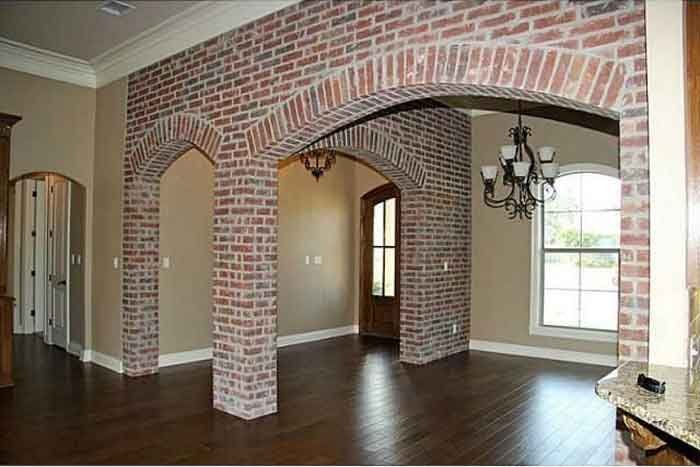 however, if you think it would best suit your home, then go with your gut!
Also try these plus minus pop design for gallery for a modern look.
Latest POP Arch Designs
This is a beautiful hall arch that's both traditional and timeless. The symmetrical archway is adorned with intricate carvings, and the overall effect is one of grandeur.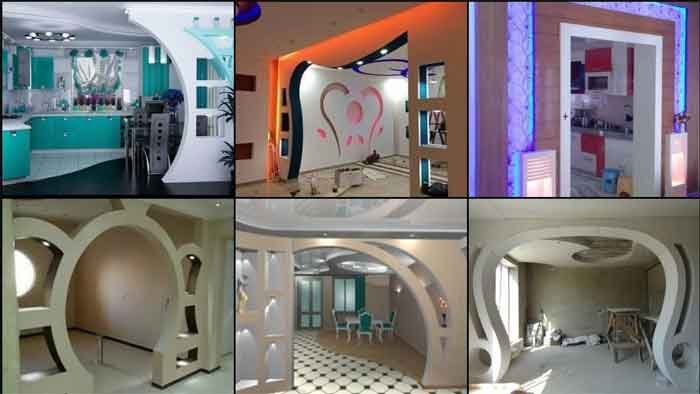 Pillar POP Arch Design
It's made specifically for a living room since this style boosts the elegance of your living space.
The arch adds to the beauty of your house by giving an attractive appearance. The furniture in this area provides a contrasting look.
Modern POP Hall Arch Design
You might use this design in your dining hall to provide a relaxing atmosphere. This style of decorating is perfect for houses with traditional designs, such as dining table.
However, you can also try these bedroom modern pop plus minus design as well here..
People who enjoy old-school aesthetics appreciate this type of décor.
Elegant POP Arch Design
In a hallway for an independent house, this interior arch design appears stylish. The arch is large and resembles a half-circle made of wood with a beautiful pattern.
With the entire room's theme, the white walls and wooden semicircle section of the dome look simply great.
In contrast to the wooden arch, the flooring is stained in tone with the wood, as well as the furniture and wall color are white to complement it.
Check main hall fall ceiling design here with images to give your Indian hall a modular look.
Simple POP Arch Designs
This design with the round arch connecting two rooms has been popular for many years due to its simple, elegant look that can easily be incorporated into any house.
POP Arch Design For Living Room
This hall arch design is creative and innovative. Unlike common arches that are semi-circle, this shape is extraordinary.
This design immediately catches the eye and makes your home decoration look lovely. The marble flooring furniture appears graceful. This arch design adds glory to your house and looks tasteful.
Consider reading: gypsum ceiling design
Conclusion
POP arch designs are a popular choice for many homeowners because they are both elegant and classic. Whether you want something simple or something more ornate, there is a POP arch design that will suit your needs.
If you're looking to add a bit of elegance to your home, consider investing in a POP arch design. You won't be disappointed with the results.