A home's foyer is the initial point of contact between visitors and the occupants. It's a place where form and function should harmoniously coexist, making you feel at home while still meeting your practical demands. 
Shoe storage is a typical problem for many families. Shoes left lying around the house, especially in the entryway, may rapidly become an eyesore. An entrance shoe cabinet is a brilliant solution to this problem, improving organisation and curb appeal.
The Shoe Cabinet Entryway: A Fusion of Practicality and Elegance
Solving the Shoe Dilemma
An entrance shoe cabinet is more than simply a decorative accent; it's also a practical answer to a persistent storage problem. Having a specific spot to carefully keep shoes is essential, as they are often the first objects abandoned when entering the home. 
Shoes may be hidden away in a shoe cabinet, making the foyer look more put together. There will be no more lost shoes or frantic searches for mates.
Aesthetic Simplification
A shoe cabinet improves the look of your foyer in addition to its practical benefits. These cupboards come in a wide variety of designs, from ultra-contemporary to traditional. The right design can complement your existing furniture and accessories at home. 
With the addition of mirrors, ornate knobs, and other embellishments, a shoe cabinet may serve as much more than simply a utilitarian piece of furniture in the foyer.
Efficient Use of Space
If your house is like most others, you know how important it is to make the most of the space you have.
Shoe cabinets are cleverly crafted to make the most of a minimum footprint. Their vertical position reduces the required space while increasing the available storage. 
Narrow cabinets that rest neatly against the wall are one option, while taller cabinets make use of vertical space. If you appreciate efficiency with your living space regardless of the size of your home, the shoe cabinet entryway idea is perfect for you.
You should also read: Wall almirah design
Creative Entryway Shoe Storage Ideas
Floating Wall Shelves with Shoe Trays
Open and airy entrance storage may be achieved with the help of floating wall shelves and shoe trays. Mount the shelves to the wall at varied heights and insert the shoe trays underneath. 
This method not only provides a place to store footwear, but also frees up space above the shelves for showcasing knick knacks or houseplants.
The Hidden-Storage Benches
A shoe bench is an elegant solution to the problem of where to put shoes and where to put people's feet while they sit. Families with children can benefit greatly from adopting this strategy. 
The seat is a great place to sit as you slip your shoes on or off, and the hidden storage space is great for keeping clutter at bay.
May you also like to read: Modern wardrobe design
Hanging shoe organisers
Shoe racks on the wall can range from simple metal grids to elaborate systems of shelves and hooks.
These shelves are perfect for any size of foyer since they store items vertically on the wall rather than taking up valuable floor space. If you want a more open approach to storage, these are the way to go.
Wall-Mounted Shoe Racks
Investing in multi-purpose pieces of furniture may turn your foyer into a streamlined nerve centre.
Shoe storage compartments, as well as space for mail, keys, and accessories, should be included in whatever console or cabinet you choose for your foyer. Those who value simplicity and an uncluttered foyer will like this all-in-one solution.
Front Door Shoe Storage Ideas
Shoe Cubbies
A space-saving and aesthetically beautiful storage option would be a series of shoe cubbies positioned just inside the entrance to the home.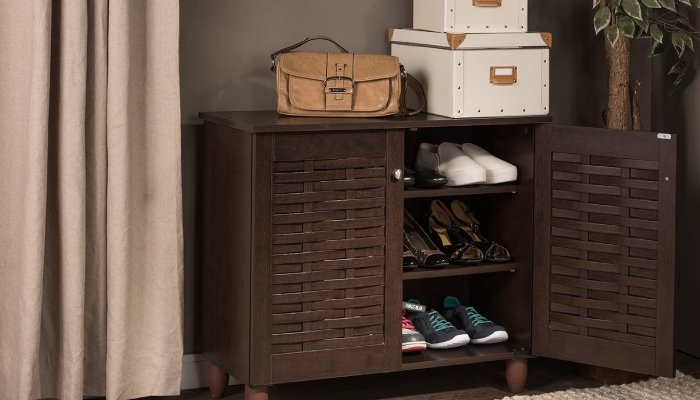 Cubbies may be altered to accommodate a wide variety of shoe shapes and sizes, so ensuring that every pair of shoes has an exclusively theirs location.
Here you can read: Steel almirah design
To maintain order and create an aesthetically pleasing presentation, you might want to think about using labels or attractive baskets.
Shoe organisers that hang on the back of the door
In order to save room and make the most of a limited amount of floor space, over-the-door shoe organisers are a great choice. Shoe storage may be achieved through the utilisation of vertical space by hanging these organisers on the wall behind the entrance door. 
This frees up important floor space. They come with pockets or compartments that provide distinct slots for each pair of shoes, making them ideal for storing and transporting footwear.
Staircases for Shoes
Using a shoe ladder to store shoes by the front entrance is both a modern and novel idea. A shoe rack that is both rustic and attractive may be created by leaning a wooden ladder against the wall.
You may make a visually appealing and practical display by draping shoes over the rungs of the ladder.
Conclusion
Innovative solutions, such as the shoe cabinet entrance and the many different ideas for front door shoe storage, are beginning to surface in the effort to design an appealing and well-organised entryway. 
These suggestions not only have the practical benefits of minimising clutter and making the most of available space, but they also boost the style quotient of the initial image that guests get of your house. 
Whether you go for a shoe cabinet that blends in flawlessly with the rest of your décor or come up with a unique solution for storage on your own, the important thing is to locate the sweet spot where utility and aesthetics meet. 
You may say goodbye to mayhem and hello to a harmonic and well-kept foyer if you have the appropriate shoe storage in the entryway.
Consider reading: