Shelving options such as wall shelves and corner shelving units provide a practical purpose while also contributing significantly to the room's visual attractiveness.
These multifunctional pieces of furniture are perfect for displaying ornaments and storing necessities. This article will discuss the many possibilities and design ideas for wall shelves and corner shelves in the living room, so that you may furnish your space in a way that reflects your own sense of style and taste.
Wall Shelves: Aesthetics and Functionality Combined
Shelves on the wall let you make use of otherwise wasted vertical space and look great doing it. Some common wall shelf designs are as follows:
Floating Wall Shelves
These modern and unobtrusive shelves may be installed on the wall. Because there are no brackets to be seen, they give off a modern, minimalist aesthetic by seemingly "floating" on the wall.
Floating shelves may be found in a wide variety of materials, including wood, metal, and glass, so you can find one that fits well with the design of your living area. Vases, picture frames, and little works of art look great on these shelves.
In case you are looking for the best corner table for living room then you can try these here.
Cube Wall Shelves
These shelves, with their sleek, geometric styling, are great for sprucing up the walls of your living room.
These racks are modular, so you can mix and match sizes and shapes to make a one-of-a-kind presentation. Cube shelves are adaptable and may accommodate a wide variety of ornamental objects and storage baskets.
Try these living room modern texture paint designs as well to give it a perfect match.
Ladder Wall Shelves
Add a touch of rustic chic to your family area with ladder shelves. These units, which look like a horizontal ladders, are great for displaying things or storing things away.
Whether you want to display books, plants, or decorative pieces, ladder shelves are a terrific alternative. Because of their vertical orientation, the room seems larger.
Have a look at these decorative showpiece items for living room to decorate these shelves in your living room.
Utilizing Previously Underutilized Space Through the Use of Corner Shelves
Shelves that fit into corners are an excellent way to maximize the space in your living room that could otherwise go unused. They bring both practicality and aesthetic appeal to a space that is frequently neglected. The following are some popular choices for corner shelves:
Triangular Corner Shelves
Offering a storage option that is both effective and efficient while also saving space, triangular corner shelves are intended to be able to fit into tight corners.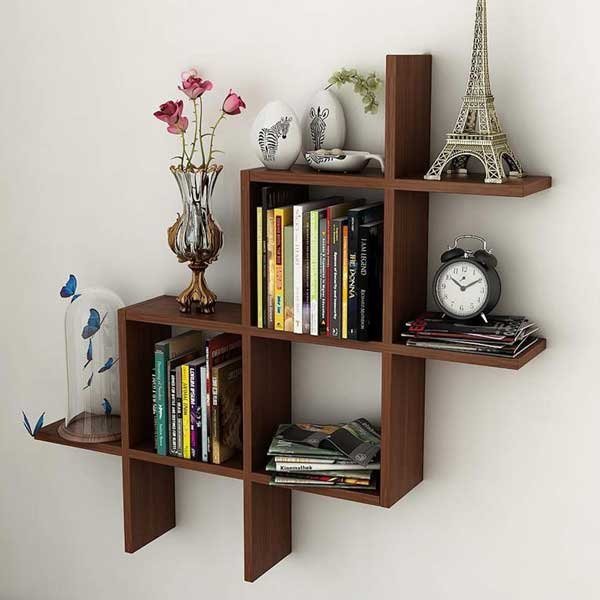 The fact that these shelves can be purchased in a wide range of dimensions and constructions makes it simple to choose one that is an ideal match for the furniture in your living room.
Displaying ornamental trinkets and storing often used goods conveniently within arm's reach are two great uses for triangular corner shelves.
Have a look at these chandelier for living room and get one which is best fitted for your living room.
Floating Corner Shelves
Floating corner shelves are quite similar to standard floating shelves; however, they are intended to precisely fit into corners of rooms.
In addition to its practical use as a storage area for a variety of products, they offer an unbroken and aesthetically pleasing display space for a variety of ornamental objects.
You may give your living room a more modern feel by installing floating corner shelves. This is a terrific option to consider.
Curved Corner Shelves
Curved corner shelves are an excellent way to include an original and creative touch into your living space.
These shelves have a curved form that matches the curvature of the corner, which results in a display area that is more fluid and aesthetically pleasing to the eye. Curved corner shelves are an excellent choice for exhibiting works of art, sculptures, or other decorative items that have rounded or curved forms.
Looking for modern partition for living room? Have a look here.
Tips for Styling Wall Shelves and Corner Shelves
Maintaining a Balanced and Symmetrical Appearance: A balanced and symmetrical display is what you should strive for whenever you are placing goods on your wall shelves or corner shelves.
To create an appealing arrangement for the eye, position the taller things at the back of the space, and the shorter ones toward the front.
Create a fascinating arrangement by combining objects of varying colors, shapes, and textures. Also try some modern carpet for living room which are trendy now a days.
Minimalism and Negative Space: To get an appearance that is clean and free of clutter, you should avoid overstocking your shelves and instead leave some space between the items on them.
Choose a handful of essential pieces to highlight, and be sure to leave some breathing room between them so that each item may shine on its own.
Customization and Creativity: If you have wall shelves or corner shelves, you may use them as a chance to display your own unique sense of style and creativity.
Put on display things that have a special meaning to you or that speak to your interests and hobbies. You can also choose classy wallpaper designs for living room for these shelf background.
Think of adding some plants, artwork, books, or other one-of-a-kind decorative objects that will turn the room into something that is uniquely yours.
Lighting: If you want to draw attention to your wall shelves or corner shelves, consider installing some discreet lighting.
To generate an atmosphere that is cozy and welcoming, try installing wall sconces or using little LED lights.
The aesthetic attractiveness of the living room as a whole may be improved by adding lighting that draws attention to the things that you have exhibited.
Also read: living room floor tiles designs
Combine Form and Function: On your wall shelves and corner shelves, combine storage that serves a practical purpose with items that have a beautiful purpose.
Make use of chic storage baskets or boxes to keep tiny objects neatly tucked away and out of sight. Your living space will stay neat as a result, and the shelves in the room will have more appeal thanks to the addition of these items.
Conclusion:
Shelves that are mounted on the wall and shelves that are placed in corners offer an almost infinite number of design and organizational options for your living space.
Whether you choose cube shelves, ladder shelves, floating shelves, or triangle corner shelves, these storage solutions provide the ideal platform for displaying decorative things, storing staples for day-to-day life, and showcasing your own unique sense of style.
Consider Reading:
You can make your living room more organized, aesthetically appealing, and uniquely yours by installing these chic shelving units.
This will allow the area to better showcase your creative side while also contributing to an overall improvement in the atmosphere of your house.