Despite its small size, the corner table is extremely useful and adaptable. Your living space will look better and be easier to use at the same time.
The days when corner tables were only used for coffee and tea cups are long gone. Corner tables are evolving in both design and function as modern interior design becomes more expensive in most Indian homes today.
This is a stunning living room corner table that can serve multiple purposes. Your designer lights can be displayed, used as a bookshelf, hidden storage space, or part of your home decor.
You can use these trendy corner tables to make your living room look better.
The Best Corner Table Layouts
There are several uses for corner tables. It may serve as a bookcase, a covert storage space, a display case for high-end lighting, or any other type of interior decoration.
Here are a few examples of contemporary corner tables that you may use as a focal point to enhance the appearance of your living space.
Bohemian Style from an Old Suitcase
Turning an old suitcase into a fashionable and elegant corner table is a novel idea, and reuse and recycling are the new tenets of this generation.
While providing ample storage space, gives the living area a bohemian vibe. By customizing your old suitcase to your liking, get creative and get ready to redecorate your living space.
The Smooth Marble Top Design 
We all know that marble adds luxury to a home. It can be very expensive and risky if you want to tile your entire living room with marble.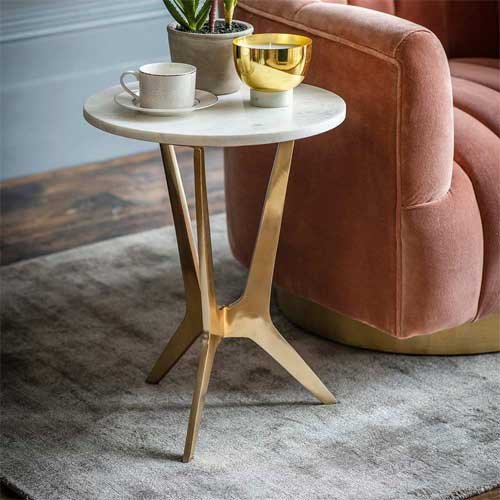 This is a great way to add a touch of luxury to your living space. A living room with a marble-topped corner table blends with Indian culture. You can enhance your living area with a lovely centerpiece.
The Style of the Pendant Light
If you want simple and stylish living room furniture, choose this compact wooden corner table with a pendant lamp.
Even though it is small and has a creative design, it comfortably holds two expensive home accents. Your favorite houseplants may be placed on the tables for even more freshness, and the lighting that goes with them will make your living area seem cozier.
Living room C-shaped Glass Corner Table 
This unique and stylish glass corner table top is great for adding a classy touch to your living room. Glass is an attractive technique to reflect light.
Lamps are an excellent way to brighten up a place. If large things are put on the glass panel, they may shatter.
Instead, use a cherished picture frame or other modest decorative pieces to make this little corner table the focal point of your living space.
Scandinavian Style Corner Storage Table
A straightforward layout may have a major impact. The Scandinavian-style corner table incorporates simplicity, consistency, and usefulness into your living room.
This corner table, which was created in the mid-century era, offers a tonne of storage capacity and gives your living area a crisp, contemporary appeal.
Thanks to the warmth of the wood, it is simple to integrate into with the decor. For everyone who appreciates modern urban minimalism, this corner table in Scandinavian design is ideal.
A Rustic-Style Wooden Corner Table 
This wooden corner table will give your living room a rustic feel. They are ideal if you like rustic-style home decor. Your living room will have a modern, organic, and zen vibe thanks to this sustainable corner table. This is a truly one-of-a-kind corner table for modern home decor that is inspired by nature.
Corner table with granite top
If you like natural stone and want to add a subtle touch of it to your living room, a granite corner table is a great choice. Black or emerald will give your living room a more opulent appearance. You can use the granite to display expensive and fragile exhibits or keep the granite as the main attraction.
 Do you enjoy reading and have a nice library? In your living room, it is time to display your book collection without requiring a separate bookshelf. You can use a corner table as a bookshelf and organize your books on it.
Corner table with Shelves and Drawers 
A rectangular corner table with open shelves and flowing drawers give your living room a lot of character and gives you more space for storage and display. The living area has a feeling of grandeur and gentle depth thanks to sophisticated lines.
The Design of Twisted Wood 
There is no longer a single style or size for corner tables. Instead, you'll be blown away by the number of choices available. In and of itself, this wooden corner table is a work of art. The unique design saves floor space while simultaneously creating a whimsical atmosphere and adding warmth to the living room. Elegant and invigorating. You can use this piece of furniture as a design element or use it to hold your teacup or other decorations.
A Compact Corner Table in Black 
Would you like a straightforward corner table to establish itself in your living room? Safe is black. A small, unobtrusive black corner table commands attention. Consider our small black corner table if you're looking for a discreet corner table that will make your living room appear elegant but not overly so. It gives the room a nice, sophisticated feel.
Conclusion
You have come to the right place if you've been looking for a "living room corner table." Select the corner table that best complements your interior design.
Please consult a professional interior designer if you have any inquiries. We can assist you in making your house the home of your dreams. For ideas on interior design, check out our blog.
Frequently Asked Questions
Q.1 What is a corner table exactly?
Most of the time, corner tables are used as accents in the corners of rooms like bedrooms. adjacent to substantial pieces of furniture and decorations in the living room or bedroom.
Q.2 How tall are corner tables on average?
25 to 30 inches is the typical height of a corner table from the ground.