Bathroom shelves are a very important décor item for your bathroom that provides enough storage space for your toiletries and adds character to your bathroom. Well-designed bathroom storage adds wonders to your space. 
Creative bathroom storage can also help you to uplift your bathroom space. With engineered creativity, it can also act as a one-stop point for all your toiletries and a stock storage system.
Advantages of Having Bathroom Storage
Apart from adding to your décor, bathroom storage can serve many other purposes:
Storage space for your surplus toiletries, which in turn saves you storage space for other items in your living room or bedroom. 

Single-stop point for all your

bathroom needs

. This reduces chaos as any toiletries that need to be replaced will only be found in the bathroom.

Single stop point to put all your toiletries in the same place after grocery shopping or ordering your groceries.

Controlled shopping over toiletries items as stacking everything in a single place will give you an exact idea of the items you need to purchase for your next shopping spree.
Here you can also try – Wall Shelves and Selecting the Perfect One for Your Home
Decor Ideas for Bathroom Shelves
Here are some of the trending bathroom shelf decor ideas to help you pick out a design of choice. The designs have been curated keeping in mind the durability and useability of design, ease of installing, and effectiveness of storage space:
Minimal white shelf
This shelf design works best against a brick-structured white wall. The shelf can contain any shape. It goes best with a contemporary minimalistic, rustic, and a modern décor.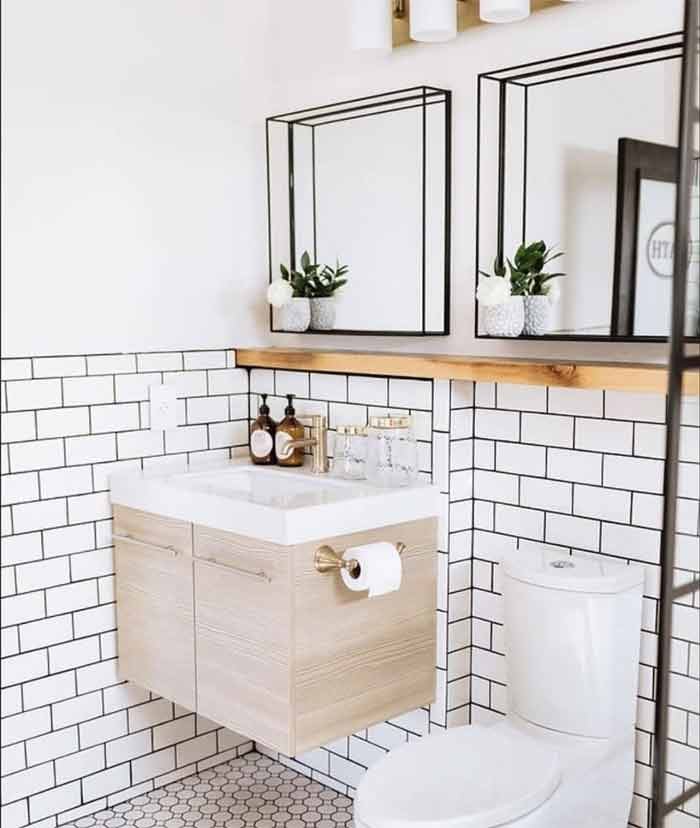 The white wall coupled with the white shelf adds a fresh glow to your space and makes it look clean and glamorous. It also adds breadth to your space.
Here is Top 10 Wonderful Ideas For Your Tiny Bathroom
Stone shelf design
Nothing beats the timeless design experience stone-styled shelves give. The shelving units resemble stone structure and texture. 
It goes well with traditional, semi-traditional, modern, boho, rustic, and minimal decor ideas. These stone shelves can be put up either in a symmetrical or asymmetrical pattern. 
If you have minimalist decor, you can play with geometric patterns with the stone shelves to add an edge to your space.
Steps shelf design
To save floor space, the best storage shelf design is a step system shelf unit. This step unit incorporates multiple flat pieces of any material, mounted to the wall. 
It usually follows a horizontal alignment to make space for things. However, for certain bathroom magazines, you can also mount the shelves at an angle on a horizontal base. That will add a touch of quirk to your space.
This design can be incorporated in both modern and traditional spaces. Another way to use the step shelf design is to install a ladder-shaped shelf unit in the bathroom. You can keep this near the washbasin to add some structure to your bathroom.
You may also like to read – Bathroom Door Designs: Catch Up With Modern Trends!
Cabinet bathroom shelf
This is a classic shelf design idea. However, it works best with a moderate to large bathroom. This design incorporates a glass cabinet into the washroom.
The location should be preferably near the mirror and washbasin to provide easy accessibility to the users. It can either have net doors or fiber or wooden doors with holes in it. This ensures that the inside of the cabinet stays dry at all times.
Do you know about these – Bathroom Cabinet With Mirror: Choosing The Best Designs!
Counter styled shelf
This timeless design is a simple counter that usually extends over the length of a wall. The counter should be average in size. To add character, you can choose to have the counter on either sides of the wash basin.

You can also put an extra space below the counter to install your washing machine and dryer. This design provides ample of space for all your toiletries storage. Additionally, it also works as a laundry counter to store your laundry for the washing cycle.

The counter-style shelf can have baskets to keep clean laundry in. It can also have storage boxes to store your makeup in. if you draw a shower curtain, you can use the area near the counter as a dressing room.

If you are a family with babies, this idea comes in handy as the counter also serves as a station to change your baby's diaper or clothes. 
Glass shelf
Glass shelves are a versatile shelf design that goes with every home or bathroom décor. It provides simplicity and uniqueness to your space. The glass shelf can be of any colour or design.
You can put small glass shelves in multiple places; it will ensure unnamed customized section for each toiletry category. This is a brilliant way to organize your products or items without necessarily naming, categorizing or labelling them. 
Also Read – Vastu For Bathroom | Vastu For Toilet And Bathroom Location
Few Things to Remember Before Installing a Bathroom Shelf
As attractive a bathroom utility shelf sounds, there are a few important things to keep in mind before installing a bathroom shelf. 
You should also know about – Top 5 affordable brands for bathroom fittings in India
Keeping these points in mind while purchasing or fitting your bathroom cabinet can work wonders for your bathroom space. Here is a list of the most important points:
Ease of installation

:

Fitting shelving units

in a bathroom can sometimes be tricky because of the tiled walls.





While drilling the wall tiles for holes, it can sometimes damage the tiles and repairing such tiles might become a major source of headache.





Thus, making an informed decision on the

type of bathroom shelf

you would want will prove handy in the future.

Utility purpose

: it is very essential to choose a shelf unit that serves your purpose. Do not choose a shelving unit to match your décor, but choose a unit that serves your purpose well. For example, if you have a baby then choose a counter style shelf.





But, if you are just a couple in your family, then it makes more sense to go for minimal design shelf like a glass shelf or a step styled shelf.