When everything else is going well, people hardly think they need kitchen wall decor. The heart of the house is this area, which is lively and bustling. 
Kitchens are getting smaller and smaller, especially in modern apartments. Consequently, there is a great deal of pressure to make the most of the storage space. Kitchen wall art and decor can be creative ways to alleviate the stress associated with storage cabinets.
Wall art is a fun alternative to kitchen appliances. It may be challenging, but it is doable, to locate blank walls that complement the design of your kitchen. The focal point of your home should be one of these ten contemporary kitchen wall decor ideas!
DecorChamp has compiled a few simple and budget-friendly ideas for kitchen wall decor. Refresh your kitchen's appearance. So, Let's get started!
Wall Hanging Ideas For Kitchen
Put Picture Frames on The Chic Kitchen Wall That Are Decorative.
Photo frames are a cost-effective, low-maintenance option for decorating kitchen walls that also add personality to plain walls. This modern kitchen's black and gray tones make perfect grayscale photo prints and subtly enhance the appearance.
For The Wall Hangings In Your Kitchen, Choose Artwork With a Food Theme
Painting the walls of your kitchen is a great way to inject some humor into the space. The quirky artwork that brings life to this gray kitchen is our favorite. 
Decorate Your Kitchen or Wall With Amusing Food Puns.
Wall art with a kitchen theme and puns about food are exactly what they should be. Have you used it? Your kitchen will be brightened up by these whimsical prints, which are sure to make everyone smile. You can ask your favorite artist to create a piece of art for your kitchen if you have clever pun ideas.
You may also read: Kitchen sink design
Decorate The Kitchen Wall With A Rustic Menu.
This suggestion is for wall art and decor for your kitchen if you don't want to go the personalised route. With rustic menu art, the kitchen/dining area looks much better. Letter art for kitchen wall decor has a charming and chalkboard-like feel to it, which I adore.
Wall Decoration That Is Inspired By The Kitchen
Another simple kitchen wall decor concept. I love how the sparse wall decor camouflages the blank walls in this kitchen. It's also very useful if you walk into the kitchen and lose sight of why you're there. One of these words will help you refocus.
Install a Whiteboard, And Record The Meals You Eat Each Day There.
Anyone who has ever planned meals would agree that chalkboards are the best kitchen wall décor! List the offerings and menus that have The chalkboard adds a rustic touch to a contemporary kitchen.
Also read about: L Shape Modular Kitchen Design
Use a Small Vertical Garden As Wall Art In The Kitchen.
We'll show you how to grow your herbs to make pretty wall art for the kitchen. The vertical garden improves the decor and brings order to the kitchen garden without taking up more space. The kitchen comes to life when natural greenery is incorporated.
Kitchen Wall Hanging For Small Spaces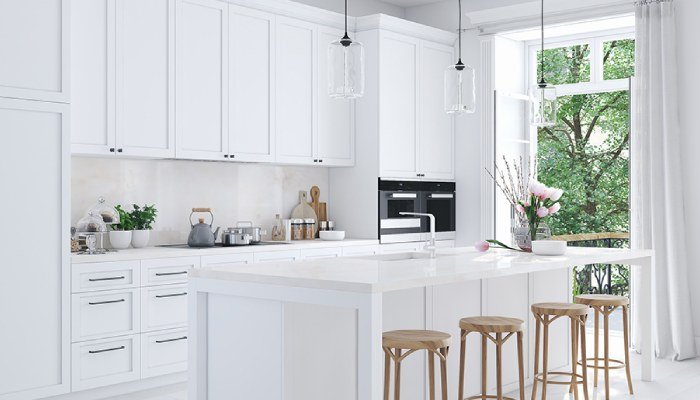 Almost no more empty walls for kitchen decoration? You can make the most of the floating shelf design by using brackets to hang small plants. In a busy and compact kitchen area, this is a great addition to your kitchen. It's a wall decor hack. This seems like a very low-maintenance way to add some adorable decor to your kitchen.
For Your Kitchen Wall Hangings, Choose Flowers.
Use a fifth wall to bring the kitchen to life if there isn't much room for decoration on the wall. A beautiful kitchen wall decor with hanging plants can make a difference. You could also decorate the walls of your kitchen with lanterns.
May you should also know: Kitchen Pop Design
Signboards
Although sometimes speaking is preferable, seeing is believing. After all, is there anything more effective than using signs to express yourself? Sign kitchen decor is ideal for farmhouse designs like western farmhouses, rustic farmhouses, and the classic farmhouse. These fads adore vintage signs. 
Advertising slogans like "fresh eggs" and "freshly baked bread" are reminiscent of those used by grocery stores and farmers decades ago. Another common sight in the farmhouses, cottages, cottage chic, and other rustic designs with a vintage flair are one-word signs with funny sayings like "Gather" and "Home."
Wall Clock
An analog clock in a kitchen is now like a unicorn. An analog watch instantly reassures when so many people rely on smartphones and smartwatches to tell the time. After all, watches can be simple or very complicated, old, or new.
It's also helpful. Just by looking at the time, you can read it. An eerie metaphor for the analog/digital divide can be seen in the very act of checking the time on a watch rather than a phone.
An Antique Frame
Decor that can be hung in a frame is fun, simple, and simple to hang. To make things clear, we mean decorative structural frames for windows, doors, and even mirrors without mirrors here. Another option is galleries with empty photo frames.
Engraved Art, Sculpture
Because it requires a lot of time and effort to create, it is a rare and elusive shape. While looking through art cellars, you may occasionally come across them. However, the outcomes are always spectacular due to the artists' talent, skill, and attention to detail.
Consider reading: