If you need to have a party for friends and coworkers and are unsure of the ideal location to draw people in, what should you do?
If you've had a long day at the workplace and need a drink to recharge. If you need the ideal room and air for it, how about if you have a forthcoming football final to watch all night?
Include a home mini bar in your interior design for a one-stop solution.
By having a home bar, you may welcome your friends for a birthday party without having to arrange a reservation at a fancy restaurant or stroll down the street to the pub.
Tips on How to Create a Beautiful and Spacious mini Bar for home
Bar Shape and Size

: The size, shape, and orientation of the bar depend on the area you are turning into a home bar. In terms of design, the bar can be rectangular, curved, round, L-shaped, or U.

Bar Storage Area

: Spirit bottles, wine glasses, blenders, ice makers, flavorings, and essences must be stored properly and separately in the bar.

Enliven the decoration

: good interiors are nothing without good decoration. A bar is an area of ​​your home where you can entertain visitors for a drink or two, so it should have a more opulent appearance.

Where should the bar be created

? A permanent home bar requires some forethought regarding its location in your home.

Money to create a game

: When deciding on a bar design, budget is key. The amount of money you need to spend on the area will determine its size, appropriate materials, and furnishings.

Bar Texture and Tone

: Choosing a texture and theme for your bar's appearance is an important step in the design process.
Materials: The materials you choose for the various components of your bar will have a significant impact on the atmosphere of the space.
Also have a look at modern steel bed design here for your bedroom.
Take a look at a few ideas for creating a comfortable bar for yourself before diving headfirst into your fantasies of owning one.
HOME BAR DESIGN IDEAS:
Monk Retreats to the Dark Closet
Ever consider converting a cabinet that is no longer in use into a bar within your house? 
Instead of searching for a corner counter, having a dedicated mixing station will make hosting parties much simpler.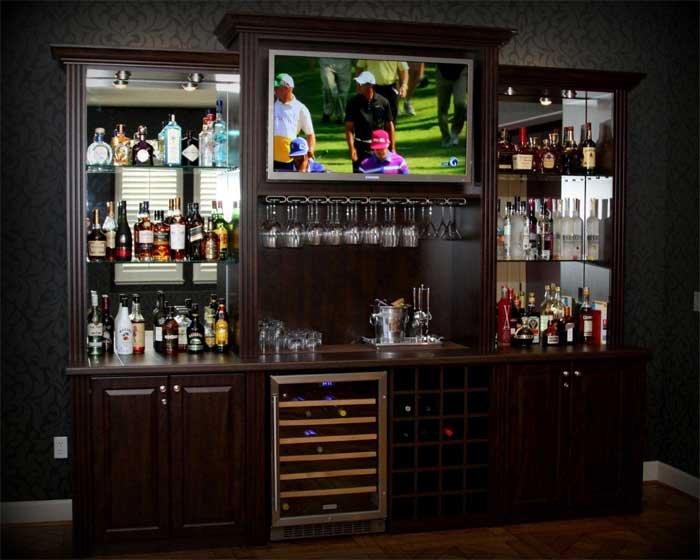 The best feature of a cabinet bar is that once the party is done, you can hide your bottles from your kids. For tv stand, one can refer to latest tv stand designs here to pick the best design for small home bar.
Despite its size, a storage bar will be quite useful. You can create a minibar with functional sinks and enough room to keep your pricey booze and glasses out of a basic underused cabinet. 
The rustic version of whisky on the rocks
Distressed wood, stone, bricks, and strong stools made for guys who can manage their booze can help you recreate the old cowboy-style salons in your home.
Although the Old West may be decades in the past, the return of the rustic motif will turn your tavern into a local legend.
There are many different types of home mini bars, but nothing appeals to us more than the rustic bar. affix a whiteboard with the beverage of the day for a bar-like feel. In case you want to place a sofa cume bed near your home mini bar, opt for steel sofa cum bed as it can be used for dual purpose.
Suggestion: Avoid including cocktail napkins and coasters since a few spills and stains go wonderfully with a rustic-style bar. 
A corner molding that protects your magical moments 
Most houses have an unused odd-angle corner. A small minibar is a great way to save space and fits perfectly into this small alcove.
We have analyzed many methods to take advantage of the empty corners of your home. Incorporating a stylish little bar is a brilliant idea. In case bar counter is made up in the living room or dining room, match it with perfect steel dining table to give a perfect match.
The look of a corner bar is completed with floating shelves, mounted cabinets, a holder for all those wine glasses, and a nice shelf with pleasant lighting.
Display Your Antique
A Mirrored Home Bar Design brings the natural flair of a pub into your living space. Mirrors enhance the elegance of glassware and bottles by adding depth and reflecting light.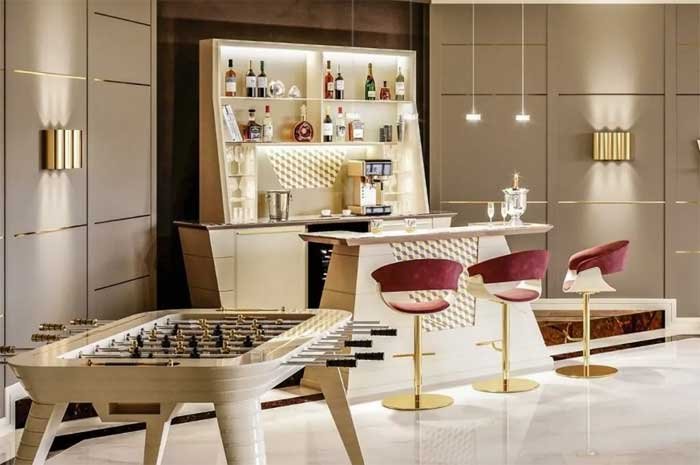 So if you are an avid collector of expensive liquor, installing mirrors will make your cabinets appear larger and allow you to display your prized collections. 
Make it very charming with murals & wallpapers
Set the right tone for your visitors and let the good times roll! Build the home bar alongside your living room space so you may relax while sipping an evening beverage.
After a long day, walking into a little bar like this will revitalize your body. A fantastic wallpaper will do wonders! Have a look at types of wallpapers here.
You may now start your evening with a wonderful glass of wine or utilize your bar as a spot to spend the weekend with your friends.
Everything within the Wall
The home bar which additionally functions as wall art. home bar concepts and styles has grown up as additional ingenious as homes became smaller.
Install your home bar on the wall to save lots of floor space. This can be an amazing construct for bachelor flats and small man caves. Mini home bar can be fixed in almirah as well which are portable and easy to use. Check the latest almirah designs here to view all designs.
Box shelves are used for storage, as countertops, and as a lighting foundation. Use your imagination to make the best wall home bar for your tastes and personality.
The Checklist to your Home bar
Consider design and décor while setting up a space (art, plants, rugs, etc.)

Determine the location and size of the home bar 

Discover the many styles of cocktail and beverage glasses.

Taking note of the sort of natural illumination in the area.

Keep a list of the home bar accessories you will need

To prepare, do some research on both traditional and common spirits.

Include any garnishes, bitters, and mixers for mocktails.
Finally, beautiful home bar design ideas can be a great addition to any interior design. It offers you a place to entertain friends and relax with family.
There are several types of home bars to choose from, so take your time to choose the one that best suits your needs and style.
Consider Reading:

Consider adding a bar to your home if you want a space concept to relax in after a busy day or a dedicated area for parties.
Also read: Top whiskey under 1500 here.