A color scheme is something that makes the perfect bedroom. This color scheme includes everything from bed to furniture and wall colors. An ideal bedroom ideas vary from person to person as everyone has perfection. To give an excellent aesthetic or bring a bold color is a great way for different designs. It allows the breakup of color as only one color could be boring or overpowering.
If you are searching for a color combination that can enhance to aesthetic of your bedroom or master bedroom, there is something for you.
Color schemes that will help you select the combination of your choice.
WHITE AND GREY
Let's start with an essential yet very beautiful combination; yes, it is white and grey. It is a bright and light combination. This will enhance space and provide natural light in the bedroom. The woody furniture color and this combination go together very well. This wall combination is soothing and posh at the same time.
COFFEE AND CREAM
You are making a good choice if you're choosing a coffee-based color for your bedroom.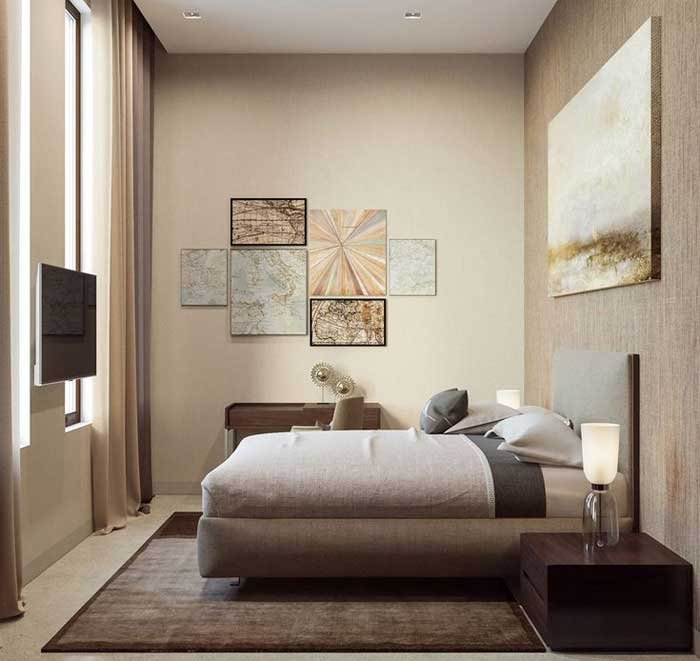 Coffee has a range of shades, from deep espresso, to warm and neutral, that is, a latte. 
A dark coffee color and cream or beige color go hand to hand and give the bedroom a decent look.
PINK AND WHITE
This combination is great if you want a fairy aesthetic in your bedroom. The blush shade of Pink makes the room feel feminine and pretty; the white adds to the elegance and breaks up the pink shade.
This will brighten up things, and pastel color accessories in the room will complement it very well. If you want some other options then try this similar Green two colour combination for bedroom walls are very popular among people because it gives unique or different shades of colors and also looks very attractive. 
SHADE OF BLUE AND WHITE
Blue is associated with peace and tranquility, and peaceful sleep. Shades of blue go very well with white. Turquoise blue, navy blue, and royal blue are bold colors, and this alone can make a bedroom look dull, but adding the white combination lights up the room.
 The color combination looks royal and gives an elegant bedroom vibe. It gives masculine essence to the room. Adding white furniture and accessories can enhance the look of the bedroom. 
ROSE AND MINT
The pastel shades of pink and mint are unique in the wall combination. They make beautiful combinations. If you are bored of your white bedroom wall and want something quirky, then this mint and rose color combination is something you should go for.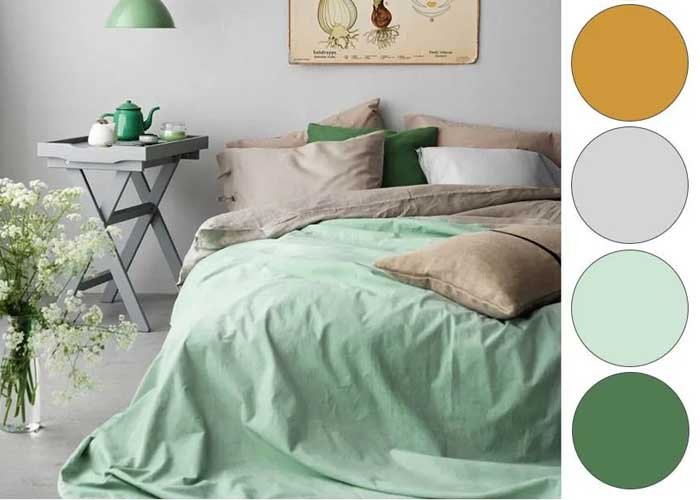 RED AND WHITE
Now, this combination is something people don't admire when it comes to bedroom walls. If the shade of red is taken well according to the furniture and other accessories, these two colour combinations for living room will look stunning.
Deep maroon red is what you can go for if you want to spice your walls up and, at the same time, make them look classy.
The red gives a pop to the room, and white calms it down. These two balance each other very well. The accessories, which are gold or silver in color, go well with this red.
BLACK AND WHITE
Painting your walls black is not something that comes to mind easily. No one wants a black color on their walls, but a white and black combination can make a bold difference to your bedroom.
Try to keep minimum furniture and accessories because monochrome works well when minimum things are going on. Black and white bedding can be used with all black or white wall combinations. One thing you should remember is that black walls can make your room look smaller than it usually is.
Conclusion
There is much to choose from when finding two colour combination for bedroom walls. Always remember that a bedroom is your personal space; you can decorate it or make a little heaven according to your style; it is all up to you. You should make sure it is something that you like as you will be the one spending your time there.