Are you looking for small bathroom ideas that actually work? You see hundreds of bathroom designs on the internet and wish to have everything in your small layout. Here you can find some awesome layout ideas for a smaller bathroom that can be good for a master bedroom, kids' room or guest room.
The challenging task for bathroom plans is the space constraints. Bathrooms are one of the projects that most people fear to plan perfectly. Here you can get an idea for thoughtfully planned 30 to 60 square feet bathrooms.
What makes a bathroom efficient and comfortable?
If you are looking for small bathrooms with big style then you need to incorporate the below-mentioned fixtures in your 30-60 square feet baths:
Sinks and toilet: The ideal dimension for sinks can be 1.5ft W x 1.5ft D x 3 ft H, and if you wish to install a bath vanity then it will be 1.6 to 2 feet wide and 1.4 to 1.6 feet from front to back. For toilet seat, the standard dimensions can be between 1.3 feet to 1.5 feet in width.
Shower cubicle:You can make a corner shower in 3 x 3 feet area, and for a shower cubicle the standard dimensions can be 3 D x 5 W x 6 H.
Bathtub:For smaller bathrooms, it is advised to have rectangular bathtubs in the standard dimension of 5ft L x 2.5ft W.
To make the bathroom more efficient, you can focus on hanging storage. Elegant lighting will do the trick to make the place looks bigger. Also study and adopt vastu shastra tips for bathroom while constructing it.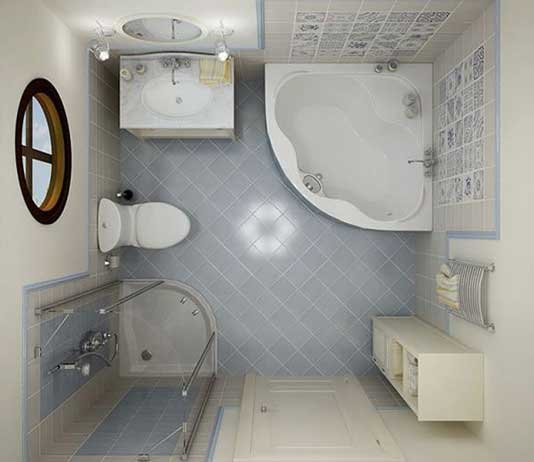 Practical Bathroom Layouts
A half bath in 30 square feet
It is the smallest size of a bathroom but can be practical with 5×6 feet dimensions. This plan features a sink with adjacent toilet, and a wall mounted shower.
45 square feet bathroom with storage area
Here you can get a strategically placed sink and toilet with wall mounted shower in a 9×5.3 feet bathroom. You can get clear space to wash off, and some space near the sink can be used for corner cabinets.
Shower enclosure in a 54 square feet bathroom
You can have a three-quarter bathroom in 9×6 feet dimensions, where you can have adequate space for shower enclosure in a corner opposite to toilet and sink vanity.
55 sq feet bathroom with shower cubicle and storage space
Follow this layout if you need extra space for cabinets. Designed in 8.6×6.6 feet, you can have a shower enclosure, a sink vanity and a toilet here. The wall space opposite to the shower cubicle can be used for towel racks and added storage.
A 58 sq feet Bathroom with generous shower space
Design you bathroom in 8.6×6 feet dimensions with this plan to have a complete shower enclosure. Install the toilet and pedestal sink on the left walls to have adequate space for cabinets.
Bathroom layout for large bathtubs in 58 square feet
If you wish to install large whirlpool tubs in your bathroom then follow the 9.6×6.5 feet layout where you get ample space to dry off in the center area.
Three-quarter bathroom layout in 60 square feet
Featuring 9.4×6.4 feet dimensions, this bathroom can have rectangular shower enclosure on one wall, adequate storage space on the opposite wall and a standard sink vanity along with toilet seat on one wall.
Ideal arrangements of sink and toilet in 60 square feet bathroom
If you have space for a square bathroom, then follow the 7.4×8.5 feet plan to have a sink, toilet, shower area and clear area to dry off.
Also read: Bathroom Tiles Designs and Combinations
It's challenging but not a tricky task to plan a bathroom in a space between 30-60 square feet. You can take a hint from the above mentioned layouts to plan your bathroom.