Aquant is a Mumbai based company that began presenting more than just essential sanitary ware and bathroom fittings to the Mumbai market. It began its journey from 2006 and since then it has been continuously growing. Within a decade, the brand has expanded over 300 dealers with a presence in 52 cities and towns over India.
At Aquant, manufacturers are selected only after meticulous factory and product quality inspections. It uses the best quality internal parts from Europe. It is a brand of premium contemporary sanitary ware, stone and ceramic washbasins, shower systems and allied bath products with a broad presence across India.
Aquant's products have the most inexpensive price tag as compared to the other brands in India. It makes sure that the product rigidly verifies the quality tests. It is confident that it's products will give you many years of trouble-free operation.
However, for peace of mind, all products are covered by the following warranties:
Shower systems: 10 years
Shower panels: 10 years
Faucets: 10 years
LED lights, allied bath products: 2 years
SS/ABS showers: 2 years
Aquant has a truly enormous amount of variety when we talk regarding bathroom fitting's colors, styles, appearances, and many other elements. Irrespective of the size of the bathroom you can make it look beautiful. Aquant bath fittings and accessories suit every taste and transform the personality of your bathroom.
Aquant Sanitary Ware
The Aquant Sanitary Ware Collection offers a wide variety of products to choose from. Be it contemporary, stylish, luxurious, durable or economical, whatever your style is, the products are specifically designed to suit every taste and transform the personality of your bathrooms. Many products in Aquaint's portfolio are winners of prestigious international design awards.  
Aquant Designer Wash Basins
Aquant designer washbasins are made from millions of years old, marble and onyx. It has two range of designer washbasins, The signature, and the classic collection. The signature collection is made up of ultra-luxurious Europian stones mined in regions of Italy and Spain. The classic collection comprises of premium stones mined in Asian countries like Indonesia and Iran. Aquant's stone basins are produced in Bali. A natural stone block with unique characteristics is transformed to create a precious object which becomes the focal point of any bathroom. Mainly onyx and marbles are used for designs.
Aquant Shower Systems
The Aquant shower collection offers you a wide variety of products that will allow you to enjoy pleasant moments. A well-designed shower system at home is the ultimate luxury experience. It invigorates your body in the morning, ensuring that you are ready to face the day feeling vibrant and energetic. Thanks to the revitalizing energy of water. For each situation a specific product; whether you prefer a relaxing experience of the senses or a powerful shower that brings you vitality. Simply choose the products you need and become inspired by the meditative qualities of a gentle rain or a roaring waterfall.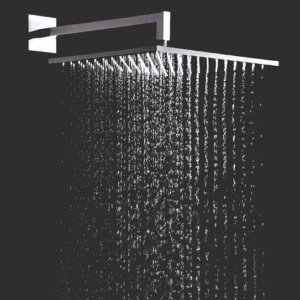 Aquant Shower Panels
Aquant shower panels offer a lot of therapeutic advantages. Since the water jets can be positioned individually and are adjustable, they can be targeted at specific muscle groups of the body to soothe and massage specific areas, thus providing effective relief from muscle pain. As well, since flowing water has a soothing effect, being targeted by body jets helps your body release endorphins which act as a natural pain reliever. Reward yourself by creating a personal space that makes a clear and confident statement with a collection that emits extravagance, quality and design superiority. Trust us, your body will thank you!
Care and cleaning guidelines
Do not allow cleaners (like harpic) to sit and soak on the product.

Wipe surfaces clean and immediately rinse after applying cleaners.

Use a soft dampened sponge or cloth to clean.

Do not use aggressive cleaning products.
Visit Official Website: AquantIndia.com