DIY Ideas you can Try this Diwali
Here is how you can deck up your entire house this Diwali using these exciting DIY ideas. 

Although elephants are not the staple animals to represent Diwali, that doesn't mean you cannot use them to decorate your house this Diwali. Make your DIY elephants using clay and hang them outside!

The lotus flower requests many Hindu deities, which are celebrated during Diwali. So achieve your blessings using DIY tea light holders in lotus shapes! Here Are 10 Ideas for Diwali Light Decoration That Are Sure to Impress Your Family and Friends

A paper Diya is so easy to make that even a kid can go at it. Make multiple diyas in different colors and hang them on a string on a colored rope to enhance your festive decor.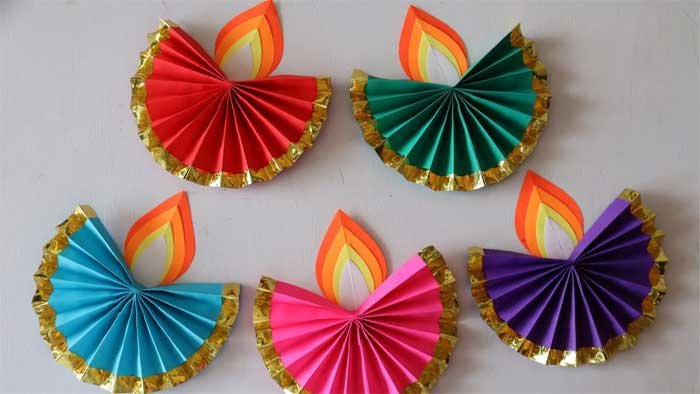 Paper is the best medium to make lanterns as it allows for light to shine through them. You can give a multi-colored effect using different colors of paper. 

You can decorate those bare walls if they are other you with DIY lotus. This Is the best way to decorate a wall that is too thin for a photo or any other decor. 

Diwali represents gold and yellow blooms- none other than marigolds! Now you do not have to worry about fetching these standard features in festivals and Indian weddings; make them using paper!
Candles holder made from bangles
You can go for this lovable idea of using glass bangles as candle holders. Use any assortment of bangles lying around the house and stack them randomly to create a stand. 

You can be creative while making these lanterns- make one big diya or many small ones. 
Are you short on cash? Did you spend the budget allocated for home decor on your clothes instead?
Are you worried now how you are going to give your home a makeover this Diwali without breaking the bank? Worry not! Because this post has some awesome diwali decoration ideas covered for you. Let's get started!
1) With fairy lights
If you are someone who is fond of Diwali as well as Christmas lights, fairy lights can be your best investment. Invite a fairytale-like feeling in your rooms with them. You can look up to Pinterest for various inspirations and on how to decorate with them in different ways.
Another bonus with them is that they instantly add to that cozy look in winter. You can even wrap them around branches of trees in your backyard for an ultimate festive look.
2) With candles
Yes! That's a no brainer! But it's still sad to see so many people under-estimating the power of candles for their home decor. The usual scene is keeping candles in balconies or on the edges of the stairs.
However, there can be more to this. One can use glittering candles and combine them as a statement piece to be placed on their coffee tables. Then there can be colorful ones bought which can be placed in your otherwise monochromatic theme house. Don't forget candle stands to bring in metallic hues which are a big hit this season!
3) With paper lanterns
Are you confused on how to decorate your backyard this Diwali? Does the idea of decorating simply with lights feels boring for you? How about adding a host of colors with paper lanters? Yes! Not just is this idea cost-effective but incredibly easy to incorporate too.
You can make them on their own with easy materials or even buy them at low prices. They can be hung easily to add that vibrant look to your house.
4) With flower bowls
If the inclusion of colors, lights and lanterns looks all the same to you, adopt this way! Buy big transparent bowls and some flowers. You can go for real ones or fakes ones as per your taste and preferences.
Fill the bowls with water till medium height and then add flowers to them for a beautiful look. The bonus of including real flowers in those bowls apart from having a nice smelling home would be the increased attractiveness quotient.
Shop for flowers and gorgeous bowls online by availing of fab furnish coupons present on CashKaro.com. They will fetch you low prices and awesome Cashback deals.
5) With Sequins
Because you do not need disco balls to do that! Think of sequinned pillows in hues of metallic silver and golds! Or maybe DIY sequinned candle jars for which you need just gum and glitter.
If you go for sequinned cushion covers, ensure to keep the other elements simple so as to not make your space look overwhelming. You can shop for a variety of such gorgeous cushion covers online without spending a dime by taking advantage of Pepperfry coupons available on CashKaro.com
6) With rangoli
Diwali feels incomplete without making out time for Rangoli. Right? And don't worry about spending an eternity for making it if you aren't good at it. With stencils available now, all you have to do is pick one in your favorite design and get started with coloring it.
Easy peasy, right? You just need to come up with good color combinations. Check Best Easy to Make Rangoli Designs for Diwali and do it easily.
Hope these tips help you give an instant Diwali makeover to your home!
Other Diwali Decor Ideas to Steal the Show
Not just these, we have other ideas that can give you a lightened and more colorful Diwali this year. Here are some ways to provide a fresh feel to your homes this Diwali. You can experiment with colors by breaking the monotonous look. Use different shades of wallpaper to break the monotony. 
You can also go for colorful accessories such as colorful cushions and Turkish chandeliers. Furthermore, going for colored ceiling lamps or even a simple light would do. You can also add one or two plants to enhance your decor. 
You may like to read – The Best DIY Diwali Decoration Ideas for Indoors & Outdoors
You can also add colorful carpets that go well with your interiors and future. It is also helpful to pay attention to your pooja room. Learn it well and organize all the items properly. 
Diwali being the festival of lights, make sure you leave no corner unattended or void of lights. Use diyas, candles, and other things to light up your house. You can also use colorful dupattas as drapes around the house to give a festive feel all over. 
Another contemporary yet sho stroller idea is the use of paper cups as lights for this Diwali decoration. Also, we know how beautiful the glass lights look while they light up the whole room if you light them in the dark. So they go perfectly on a Diwali night when you want to illuminate with magic.