A family's living room is frequently the most used room in the house, serving as a central hub for socializing, entertaining, and spending quality time together. 
Toy organization and preserving a clutter-free atmosphere become serious challenges when it's necessary to share this area with children. 
Discovering creative and fashionable toy storage solutions that fit in with the existing design of the living room may make a big difference in the area's ability to operate as a whole. 
To help parents and kids alike appreciate a neat and comfortable living room, this post will provide a variety of toy storage options.
Investing in multi-functional furniture items that can also serve as storage solutions is one of the most effective methods to deal with the clutter caused by children's toys. 
Excellent examples are sofas, coffee tables, and ottomans that have concealed storage space within them. These pieces not only give additional seats and surface space but also covert storage for children's playthings. 
While purchasing such pieces of furniture, you should look for styles that complement the aesthetic of your living area and make storage appear to be an organic part of the design.
Also read about – Bespoke Storage Solutions for Your Home
Wall-Mounted Shelves: Vertical Toy Organization
Installing shelves that are fixed to the wall allows you to make the most of the vertical space in your living area. 
These shelves have the potential to serve both a practical and aesthetic purpose, enabling you to display your child's favorite toys while also maintaining their orderly storage. 
Use shelves that have vivid colors or unusual forms to inject some playfulness into the room. Your child will have an easier time locating their items and putting them away if you classify their toys according to the shelf space that they take up.
Stylish Baskets and Bins: Aesthetic Organization
Your living area may benefit from having a touch of texture and warmth with the addition of baskets and bins, which are adaptable storage options that keep toys hidden from view. 
As appealing additions to the interior design, woven baskets or fabric bins can be carefully positioned throughout the space in various locations.
Choose alternatives that come with lids or handles for quick access and an organized overall appearance. The procedure of cleaning up may be made even more efficient by clearly labeling these storage containers.
You should also know – Storage Ideas for Small Kitchens
Custom Built-Ins: Tailored to Your Needs
Investing in custom built-ins could be a good idea if you're seeking for a solution that will last for a longer period of time. 
These bespoke storage cabinets may be created to mix in perfectly with the arrangement of your living area, guaranteeing that the space will continue to serve its purpose while also maintaining its appealing appearance. 
When designing a storage system to meet your individual requirements for storing toys, it is a good idea to include not just open shelves and locked cabinets but also showcase places.
Rotating Toy Display: Interactive and Organized
Not only can a rotating toy display help you keep your living room in order, but it will also provide an element of interactivity that will stimulate your child's creative thinking. 
Think about getting a bookshelf that spins around or a rotating tower that has several levels for storing toys. 
Your child will have easy access to all of their toys, and it will be simple for them to put them away by just turning the display. It's a win-win situation that encourages both cleanliness and a sense of humor.
Read about – Perfect Bed Designs For Your Kids
Chalkboard or Whiteboard Wall: Creativity Meets Organization
Convert a portion of one of the walls in your living room into a surface that can be written on using chalk or whiteboard marker.
Your child will be inspired to draw, write, and organize their toys in an artistic manner if you take advantage of this inventive method of toy storage.
Hooks, shelves, or baskets that can contain art materials and other small toys can be attached to the wall. This concept not only prevents the accumulation of clutter in the area, but it also fosters creative expression in your youngster.
Use the area under your sofa to store toys in order to make the most of the space you have there.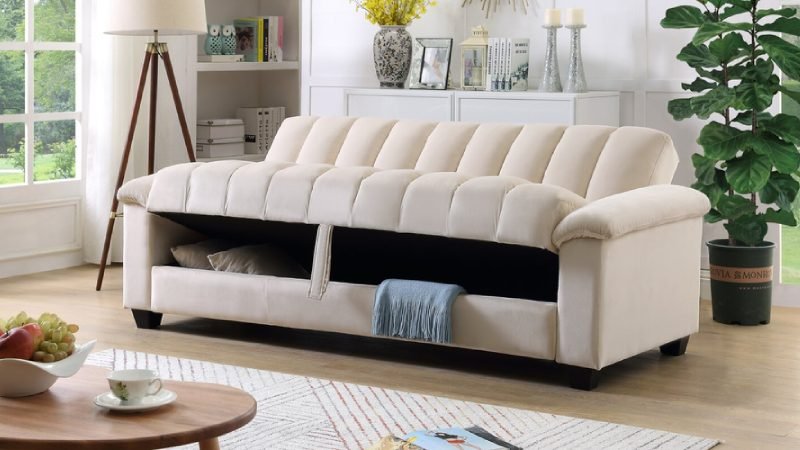 You may purchase storage boxes or bins made to slip under furniture, which will allow you to store toys in a way that is both convenient and out of the way when they are not being used.
This suggestion is especially beneficial for living rooms that are on the more compact side because it makes better use of the available space.
You may also like to read about – Single Bed Design For Kids
Toy Nets for Hammocks: Elevated Storage
Using nets or hammocks that are hung from the ceiling or walls is a creative and one-of-a-kind approach to the problem of toy storage.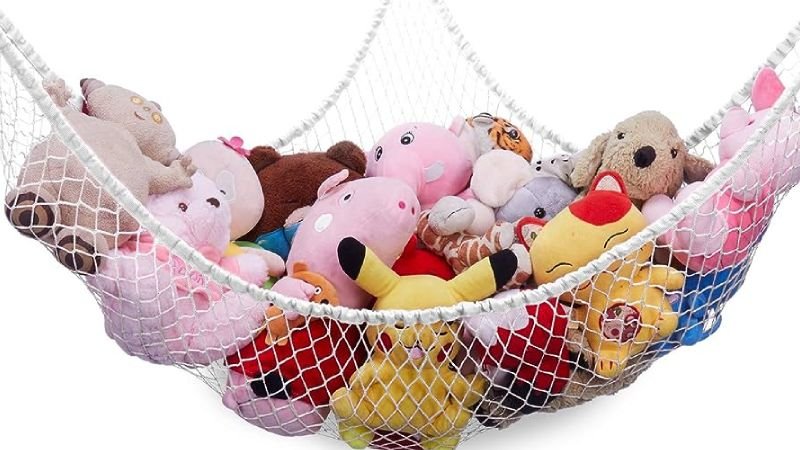 These quirky storage choices that are elevated from the floor provide an ambiance conducive to play while also keeping toys off the floor and within easy reach. 
They function well for stuffed animals, plush toys, and other light-weight forms of playthings.
Conclusion
It is entirely possible, with some ingenuity and careful preparation, to keep your living room's aesthetic in good order while still making room for your child's playthings. 
The trick is to incorporate toy storage options that are designed to fit in seamlessly with the style of your living room and your child's play requirements. 
Whether you decide to go with multi-functional furniture, vertical shelves, or creative displays, these ideas provide a number of ways to keep your living room organized while still making it pleasant for both adults and children. 
You can turn your living room into a location that is not only practical but also visually beautiful by putting these toy storage techniques into action. Your living room will then be a perfect example of the concept of "ordered chaos."
Consider reading -