On our Balcony, we can enjoy some fresh air and sunshine without leaving your home. A balcony door is an essential element of your balcony, and choosing the right design for it makes a difference in the looks of your home. Here DecorChamp lets you explore some of the best balcony door designs that can help you upgrade your home.
Modern Balcony Door Design
A modern balcony door design is a great way to give your balcony a clean and modern look. These designs have simple and clean lines that make them perfect for all homes. 
They are made with materials like glass and metal that give them a very stylish look.
You can choose from different designs like sliding, bi-fold, or pivot doors, which means you can choose one that best suits your balcony's size and your requirements. 
Sliding doors are a popular option as they save space and look very elegant.
Bi-fold doors can be a great choice for larger balconies as they can be folded to one side to create more space. Pivot doors are another option that can be perfect for smaller balconies.
Here you should also try these summer time balcony tips for your perfect home. 
Wooden Balcony Door Design
If you're looking for a traditional design for your balcony door, then wooden balcony door design is a great option to consider.
Wooden balcony door designs are a classic choice that never goes out of style. These designs are perfect for homes with traditional decor.
Wooden balcony doors can be made of different types of woods, such as oak and teak. Oak is a popular choice for its durability and resistance to wear and tear. Teak is another popular choice for its natural beauty and ability to resist weathering. 
These wooden balcony doors can be customized to suit your preferences. You can choose from different finishes, such as stained, painted, or natural. 
Additionally, you can choose from different styles such as French doors, sliding doors, or single and double doors.
Wooden balcony doors provide a warm feel to the space. They offer great insulation, keeping the room warm during the winters and cool during the summers. They also provide better sound insulation, reducing outside noise levels.
Wooden balcony doors require regular maintenance, such as sealing and staining, to maintain their beauty and durability. However, with proper care and maintenance, they can last for many years and even decades.
These trending balcony decorating ideas can change the whole look of your balcony. All these balcony designs are inspired by Indian culture. 
Small Balcony Door Design
A small balcony can be a comfortable and inviting space, but finding the right door can be a challenge. That's where small balcony door designs come in! 
Small balcony door designs come in a variety of materials, such as glass, wood, and metal. You can choose the material that best matches your decor and personal style. 
One of the biggest advantages of a small balcony door design is the space-saving feature. With limited space on a small balcony, you need a door that doesn't take up too much room. 
These designs are perfect for small balconies because they are compact and don't get in the way.
Safety is also very important for every home. So, try these balcony safety grill designs to make your balcony more stylish with total protection. 
Balcony Door Design in India
If you're in India and looking for a balcony door design that reflects your culture and heritage, there are many options available to you.
Here you can also add different types of Indian balcony railing looks. It will provide a fancy look with full protection of your balcony.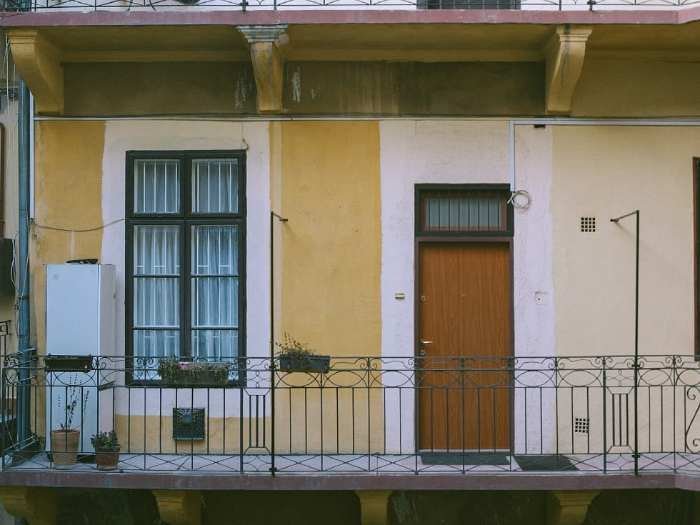 Indian balcony door designs are known for their bright colors that can add a touch of good look to your home. These designs can be customized to match your personal style and preferences.
One popular material used in Indian balcony door designs is wood, which can be painted with traditional patterns. Metal is also commonly used, with designs and scrollwork that add an elegant touch to the door. 
Glass can also be added, with colorful stained glass or designs that showcase the beauty of Indian art.
A traditional design may be best suited for a classic or rustic interior, while a more modern design can complement a minimalist space. 
With the variety of materials and customization options available, you can create a balcony door design that is unique and perfectly suited to your home.
Sliding Balcony Door Design
Sliding balcony door designs are an excellent choice for those who want to save space and add a modern touch to their home.
These doors slide smoothly along their tracks, taking up minimal floor space and allowing you to make the most of your balcony area.
You can add materials, including glass, wood, and metal, to create a sliding balcony door design that fits your home's style. 
Glass doors let in plenty of natural light and provide a good view, while wooden doors add warmth and a touch of traditional elegance. Metal doors are durable and can provide a modern look.
With sliding balcony doors, you have the option of a single door or multiple doors that can slide open to create a larger opening. This design is perfect for those who enjoy indoor-outdoor living and entertaining guests.
Also Read – Flush door vs Wooden doors
To conclude, selecting the perfect balcony door design is essential for enhancing the appearance of your home. With the right design, your balcony can become a beautiful and inviting space for relaxation and entertainment. 
We hope that our article has provided you with useful ideas and helped you to get inspired for improving your home's balcony design. With a little creativity and a thoughtful approach, you can create a stunning and functional balcony that will enhance the beauty and comfort of your home.
Frequently Asked Questions 
Q1 – What advantages do we get from having a balcony door installed in your house?
Answer – Installing a balcony door in your home can provide several benefits. Firstly, it can bring in natural light and fresh air, which can improve the overall ambiance of your living space.
Secondly, it can give you direct access to your balcony, which is a great place to relax and enjoy the outdoors. You can also use your balcony for growing plants or herbs, which can improve the air quality in your home.
Thirdly, balcony doors can provide an additional layer of security, as they are typically equipped with locks or other security features. You may feel more at ease knowing that your house is secure from invaders as a result.
Finally, balcony doors can enhance the aesthetic appeal of your home by adding a stylish and modern look to your living space. Installing a balcony door can boost your quality of life overall by bringing more natural sunlight, cool air, privacy, and a better living area into your home.
Q2 – Are there any eco-friendly balcony door options available in the market?
Answer – Yes, there are eco-friendly balcony door options available in the market. Using doors made from materials like bamboo or reclaimed wood is a good option.
The advantage of these materials is that they are renewable and safe for the environment. Another option is using doors with energy-efficient glass, which can help reduce your energy consumption by keeping your home cool in the summer and warm in the winter.
Additionally, some balcony doors come with built-in blinds or shades to reduce heat gain and loss, which can further improve energy efficiency.
Finally, some manufacturers offer balcony doors made from recycled materials, which can help reduce waste and minimize your carbon footprint. By choosing eco-friendly balcony door options, you can not only reduce your environmental impact but also save money on your energy bills in the long run.
Q3 – What are the few budget-friendly balcony door designs that can enhance the appearance of your home without breaking the bank?
Answer – There are several budget-friendly balcony door designs that can enhance the appearance of your home without breaking the bank.
One option is to choose a standard sliding glass door, which is a classic and affordable choice for balcony doors. Another option is to opt for a French door design, which can add a touch of elegance and charm to your home without costing a fortune.
If you're on an even tighter budget, you could consider a simple and functional bi-fold door, which can be a space-saving option for smaller balconies.
Additionally, you could choose a door with a minimalist design or a neutral color to create a sleek and modern look that won't date quickly. Finally, consider adding some decorative elements such as curtains, blinds, or plants to further enhance the appearance of your balcony door.
By choosing a budget-friendly balcony door design and adding some personal touches, you can create a stylish and inviting living space without spending a lot of money.
Consider Reading -