Looking for the ideal window curtain to complete your home's decor? Have no fear! It is our pleasure to assist you. The right curtain may radically change the feel of a room and help define its space.
Luxury curtains are a visual representation of your own style and say a lot about your preferences in decor and beyond. Therefore, it is crucial to get the appropriate curtains for your windows if you want to make a good impression on guests.
The curtains play an important role in the aesthetics of a house. They not only enhance the beauty of the home but also work best in controlling the amount of light a room should receive.
They work as a barrier between the dust and the home, they help to keep the home well ventilated yet clean. No matter which country or whether you live in, curtains are suitable for all environments.
They prevent the extra heat from getting captured in the room and regulate the temperature when it is too cold outside. They are also important as they keep your privacy intact as the sun sets.
Now that we know how important curtains can be in maintaining a good home, selecting the right curtains for your home is vital.
In order to choose the right curtains for your home, you must keep a few things in mind. We have prepared a shortlist of all the things you must do to find the perfect curtains for your abode.
Do check out the latest bedroom curtain designs here along with their updated price list and where to buy online.
Classic Elegance Curtains
Floor-to-Ceiling curtains: If you want to create a look that is both elegant and sophisticated, choose floor-to-ceiling curtains made of luxury materials such as velvet or silk. If you want your look to have a classic quality, stick to neutral colours.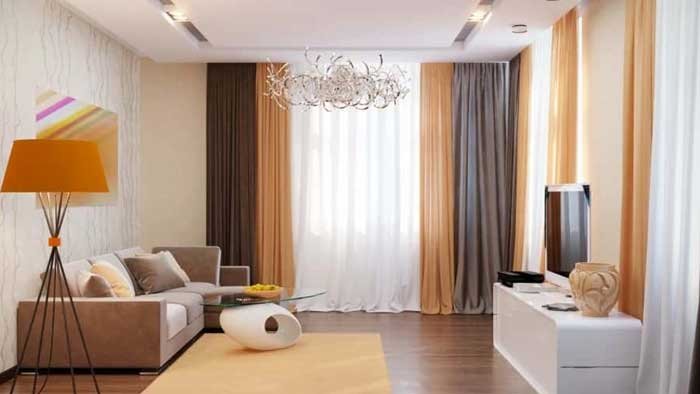 The space will appear longer as a result of these curtains, which will contribute to the sensation of grandeur. Any room may be made to feel more opulent by the addition of velvet, which has a velvety texture, or silk, which has a faint sheen.
Draperies with Pinch Pleats: Draperies with pinch pleats provide a fitted and elegant appearance since the pleats are uniformly placed.
Add a sense of elegance to the room by combining them with sophisticated curtain rods and finials. The curtains take on a stunning appearance because of the wonderful display that is created by the pleats, which give the structure and shape of the curtain.
These drapes lend an air of class and sophistication to more conventional or formal situations, where they function particularly well.
Curtains with Grommet Tops 
Grommet Top Curtains: Grommet top curtains have metal rings at the header and provide a very sleek and modern appearance.
They may be moved along the curtain rod with ease, creating a stylish touch while still serving a practical purpose. Curtains with grommet tops provide an appearance that is contemporary and uncluttered because of their simple design and clean lines.
They are an excellent choice for contemporary and minimalist interior design schemes.
Panel Curtains: If you prefer things on the simple side, panel curtains are for you. They are made up of separate pieces of cloth that are hung vertically.
To get an air that is contemporary and minimalist, try experimenting with a variety of textures, colours, and patterns. Panel curtains have a tidier and more streamlined appearance than other types of curtains, and they permit the fabric to move freely.
They may be utilised to partition areas or as window coverings, both of which lend a sense of modern flair to the environment.
Prints and Patterns Curtain Designs
Geometric Patterns: Floral Patterns: Installing drapes in your home that have eye-catching geometric designs in vivid colours is a great way to give it a more modern feel.
These drapes can transform any space into an eye-catching focal point. Create visual interest and give your home a more contemporary feel by using geometric patterns. Geometric patterns may be whimsical and captivating.
Floral Prints: Curtains with flower designs may help you bring the splendour of nature inside without having to leave your home.
You might go for a more dramatic impression with large-scale blossoms, or you can go for a more subtle and feminine touch with tiny floral designs.
Prints with floral motifs provide a room with an air of gentle romance and tenderness, resulting in an environment that is warm and invigorating.
Try these corner window curtains as well for your home.
Textures and Layers Curtain Designs
Curtains with Multiple Layers: By overlaying thin curtains with heavier drapes, you may get the appearance of luxury.
This not only gives your windows more depth and character but also gives you more control over the amount of light that comes in and gives you more privacy.
The juxtaposition of transparent and opaque materials results in an aesthetic that is both chic and refined.
The layer of thin fabric diffuses the light and lends an ethereal appearance to the space, while the heavier curtains ensure seclusion and insulate the space.
Textured fabrics: Linen, hessian or tweed are just a few examples of textured textiles that might be used to make curtains.
Your space will seem warmer and more inviting as a result of the incorporation of these materials, which bring a textural component to the design.
Textured fabrics provide the curtains with a sense of visual interest and depth, which contributes to an overall improvement in the look and atmosphere of the room.
They are also able to complement other aspects of the area, such as the textures of the furniture or the walls.
Searching for the best curtains for orange walls for your home? Have a look here.
Sheer Elegance Designs
Sheer Panels with Embroidery: Sheer Panels with Embroidery: If you want to add a sense of beauty and refinement to your space, go for sheer panels that have exquisite embroidery.
While yet allowing for complete seclusion, the space is illuminated by a gentle and diffused light provided by these curtains.
The delicate needlework serves as a kind of decoration for the sheer fabric, which contributes to the overall impression of elegance and sophistication created by the ensemble.
Curtains Made of Voile: For an airy and ethereal appearance, use voile curtains made of lightweight and semi-transparent material.
They provide an atmosphere that is light and ethereal, just right for a relaxing living environment. Voile curtains softly screen the sunshine, resulting in an environment that is subdued and relaxing.
Any space may be made to feel more serene by the addition of these airy and delicate-looking accents.
Looking for the best bedroom curtain design? Have a look here to give your room a luxury look and feel with these curtain designs.
Vibrant Colours & Eye-Catching Drapes
Tones of Jewels: For a statement that is both daring and dramatic, try experimenting with rich jewel tones like emerald green, sapphire blue, or ruby red.
Any space may be given an air of elegance and vitality by using these colours. The jewel tones of the curtains provide a stunning contrast and serve as a focal point in the room, giving it an air of wealth and imparting a sense of individuality.
Extra-Long drapes: If you want to give the impression that the room is more magnificent than it actually is, choose extra-long drapes that pool on the floor.
Especially in areas with high ceilings, this lends both drama and refinement to the space. The area is given an air of refined opulence and refinement by the use of floor-length drapes that create a cascading effect.
Additionally, it produces the illusion of height, which makes the area look bigger and more open than it actually is. Try these luxury curtain designs for living room listed here to choose from for your living room
How to Select a Curtain Design
Knowing Curtain Length
It is important that you select the correct length of curtains for your home. The length of the curtains can vary from full to half according to the way in which you want to style your room.
If you want to make your windows look bigger then you can start about 4 inches above it. It is the classic way to make your windows look aesthetically pleasing and wider. You can use short-length curtains for windows in the bedroom and it will be the best suitable option.
On the other hand, long curtains have always been in vogue and you can find them being used mostly in the living rooms. Long curtains are easy to move and maintain.
There are multiple types of curtain to choose from. Typically 63, 84, 108 and 120 inches are the ideal lengths for curtains but you can choose and customise them according to your requirement as well.
Selecting Curtain Apt Width
The width of the curtains plays a significant role in displaying the beauty and aesthetics of the curtains and the overall room.
Shrinky curtains not only look bad but also spoil the overall look of the house. So whenever you visit a store to purchase curtains then do take the measurements of your window along.
Whenever you are buying the curtains, the width of the curtains should be twice or thrice the width of the window. Thick and fuller curtains will create more impact in the room and will look beautiful as well.
Choosing the Perfect Theme
It is important that whenever you are going to buy curtains, you should know about the theme that you are planning to decorate your home with and then follow the theme for buying the curtains.
For example, if your theme is minimal, then you might want plain curtains without any patterns. The minimal theme of home decor calls in for a lot of pastel hues and plain walls. Dark-coloured statement curtains can give your home a bold and beautiful look without having to do much.
Do check out the latest window curtain designs here to choose from for your home.
Similarly, if your home has a maximalist theme of home decor then you might want to try curtains with bright colours and patterns over them. Selecting the theme for your curtains is like a road map. It helps you avoid making mistakes while choosing an aesthetically pleasing option for your abode.
Selecting the Colour
There are several ways in which you can choose the right curtains for your home. It is quite easy to use a colour that will match your home. To select the perfect colour for your curtains take a look at the furniture in your home and the colour of the walls as well.
It is wise to pair the curtain colour with the colour of the furniture that you have in your rooms. You can either choose very similar shades or select the colours that belong to the opposite spectrum.
This will do colour blocking effectively and make your home look good. For Eg: If the furniture in your home is dark and wooden, giving a Bohemian or earthy vibe, then you can either match the curtains with the colour of the furniture or select the correct ones that are completely opposite to earthy shades.
Selecting the Design
Once you have selected the right colour for your curtains then another step is to choose the kind of design that you want for your curtains. The design of the curtains will depend on factors like-
In which room do you want to put the curtains on?
What theme is your home decorated with?
What kind of static do you want for your abode?
Once you know the answer to these questions then you can easily go through the curtain design ideas and choose the right one for yourself. It is important to know the place in which you want to put the curtains.
For example, if it is for a living room, then you might want to explore dramatic and statement curtains, the kind of curtains that will create an impact.
However, if you are searching for curtains for the bedroom then you might like more calming and soothing versions. You can choose from many designs and patterns depending on the theme and space in which you want the curtains to be hung.
For example, if you want to have an elegant and clean look then you would like linen curtains in pastel shades. And if you want funky designs then you can try firangi curtains or patterned curtains.
Selecting Fabric & Deciding Price
The price of the curtains varies according to the fabric that you're choosing and the length which you have selected for your room. you can choose from luxurious options like velvet and silk or light and airy options like linen and polyester.
All the fabrics have their own benefits. While velvet and silk absorb the light to keep the rooms cool, linen and polyester are known to let in light and make the rooms feel airy and well-ventilated.
Conclusion
Curtains are more than simply a necessary evil; they are an aesthetic investment that can transform the feel of a room.
You may improve your home's visual appeal by selecting the greatest curtain design ideas that go with your personal tastes and existing décor.
There is a kind of curtains out there that will appeal to your sense of style, whether it's a preference for timeless sophistication, cutting-edge minimalism, vivid patterns, or tactile textiles.
To obtain the desired appearance, it is important to think about things like fabric, colour, pattern, and length. Using these top 10 curtain design ideas, you can make your house a more beautiful and peaceful place.