While 20 by 25 feet is a small size for a home, there are plenty of floor plans that can make the most of this space.
One-story homes are the most popular choice for this size home, but two-story homes are also an option.
We have a variety of plans to choose from, and each one can be customized to your specific needs.
20 by 25 Two Storey House Plan
In a 20×25-square-foot plot, this house plan was created. This is a contemporary home design in which you may view a variety of modern fixtures and amenities. The interior design and outside appearance of this concept may be modified.
A front elevation design, which improves the beauty of a property while also looking attractive, is possible.
This design is extremely well-thought-out, and every little and major detail has been addressed.
Ground Floor
A kitchen that is 8×8 is located after the hallway. This is a modular kitchen with modern features and technology that will be visible throughout.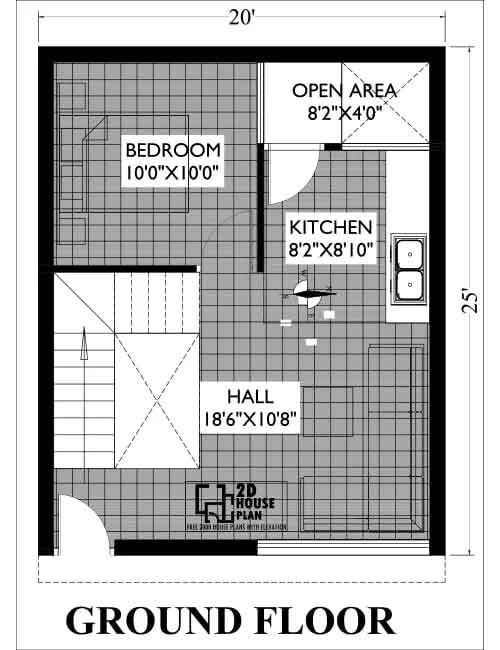 First floor
The master bedroom on the first floor is big and may hold a double bed, a side table, and a lovely wardrobe.
The next bedroom may likewise contain a double bed (make wardrobe), as well as a TV installation. There is also a little bathroom connected.
If you want to construct a low budget modern 3 bedroom house design in 20 by 25 plot size then try these plans.
In case you are looking for a farmhouse design here you go.
20 X 25 House Plan 2BHK Duplex – East Facing
The living room opens up to a family hallway space, so you may use this area better by putting a sofa here and television set over there, giving the family another recreational location while also being very open since you have the stair space offering views of your living area below and from here take a look at the master bedroom.
Because this side of the home and the front of the house faces east, it benefits from the morning light, which is reflected in the textured wall and a good 2bhk house plan among other house plans of 20 by 25 feet plot sizes.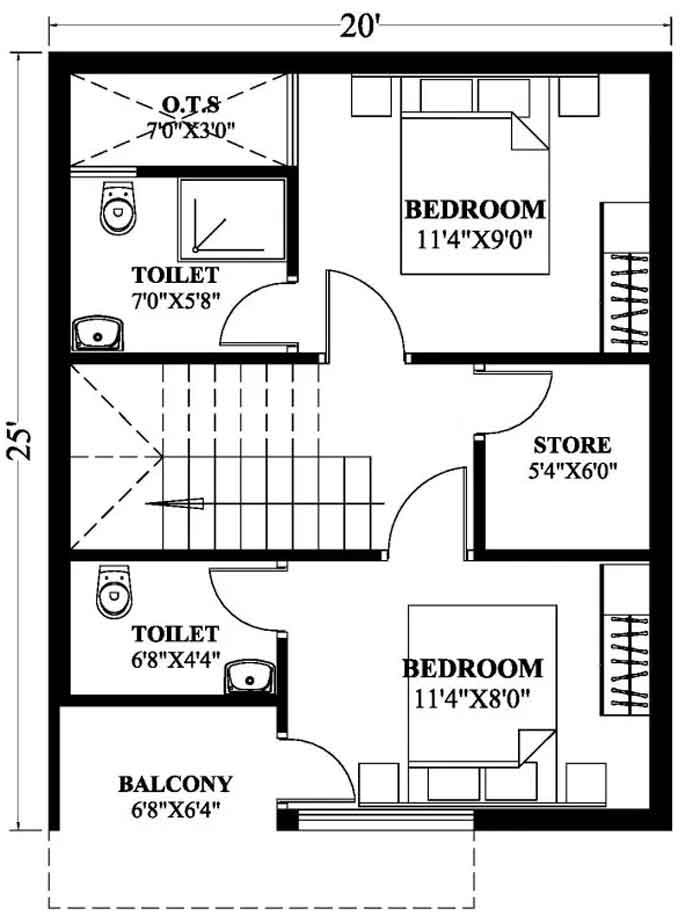 The bathroom is also an excellent spot to unwind since this is a private area as it may only be accessed via the master bedroom, but you can have a big table and gather your family here if you like. It also has an outstanding perspective of the morning sun.

Next is the bedroom,

which is on the eastern side of the home and serves as a great area for family fun or recreational games.

It may also be used as an additional den space, family gathering place, or workstation for you or your family.

With all the options available with this room, just imagine having a large living area set up here with several sofas and then adding a home theater setup on this side with a big widescreen television to enjoy the morning sun from the east side of the property.
Have a look at some modern single floor house design here to choose from when you start constructing a 20 by 25 house plan.
North Facing 20X25 House Plan
This is a two-story home, and here's a 20X25 one-BHK house plan. This plan includes a single bedroom, a kitchen on the ground floor, a hall, and a shared bathroom on the first floor.
All of the rooms in this design have windows that allow for ventilation. The inside layout of all of the spaces has been done extremely well. The outside appearance has also been done quite well.
Make your north facing house vastu compliant with these north facing house vastu plan and tips.
The parking is on the ground level, and in it, you may park a bike. After this, comes the main bedroom which is situated in the west direction; it may be used as a double bedroom. This chamber completes the ground floor.
1BHK 20X25 House Plan
The living room or hall follows after the parking. This home plan is designed for a 20X25 sq. feet space, but little parking has been allowed in this design, here bikes and bicycles can be parked; however, vehicles are not permitted.
This room is rather spacious, and you may put a TV there. You may also access the kitchen from here which is a modular kitchen constructed entirely uniquely, providing you with a lot of entertainment.
Also try 900 square feet house plan to get an idea on the rooms placements and locations here.
Things To Consider For 20X25 House
When you want to make a house plan, you should think about many things. You also need to consider the budget. After that, you can start making the plan.
When it comes to choosing a 20X25 house plan, there are various things that you need to take into consideration to ensure that the result perfectly suits your taste, lifestyle, and budget.
If you only have limited space, then it would be better to choose a smaller and more compact design.
If you have a big family, then it would be better to choose a house plan that can accommodate all of them. However, if you only have a few members in your family, then you can go for a smaller and more intimate design.
After you have found a few designs that you like, you need to compare them side by side. This way, you will be able to see which one is better suited for your taste, lifestyle, and budget.
Once you have made your decision, then you can start working on the project. If you want to save time and money, you can hire a contractor to do the job for you.
Consider Viewing:
Conclusion
Make sure that you choose the one that perfectly suits your taste, lifestyle, and budget. You need to think about the size of your plot, the number of members in your family, and your budget.
If you want to save time and money, you can hire a contractor to do the job for you.