Koi pond is Amenity which gives a great look to any backyard, and it would benefit you from offering a calm and relaxing space for you and your family. These ponds offer several health advantages apart from being beautiful.
Koi fish swimming in a pond can help people feel less stressed, have lower blood pressure, and have better mental health in general. We'll talk about some koi pond design ideas in this article that can change your backyard and assist you in creating the ideal outdoor space.
Key Points Of This Article to Skim Read:
Discover different types of koi pond designs to fit your space and budget. 

Get advice on koi pond maintenance to keep

your fish healthy and happy

. 

Understand the significance of choosing the right koi pond liner for your pond. 

Explore koi pond waterfall ideas that add a

relaxing and calming ambiance

to your outdoor space. 

Transform your backyard into a peaceful place with these koi pond design ideas.
Koi Pond Concepts
Natural rock pond: A natural rock pond is an excellent choice if you want a koi pond design that perfectly fits with the natural beauty of your garden. This design creates a pond that creates a natural water source by using big stones and rocks.
A natural rock pond has the advantage of requiring less maintenance than other designs, and it is one of the best advantages of it. The water is naturally filtered by the rocks and avoids the need for mechanical filtration devices.
The pond's natural appearance also means that you won't need to bother about cleaning it as frequently or adding chemicals to keep it looking good.
A natural rock pond also has the benefit of being ideal for people who want their garden to have a more natural appearance.
Formal Pond: If you want your backyard to have a more formal, classic appearance, a formal pond can be the best option for you. It is generally rectangular or square in shape, these ponds have sharp edges and smooth lines that give them a clean and polished appearance.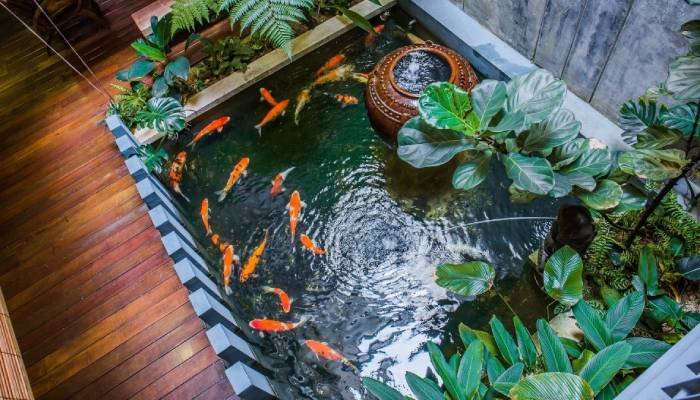 You may also like to read: 5 best suitable outdoor plants for terrace garden
While a formal pond requires more maintenance than other designs, it gives your backyard a refined and elegant appearance. It is frequently used in formal places, such as a hotel or business office complex.
You must keep the pond clean and well-maintained in order to preserve its formal appearance, which may take more work and maintenance. However, a formal pond is a great option if you want a pond that adds a touch of elegance to your outdoor space.
Raised Pond: A raised pond is the ideal choice if you have a small yard or want to keep your koi pond safe. These ponds can be made of stone or wood and are often constructed above ground.
Raised ponds are a flexible solution for any backyard since they can be created in any form and size. Indeed, it is an affordable koi pond if you are looking for your budget.
Ideas for Koi Pond Design
Include a waterfall: A waterfall may add beauty and great look to your koi pond while also supplying it with oxygen. Additionally, waterfalls help in water circulation, lowering algae growth and other water quality problems.
Use a koi pond liner: If you want to provide your koi fish a healthy and sustainable habitat, you must use a koi pond liner. There are several different kinds of liners, including PVC and rubber. You can add any of these liners which are suitable for you.
you should also know: Pot Painting Ideas: Modern Plant Pot Painting Ideas
Build a natural filtration system: This is a great approach to maintaining the cleanliness and health of your koi pond. To build a balanced system, you can use plants, rocks, and other natural materials rather than chemical treatments.
Water lilies and other plants absorb excess nutrients and oxygenate the water, and pebbles offer a surface on which good bacteria may flourish.
Koi Fishpond
As a result of their stunning colors and patterns, koi fish are one of the most popular fish species for home ponds. These fish, which have a lifespan of several decades, need a stable habitat in order to maintain them clean.
It's important to consider the size of the fish and the quantity of fish when building your koi pond.
Koi Pond Maintenance
To maintain the water in a koi pond healthy and safe for the fish, constant maintenance is necessary. Some crucial maintenance tips are given below:
Consistent water testing to check for correct pH levels and water quality.

Introducing good bacteria

to help in the breakdown of waste and preserve a healthy ecology.

Cleaning the filter in the pond to get rid of trash and avoid obstructions.

Providing the fish with healthy food and keeping an eye on their

behaviour and well-being

.

The important factor that you need to consider is Size of the Koi fishpond. The larger the size of the

pond the better the fishes

can move around.
Conclusion:
In conclusion, a koi pond may add calmness and relaxation to your outdoor space in addition to serving as a decorative element for your garden. After a stressful day, the soothing sound of water pouring down a waterfall in a koi pond can help you relax.
You can select the ideal pond to suit your backyard style. Also, Koi ponds are affordable, so you need not to worry about how much it costs. It is important to focus on the wellbeing of your fish and regular maintenance is required if you are looking for a koi fishpond.
The spread of any illnesses among the fish can be avoided by routine cleaning and water quality checks. Additionally, it is essential to choose the proper koi pond liner to avoid leaks and maintain the durability of your pond.
In conclusion, adding a koi pond to your backyard may improve its visual appeal while also offering a relaxation from the stresses of everyday life. So, including some of these koi pond concepts in your backyard design and experience the pleasure and peace of a lovely balcony.
Consider reading:-