Many homes' basements go unused, but with enough planning and ingenuity, this space may be turned into something of great value. Putting up a bathroom is a great way to make use of the space in your basement. 
Having a bathroom in the basement not only makes your home more practical, but it also raises the property's resale value.
In this article, we'll take a look at a wide variety of basement bathroom ideas that may help you turn your unfinished basement into a fashionable, functional, and welcoming place.
Benefits of a Basement Bathroom
Let's talk about why you should have a bathroom in your basement before we go into design ideas:
Having a restroom in the basement is convenient since you and your visitors won't have to make the

trip upstairs whenever nature

calls. It comes in especially helpful if you host parties or utilise the basement as a leisure space on a regular basis.

A basement bathroom that is both functional and attractive may add considerable value to your property.

The restroom in the basement can relieve some of the

morning rush-hour pressure

on the bathrooms upstairs.

Basements often offer you more design freedom, so you may try out new looks and layouts relatively easily.
You may also read: Bathroom direction as per vastu
Basement Bathroom Ideas
Spa-Inspired Retreat: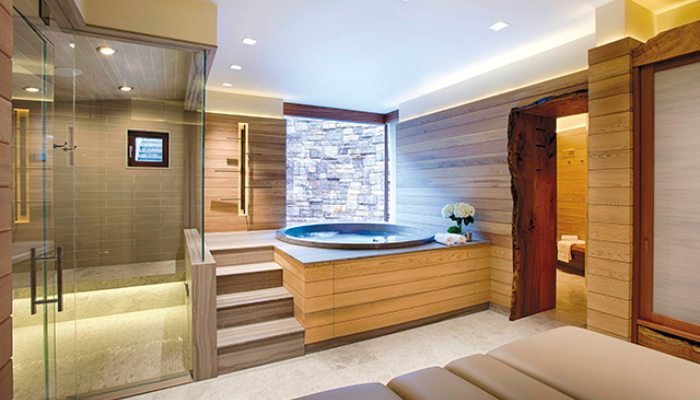 Create a relaxing spa-inspired oasis in your basement bathroom. Use natural stone tiles, a luxurious soaking tub, and a rainfall shower-head for a tranquil bathing experience. Incorporate soft lighting and plants for a soothing ambience.
Compact Powder Room:
If you have limited space, consider a compact powder room design. Opt for a floating vanity and wall-mounted fixtures to save space. Use bold wallpaper or vibrant tiles to add personality to the small space.
Also read about: Bathroom design ideas
Industrial Chic:
Embrace an industrial chic style for your basement bathroom by using exposed brick walls, concrete floors, and metal fixtures. Add vintage accents and Edison bulb lighting to enhance the industrial charm.
Beachy Paradise:
Transport yourself to a beachy paradise by using sea-inspired colours like turquoise and sandy beige. Install weathered wood cabinets, seashell decor, and beach-themed artwork to complete the coastal vibe.
Also know about: Bathroom tiles
Modern Elegance:
Create a sleek and modern basement bathroom with clean lines and minimalist design. Use a floating vanity, frame-less glass shower enclosure, and contemporary fixtures for a sophisticated look.
Rustic Retreat:
If you love the warmth of rustic decor, go for a rustic-themed basement bathroom. Use reclaimed wood for the vanity, exposed beams on the ceiling, and stone tiles for a cabin-inspired feel.
Glamorous Escape:
Add a touch of glamour to your basement bathroom with luxurious finishes like marble counter tops, crystal chandeliers, and ornate mirrors. Incorporate plush towels and a vanity stool for added elegance.
You should also know: Toilet seat direction as per vastu
Eclectic Charm:
Unleash your creativity with an eclectic design that combines various styles and elements. Mix and match different tiles, colours, and textures for an eclectic and visually appealing space.
Understated Elegance:
Create a timeless and understated basement bathroom with neutral colors and classic fixtures. Use marble or subway tiles for a timeless appeal that will always stay in style.
Nature's Haven:
Incorporate nature into your basement bathroom with earthy tones, wood accents, and plenty of plants. Create a refreshing oasis that brings the outdoors inside.
Layout and Storage Tips
While planning the bathroom, think about the basement's arrangement. To save down on

time and money spent building

, put the bathroom next to the building's plumbing.

If your bathroom is cramped, consider installing sliding or pocket doors.

Recessed shelves or other forms of built-in storage should be installed to make the most of available

square footage and maintain

a clutter-free environment.

Create the impression of an additional room by mounting cupboards and vanities on the wall.

Towels and other bathroom necessities can be stored in tall cabinets or on shelves.
Here you can consider: Small bathroom ideas
Lighting and Ventilation
Use a combination of ambient, task, and accent lighting to illuminate the basement lavatory adequately.

Installing a skylight or window

is a great idea to make the room feel more spacious and open.

Put up an exhaust fan to cut down on the dampness in the basement and increase air circulation.
Waterproofing and Flooring
Flooring alternatives for the basement toilet should be selected with waterproofing and

moisture resistance in mind

. Because of its resilience and resistance to moisture, ceramic and porcelain tiles are popular options.

A waterproofing system should be installed to prevent leaks and water damage in the basement bathroom.
Conclusion
The installation of a bathroom in the basement is a smart and worthwhile investment that may improve the use of your property as well as its overall charm. 
The basement bathroom ideas that are discussed in this article will serve as a source of inspiration for your project, regardless of whether you want to create a refuge with a spa-like atmosphere, a compact powder room or a design that is contemporary and exquisite. 
It is important to build a room that is both useful and aesthetically pleasing so that it may be used by your family and friends for many years to come. While designing this area, it is important to pay attention to the layout, storage, lighting, and waterproofing.
Hence, let your imagination go wild and change your basement into a stunning and cosy bathroom that will increase the total worth of your property as well as its general appeal.
Consider reading: