Bathroom designs are always challenging. But if you are thinking of a design for a smaller bathroom then it invites more challenges. If you don't have a lot of space in your bathroom and you are looking for some of the best designs for your small bathroom, then you have reached just the right place.
Here, we will discuss the top 10 small bathroom designs which will help you gain some
insight and build the perfect bathroom design for your lovely house. We will talk about some easy designs that you can consider and set it apart from the usual designs. Let's begin.
Skip Normal Walls And Add Mirror Walls
If you have a small bathroom, then adding mirror walls all over, will make you feel as if you are taking a shower in a bigger space. Mirrors help in reflecting light as well, it will keep your bathroom brighter and also make it feel spacious.
Choose Wall Mounted Toilets
Wall-mounted toilets are yet another wise choice for a small bathroom. The built-in toilet
tank and the wall-mounted toilet will not only save space in your bathroom but will also give you some legroom. If mounting the toilet is an issue for you, then you can add some shelves just above the tank for extra storage.
Skip The Tub Please
Bathroom tubs can eat a lot of space in your bathroom. If you can, then try to skip the tub, it will open up a lot of space making your bathroom look bigger. Add showers, especially hand showers. And if you must install a bathtub then go for a lower profile one. It will allow you to get inside and come out of it easily.
Remove The Shower Curtains, Add A Frameless Glass Panel Instead
Gone are the days when we used to have shower curtains. Who has the time to clean it
regularly and also remember how they used to stick to us when they get wet? Also, curtains cover a larger space which makes your small bathroom look even smaller. Instead of a shower curtain, you can install a transparent glass panel. Glass panels are perfect for small bathrooms, you can install them easily and they are easy to maintain as well.
Curbless Showers
Another good thing to install in your bathroom is the curbless showers. By taking out the
curbs around your shower, your deck can proceed directly into the shower. This works
extraordinarily with solid, stone pieces and tile floors. You can even join a disguised or
unendingness edge deplete for an extremely consistent look. In addition, curbless showers are simpler to clean as well.

Install Small Sinks And Floating Vanities
Just like the mounted toilet, you can also go for mounted sinks as well. It will create a lot of room in your small bathroom. Along with it, you can also build a mounted storage shelf. You can choose a wall-mounted floating vanity for a twist.
Go Vertical – Install Open Shelves And Cabinets On The Walls
Floor shelves are completely outdated. To keep space in your bathroom, prefer installing
mirror front cabinets just above the sink. You can store medicines and many other things in it. You can also add another wall cabinet above the toilet as well. Metal towel racks should also be included.

Get Modern With Pocket Doors
While removing the bathtub, you can also say goodbye to your old bathroom doors. Create a pocket door, you can install it by opening the wall to create the pocket. Nonetheless, you can pick up to 9 square feet of usable space that you didn't have previously. You will have greater adaptability while setting your apparatus too. You can likewise search for surface-mounted sliding entryway equipment to make an advanced sliding entryway or horse shelter door look.

Go For Darker Floors And Lighter Colour Walls
While choosing the colors for your floor and walls, be extra careful. If you pick a darker
color for the walls, then it will make the tiny bathroom look even tinier. Not something that you would like! Go vice versa. Pick a dark-colored floor and lighter colored walls.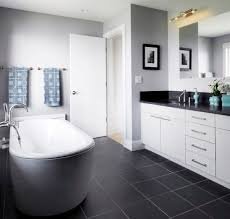 Accent Wall
Save the last for the best. You can add an accent wall in your tiny bathroom, this will make
your bathroom look brighter and will also add some colours. Put that accent wall on the back wall to accentuate the look of your bathroom. Choose any bright colours. You can partially colour it or if you want to colour the whole wall, then go for it.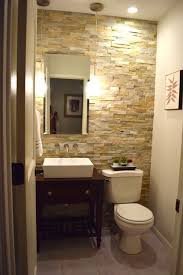 We hope our ideas will help you to create a wonderful and beautiful bathroom. There are
many ways to create the feel of a bigger bathroom, even though it is smaller. Choose an
accented wall, give a refreshing colour to it while keeping the rest of the wall colours lighter. Pick a mounted toilet or a sink. It will save a lot of space. We have so many ideas for the perfect design for your bathroom. Pick and choose.