At home, a child gets a better understanding of privacy and ownership through their bedroom. 
The bedroom is not only the place where they are meant to relax, rejuvenate their energy, and sleep, but it is also a space for developing their intellectual creativity and making them feel comfortable. This safety can only be achieved when you have a well-designed bedroom. 
A well-designed bedroom does not just mean the size, shape, or layout of the room, but includes the type of furnishings that you keep. One such furnishing that you need to be mindful of is the bed. 
Sleeping on a good bed is important for quality sleep and appropriate spinal alignment. To cater to the health and interest of your child, it is no wonder that selecting a good bed design becomes challenging. 
Factors to consider when choosing a bed
If you are looking to select the perfect bed design for your child's room, then you must take note of these factors first. They will help you settle down on bed designs easily. 
Before undertaking any task, it is important that you set a budget for yourself. Sticking to a budget plan makes it easier to help you select from countless options that are available in the market. 
Also, you might not want to spend too much money on a bed that your child might start to dislike in a span of a few years. 
Children develop and grow quickly which means a change in their tastes is certain. Thus, you must purchase a bed design that caters to your pocket as well. 
You may also like to Read – Modern Steel Bed Designs for Home
Understand why you are purchasing a bed for your child's room. Do you have twins and want them to share dual beds? Or do you want a simple single bed for each? 
Apart from this, you need to understand whether you wish for the bed design to have some storage space. If you want to save up on extra space, then there are certain bed designs that cater to this factor. 
Understand the room's size and shape
Imagine purchasing an amazing bed design but it does not fit in your child's room. To be able to avoid this disappointment and hassle, it is better that you have appropriate measurements of the room, and know the shape of the room as well. 
Is your child's room too narrow and rectangular, or is it wide and square? Also, instead of just estimating it over a single view, it is better that you jot down the actual dimensions of each side. Having dimensional measurements will help you choose a bed design better. 
Maintain the room's theme and style
What if your child's room has floral walls, but you have brought a car-themed bed design? This will look very odd. 
This is why your bed design should be a bit identical and inclined toward the room's theme and style. If you are unable to choose themed bed designs, it is always safer to go for solid-designed ones. 
At the end of the day, your child is going to sleep on the bed that you purchase. Including your child in the selection process ensures that they like it and they will enjoy using it. 
Also, including them will keep their interest piqued, and you can buy a bed design easily without having to face many tantrums. 
Here are Wall Stickers for Bedroom, Living Room, and Kitchen in the Home
Bed Designs for Kids
If you are looking for the ideal bed designs for kids, then mentioned below are some simple and interesting designs for you. 
Bunk Beds
If you are up for saving space in your child's room, then the bunk bed is perfect if you have two children. Similarly, it can be used for times when your child has a friend for a sleepover. Bunk beds utilize the space of a single-bed area. 
But, just ensure that the bunk beds are perfectly upholstered and installed for safety reasons. Also, consider investing in a good-quality bunk bed. 
To know more about Bunk Beds you can read – The debate of Bunk vs. Traditional Bed – What are the Pros and Cons?
Bed Plus Furniture 
Saving space in your room can also be achieved by having furniture attached to your bed. This idea comes in many designs. 
You can have a study table attached at the side of the bed, a storage unit below the bed, or a trundle sofa at the side of the bed. A storage unit will allow you to keep clothes, or any miscellaneous things safely under the bed and it will be within your reach as well. 
A trundle bed gives you extra space for when two people wish to sleep in the same room. Overall, having extras added or attached to your child's bed will give you a clutter-free space and a unique design. 
You should also know about – Must-Have Study Room Furniture
Bed Plus Play Zone
If you have little children at home, then, you can turn their bedroom into a mini playroom as well. Nowadays, there are mini slides attached to beds.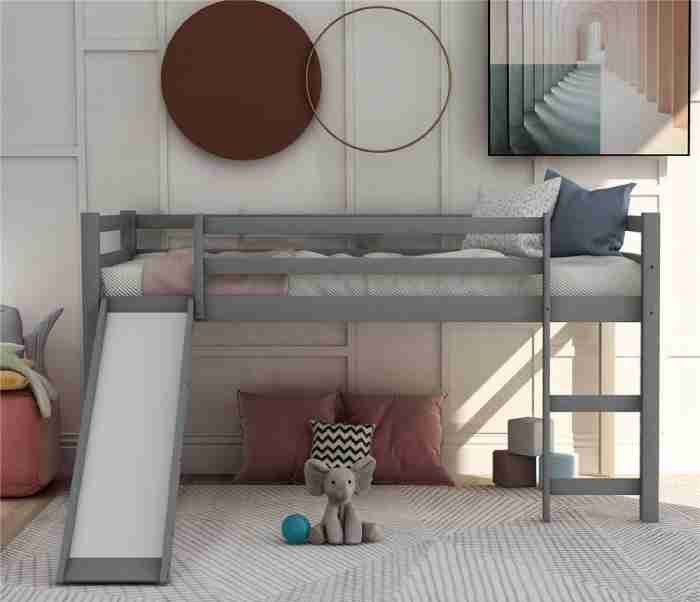 The beds are usually positioned at a height. Although your child would climb into bed at night with the help of an attached ladder, they could come down energetically via the slide. 
Similarly, some bed designs have the option of attaching tents to keep the child entertained and give ownership to its private space. 
Designer Beds
If your child is into space, pirates, cars, or flowers, etc., you can always get your hands on theme-designed beds. Fortunately, there are stores that take customized bed design orders as well. 
Also Read – How to Decorate a Room for Kids
Conclusion
This blog has intended to help you select the best bed design for your child's room. Set a budget and include your child in the bed design selection process. There are countless bed designs that you can choose from apart from the ones mentioned here. 
They will be able to guide you properly on the type of design you should purchase based on the likes and dislikes of your child, and considering the theme and layout of the room.