Backsplashes are an integral part of kitchen design, since they shield walls from water damage and offer visual interest. The beadboard backsplash is a classic and well-liked choice. 
Beadboard's timeless, textured look and adaptability have made it a popular option for homeowners looking to create a warm and welcoming kitchen. 
In this article, we'll discuss the charm of a beadboard backsplash, the ways it can be used to spruce up your kitchen, and the fresh perspectives it may bring to your next DIY renovation.
What is Beadboard Backsplash?
Beadboard is a sort of wainscoting that has grooves or ridges running vertically over its surface. These grooves or ridges are sometimes referred to as "beads." 
Historically, it was applied to the walls of dwellings, most frequently those with a cottage-style architecture, to create a beautiful effect. 
Beadboard has been increasingly popular in recent years as a material for backsplashes owing to the fact that it has a vintage appearance and is simple to install.
Also read about – Kitchen Organization and Luxury
Beadboard Kitchen Backsplash
The addition of a beadboard backsplash in the kitchen lends an air of rustic allure to the most important room in your house.
It is versatile enough to function well in a variety of kitchen design styles, from coastal and rustic farmhouse to conventional and cottage-inspired layouts.
Its understated texture gives the room a sense of depth without competing with the rest of the decoration.
You may also like to read about – Black and White Kitchen Decor
Advantages of Beadboard Backsplash
Appeal that Stands the Test of Time Beadboard emits an ageless and vintage appeal that works well with a variety of different kitchen styles.
Beadboard is an excellent material for do-it-yourself projects for homes since it can be installed with very little effort.
Beadboard is more cost-effective than other materials that are used for backsplashes, which makes it an appealing choice for homeowners who are trying to improve their homes without breaking the bank.
Conceals Flaws and Imperfections: If the walls of your kitchen contain flaws or blemishes, beadboard can give a solution that is both straightforward and sophisticated for hiding them.
Beadboard may be painted in any color to complement your kitchen decor, allowing you the opportunity to change the look according to your tastes. This flexibility makes beadboard an excellent material for kitchen backsplashes.
Here is kitchen with striking black island ideas.
Beadboard Backsplash Ideas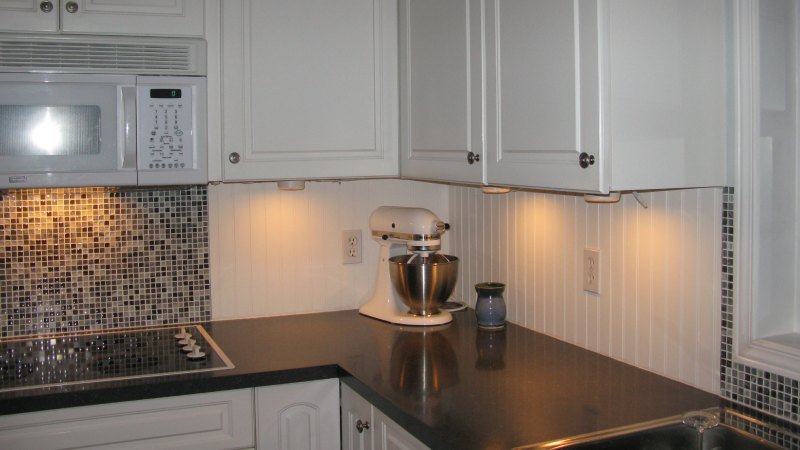 White Beadboard Elegance A classic white beadboard backsplash creates a bright and clean look in the kitchen. It complements traditional, cottage, and farmhouse-style kitchens, providing a fresh and timeless appeal. Pair it with dark or light-colored countertops for a striking contrast.
Coastal Charm In coastal-inspired kitchens, beadboard backsplashes add a touch of beachside charm. Paint it in soft, soothing colors like seafoam green, pale blue, or sandy beige to evoke a coastal ambiance. Combine with nautical decor elements for a complete coastal retreat.
Rustic Farmhouse

Consider using beadboard with a distressed or weathered finish for a rustic farmhouse kitchen. 

This adds a touch of rustic elegance to the space, creating a warm and inviting atmosphere. Complete the look with farmhouse-inspired decor and vintage accessories.
Beadboard with Subway Tiles

Combine the classic look of beadboard with the timeless appeal of subway tiles for a unique and stylish backsplash. 

Install the beadboard on the lower half of the wall and use subway tiles above it to create a visually interesting and functional design.
Bold Colors While white is popular, don't be afraid to experiment with bold colors. Deep blues, rich greens, or even vibrant reds can add a pop of personality to your kitchen. Just ensure the color complements the overall kitchen theme and decor.
Beadboard Backsplash with Shelves Enhance the functionality of your beadboard backsplash by adding open shelves. Install floating shelves above the beadboard to display decorative items, cookbooks, or kitchen essentials. This adds storage and creates a stylish focal point in the kitchen.
Beadboard and Butcher Block

Combine the rustic beauty of beadboard with the warmth of butcher block countertops for a cozy and inviting kitchen. 

Both materials' natural tones and textures work harmoniously together, creating a warm and welcoming atmosphere.

Beadboard Backsplash Trim
Beadboard backsplashes look best when complemented by molding or trim. The beadboard looks more completed and professional with crown molding at the top border. Beadboard can have a distinct edge created by installing chair rail molding along the top of the wall.
Also consider reading the best colour combination for your kitchen walls.
Maintenance Tips for Beadboard Backsplash
Maintaining a Regular Cleaning Routine: A beadboard backsplash is rather simple to clean. To clean up any splashes or spills, get a gentle soap or kitchen cleanser, as well as a soft cloth, and go to work.
Sealing for Protection: If you want to protect the beadboard from moisture, especially in sections that are close to the sink, you might consider using a transparent sealer that is water-resistant.
Avoid Using Abrasive Cleaners and Scrub Brushes: You should avoid using abrasive cleansers and scrub brushes since they have the potential to harm the surface of the beadboard.
You should also know – Purple Kitchen Shelves
Conclusion
A beadboard backsplash adds character, warmth, and a touch of nostalgia to any kitchen. Its versatility and charm make it a popular choice for homeowners seeking a timeless and budget-friendly backsplash option.
Whether you prefer a classic white look, a coastal-inspired design, or a rustic farmhouse ambiance, beadboard can be customized to suit your kitchen style. 
With its easy installation and numerous design possibilities, beadboard backsplash offers a practical and elegant solution to enhance your kitchen decor and create a welcoming space where cherished memories are made.
Consider reading -