A walk-in pantry is the pinnacle of practicality and luxury in kitchen design. A walk-in pantry may completely change the way you cook thanks to its convenient location, large capacity, and well-thought-out design.
This blog will dive into the fascination of walk-in pantries, discuss innovative ways to design and organise them, and show how adding one to your kitchen can take it to the next level of luxury and efficiency.
The Charm of Walk-In Pantries
The term "walk-in pantry" can refer to either a separate room or a specific area within the kitchen that serves just as a pantry.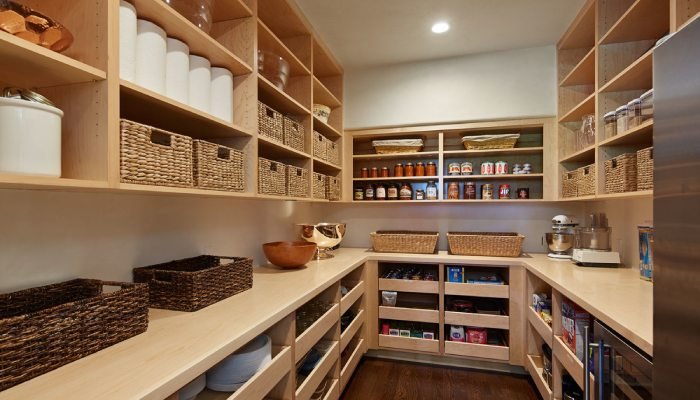 A walk-in pantry offers more storage space over standard cabinetry and shelving, making it much easier for homeowners to maintain an orderly and well-stocked kitchen. Reasons, why walk-in pantries are so popular, include the following:
A walk-in pantry provides plenty of room for storing anything from canned foods and dry products to

tableware and small appliance

s. Having so much space to put things in is conducive to good order and makes it simple to track down what you need when you need it. 

Customised shelves, drawers, and racks can be installed in a walk-in pantry to make the room

extremely tidy and convenient

to use. Keeping everything in its place is easy, eliminating clutter and making mealtimes more manageable. 

Having a hidden walk-in pantry is a great way to keep your kitchen organised and free of clutter when you don't use something every day. This layout reduces the visual clutter in the kitchen and makes it feel more spacious. 

A walk-in pantry's wide room and

well-ventilated design

make it a great place to keep perishables like fruits, vegetables, and baked goods for longer.
You may also know: Kitchen cupboard design
Walk-In Pantry Design Ideas
Open Shelving Elegance: Embrace the minimalist charm of open shelving by installing wooden or metal shelves to display neatly organised items. This design adds a touch of elegance to the pantry and makes it easy to find what you need.
Cabinetry Style: Opt for custom cabinetry that seamlessly blends with the kitchen's design. Choose sleek, handle-less cabinets for a modern look or go for intricate detailing and glass inserts for a more traditional appeal.
Pull-Out Drawers: Incorporate pull-out drawers and sliding shelves to maximise accessibility and make it easy to view and access items stored at the back of the pantry.
Glass Jars and Containers: Utilise glass jars and clear containers to store dry goods like cereals, pasta, and spices. Not only do they keep the pantry well-organised, but they also add a touch of elegance to the space.
Pantry Island: For larger walk-in pantries, consider adding a pantry island with built-in storage and a counter-top surface. This addition provides additional workspace and makes the pantry a multi functional space.
Chalkboard or Whiteboard: Install a chalkboard or whiteboard on one of the walls to jot down shopping lists, meal plans, and other notes, making the pantry a central hub for kitchen organisation.
Also know about: Modular kitchen design
Luxury Pantry Inspirations
To add a touch of class, install wine racks and climate control in a separate section of the walk-in pantry.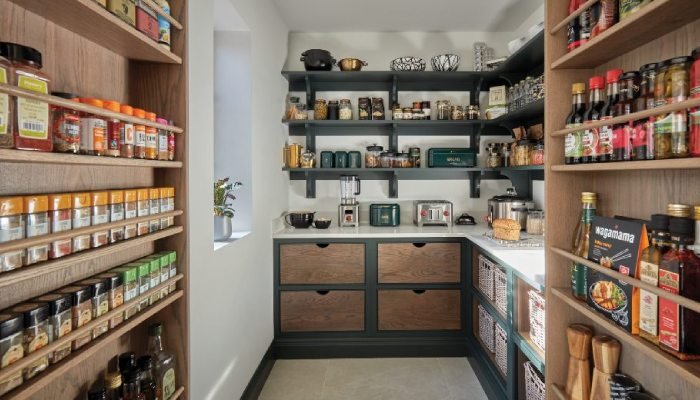 Put in a coffee station with a built-in coffee maker, a sink and cabinets to keep your coffee grounds and

mugs well organised in your

walk-in pantry. You can make your morning coffee in style and comfort thanks to this set up.

Hang beautiful chandeliers or pendant lights in the pantry to provide the mood for luxury.

Consider putting a wine cooler, microwave, or

mini-fridge in the walk-in

pantry as a permanent fixture for the sake of convenience and elegance.

Add a few chairs or a sofa to the pantry for a lovely gathering spot if there's room. You may use this spot as a cosy reading corner or a peaceful place to unwind.
You should also read: Kitchen sink design
Practical Tips for a Well-Organised Walk-In Pantry
Categorise Items: Organise items into categories such as baking essentials, canned goods, spices, etc., and store them together to make it easy to find what you need.
First In, First Out: Practise the "first in, first out" rule by placing newer items behind older ones. This ensures that older items get used first, preventing food waste.
Labelling: Use labels or clear containers to identify the contents of each shelf or container. This helps keep the pantry organised and makes it easy to locate specific items.
Regular Cleaning: Regularly clean and declutter the pantry to keep it tidy and free from expired or unused items.
Also read: Kitchen pop design
Conclusion
A walk-in pantry is more than simply more storage; it's a culinary oasis that dramatically improves the ease and effectiveness with which you prepare meals.
A walk-in pantry is an elegant addition to any kitchen because of its spacious cabinetry, well-thought-out layout, and high-quality fixtures. The design options range from the obvious sophistication of closed cabinets to the unexpected allure of open ones.
Take advantage of the space and change your kitchen into one that encourages culinary innovation and efficiency by installing a walk-in pantry.
Consider reading: