Windows are one of the most important aspects of Interiors and especially if we are talking about window design for bedrooms. Windows are something that can make your room feel bigger, brighter, yet energy efficient. So, get ready to receive the greetings from the warm rays of the sun through the stunning window design available. 
Now, there are several windows styles to choose from, one can easily mix and match windows styles that will transform the bedroom space providing you the comfort that you need. In addition, there are various windows designs available for the bedroom that can impact the overall aesthetics and livability. So, it is very important that you choose the best window designs such that they can help and suit the bedroom planning. 
Bow Or Bay Windows
If you want to enjoy the feeling of a bigger space then Bow or Bay windows are just perfect for you.
Ideal For Small Bedroom and offer an extra room as well so that you can use it for other functions such as window seat, mini office, etc.
Bow and Bay Windows are usually made up of three adjacent sections in series that offer a curved look. You will receive a greater amount of light in your bedroom using these Bay and Bow windows. So, if you want to create the feeling of spaciousness in the bedrooms, go for these windows style. 
SkyLight Window Designs
Are you looking for windows that can permit an easy flow of air of light into your bedroom? If yes, then try out this unique set of windows called skylight windows. They offer an illusion of a larger space. You can opt for these skylight windows with ease as they open outwards. 
These windows have a trouble-free mechanism that opens these windows firmly. So, have a look at this stunning window design for the bedroom and install these windows if you like them. 
Casement Windows
Casement windows are one of the best window designs for bedrooms. These windows are energy efficient as well, that is because the airtight seal between the frame and window sash offers a superb energy efficiency compared to other window styles. It will lower the bills and keep you cool during the summer and warm during the winter season. 
So, all in all, Casement widows can easily swing outwards or inwards to let the fresh breeze in and flood your room with the natural light.  Also, these casement windows are easy to clean, and fully customizable as well to meet your needs. 
Choose from the

regular casement, French casement, push out, in-swing casement, round-top designs

, and other designs in Casement windows. 

Enhance the aesthetics of your room with the Casement windows available in

modern designs. Apart from that, you can check out other

Modern and elegant window design ideas for houses.

 
Double-Hung Window Design
Bring out the classic and contemporary style using double-Hung window designs that are just perfect for your bedroom.  These windows open vertically and are perfect for the Bedrooms that face high-traffic areas.
Double Hung windows generally offer less light than any other window designs such as casement windows or Bow windows. So, they are perfect for couples who seek privacy in their bedrooms. 
Bi-Fold Shutter Window Design
Bifold Shutter Window designs are ideal window designs for any Indian Bedroom. They offer you a traditional yet luxurious look making it feel more crisp and clean. So, if you want to enhance the beauty of your bedroom space then go for a Bi-fold shutter window design in aesthetic design. And also use the Stainless Steel Main Gate Designs to give a decent look to your house.
Large Window Design 
Soak in the sunny views with large windows designs for the bedroom. There are various window designs for bedrooms available with white sheers to complement the interiors. It gives you the feeling of a floating summer breeze. 
So, what is the wait then? Go for the large window design if you want to enjoy the outside view from your bedroom. Apart from the window designs for bedrooms, there are various Bathroom door designs as well that can instantly highlight the interiors of your space. So, have a look at that as well. 
Single-Hung Window Design for Bedroom 
If you are having a small bedroom then a single-hung window design for the bedroom is something that comes with a mechanism where the window sash can easily be opened up for Better Airflow. In addition, single-hung windows are available with grills that offer an additional layer of security.
Awning Window Designs For Bedroom 
Do you want to enjoy the rainy breeze without letting water droplets into the bedroom? If yes, then check out the awning window design for the bedroom. These windows open up when they are pushed outwards from the bottom. It allows proper air circulation as well. You can also try UPVC windows to give a new look to your bedroom.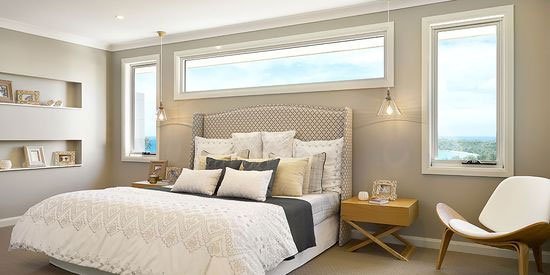 Arched Window Designs For Bedroom 
Out of several window designs for bedrooms, arched window designs are trending. You can easily opt for these gorgeous rounded top windows designs to bring the essence of ethnicity to your bedroom. Take the gracefulness to the next level and opt for these stunning window designs for the bedroom. 
These Arched window designs give your bedroom a nice and decent look from the front. So, go for these designs and make the entire bedroom look appealing at the first glance. 
Conclusion
:
Windows designs for bedrooms are so versatile that they are available in different styles to suit your needs. You can easily opt for these window designs available with next-level comfort and preference. Choose from a range of designs in window designs, that can facilitate free and easy movement. So, opt for these designs and make your bedroom space perfect.