When it comes to house design, the bathroom is sometimes disregarded, reduced to a purely practical place. However, there is an enormous opportunity to transform this functional place into a compelling retreat.
A purple bathroom is an unusual and sometimes overlooked option. Purple conveys elegance, tranquillity, and inventiveness, making it an ideal choice for infusing refinement and individuality into your bathroom.
This blog will look at many purple bathroom ideas and methods to incorporate this wonderful colour into your bathroom design.
The Enchanting World of Purple Bathrooms
Purple bathrooms' fascinating universe provides a compelling and elegant approach to bathroom design. Purple, historically linked with royalty and grandeur, adds a feeling of elegance and originality to the area.
A vast range of purple tones, from deep eggplant to delicate lavender, allowing for a variety of design choices. Choosing the right colour is essential for creating the desired atmosphere. 
Incorporating purple features, whether through creative accents, beautiful wall colours, or striking fixtures, may convert a typical bathroom into a distinctive and welcome retreat.
Furthermore, good lighting and exquisite purple bathroom rugs add to the overall attraction, creating a tranquil retreat that raises the bathroom experience to a new level of enchantment.
Also read about- Inspiring Half Bathroom Design Ideas
Choosing the Perfect Shade of Purple 
When designing an appealing bathroom, choosing the right shade of purple is critical. With so many alternatives available, it's critical to evaluate the ideal mood.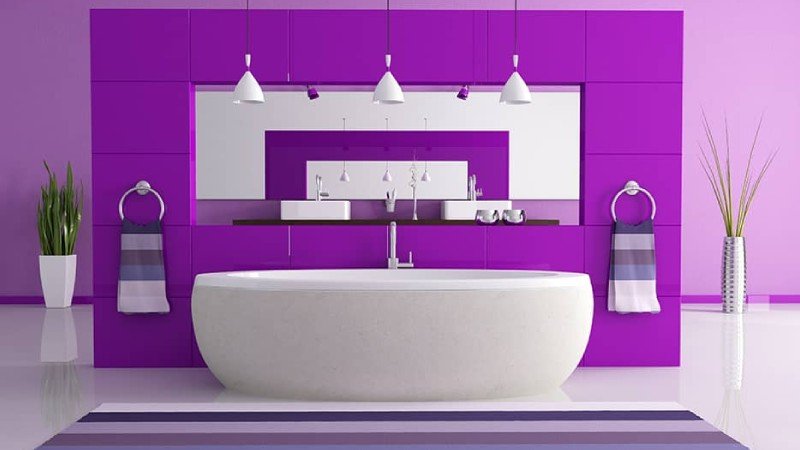 Darker purples, such as rich aubergine, inspire drama and grandeur, making them excellent for a dramatic and luxurious setting.
Lighter colours, such as delicate lavender or lilac, produce a tranquil and pleasant environment. The colour scheme chosen establishes the tone for the entire bathroom design. 
Complement the primary colour with complementary secondary colours such as white, cream, grey, or light green to guarantee harmony. 
Finding the perfect shade and complimentary colour balance allows the purple bathroom to ooze elegance and charm, changing it into a quiet retreat that represents your particular style and provides a distinctive and welcome environment.
Also know about- Amazing Ideas for Small Bathroom
Purple Bathroom Ideas 
Artful Accents: If you're afraid to go all-in on a purple bathroom, start with purple accents. To add a splash of colour without overpowering the area, choose purple towels, rugs, soap dispensers, or wall art.
Elegant Wall Colours: Soft lavender or violet paint on the walls may create a welcoming and peaceful ambiance. For extra visual appeal, choose textured or variegated wallpaper.
Statement Fixtures: Use purple fixtures to make a big statement, such as a luxury amethyst-colored bathtub or a sophisticated purple washbasin. These eye-catching additions may serve as the focal point of any bathroom decor.
Subtle Accents: Incorporate purple into your home with subtle accents such as shower curtains, candles, or colourful storage containers. These minor details may have a big influence on the overall atmosphere.
Nature-inspired Decor: Blend purple with natural materials like as plants or stones to create a peaceful and refreshing environment that links you to nature.
May should aslso read- Best Shower Panel Bathroom Design Ideas
Creating Harmony with Complementary Colors
Balance is essential to prevent overpowering your bathroom with purple. Complementary colours that go well with purple include.
White and cream: These neutral colours go well with purple. They offer a clean and fresh image, enabling the purple to take centre stage while maintaining balance and simplicity.
Grey: Grey complements purple in a classy and stylish way. Its gentle undertones assist to soften the intensity of the purple, providing a more tranquil and peaceful setting.
Green: Soft colours of green complement purple well. This combination promotes a relaxing and serene ambience in the bathroom while connecting with nature.
Integrating these complimentary colours properly through items like as tiles, paint, accessories, or décor offers a visually pleasing and well-rounded purple bathroom design.
Here is Bathroom Plant Ideas.
Lighting Matters
When constructing a purple bathroom, proper lighting is essential. The appropriate lighting can amp up the attraction of this regal colour, making the area more enticing and engaging.
Natural light from windows or gentle, warm artificial lighting can compliment and enhance the selected hue of purple. 
Bright lighting may offer a sense of freshness and vibrancy, whilst softer lighting can add a sense of relaxation and tranquilly.
On the other side, strong or insufficient lighting may soften the impression of purple and detract from the overall atmosphere.
You can guarantee that the colours pop, textures come alive, and the whole space becomes a harmonious and beautiful refuge by carefully considering the lighting aspects in the bathroom.
You may also like to read about – Bathroom Décor with Stylish Shower Curtains
Luxury and Comfort Purple Bathroom Rugs
Purple bathroom rugs provide a touch of elegance and relaxation to any bathroom. These carpets are essential in boosting the overall mood of a purple-themed bathroom.
Their velvety and high-quality textures create a smooth and welcome feel underfoot, raising the room's comfort level.
Purple bathroom rugs also compliment the selected hue of purple, resulting in a unified and harmonious design. 
These carpets may be chosen to complement your preferences, whether your bathroom has a dramatic or subtle purple motif.
By incorporating these attractive and useful pieces, you can create a sense of luxury and refinement in your bathroom, changing it into a tranquil and elegant refuge.
Purple bathroom rugs allow you to have an opulent moment every time you enter your gorgeous and well-curated bathroom environment.
Embracing a purple bathroom may be a fun and gratifying experience. The color's adaptability and allure provide limitless opportunities for creating a place that emanates elegance, tranquilly, and inventiveness.
Purple can appeal to your own taste, whether you want a powerful, dramatic aesthetic or a gentle, tranquil ambiance. 
You may make your bathroom into a captivating retreat by exploring numerous purple bathroom ideas and using complementing colours, making sure every time becomes a really wonderful experience.
Consider reading-