It is common to refer to the half bathroom as a powder room or guest bathroom. While it is a very tiny room, it plays an important role in every house.
The half bathroom, in spite of its minimal square footage, gives a one-of-a-kind chance to display creativity, inject flair, and provide convenience for both residents and guests. 
This blog will walk you through a handpicked selection of ideas for half bathrooms that cover design, décor, and functionality. These ideas may be used whether you are wanting to update your existing half bath or develop one from new.
Maximise Minimalism
Minimalism should be maximised since when it comes to ideas for small half bathrooms, less is frequently more. Using a minimalist approach means maintaining a design that is streamlined and free of clutter. 
Choose a vanity that is suspended from the wall to give the impression of additional room, and put shelves on the wall to add storage space to your bathroom without taking up valuable floor space. 
To create the impression that the space is more open, use a colour scheme that is predominantly neutral, such as white, grey, or soft pastels.
Also read: Bathroom tiles
Be Daring and Dramatic
Turn your powder room into a jewel box of daring beauty with these bold design ideas. To produce an atmosphere that is sumptuous opulent, try out several hues that are deep and dark, such as emerald green, navy blue, or charcoal grey. 
To add a bit of drama to the room, you might want to think about introducing a statement mirror that has an elaborate frame. Fixtures made of brass or gold can provide a sense of richness in addition to complementing the rich colours.
Charm Nautique
To get an appealing and invigorating appearance, draw your inspiration from the water. Use components that are reminiscent of the sea, such as nautical patterns, rope embellishments, and colours drawn from the water.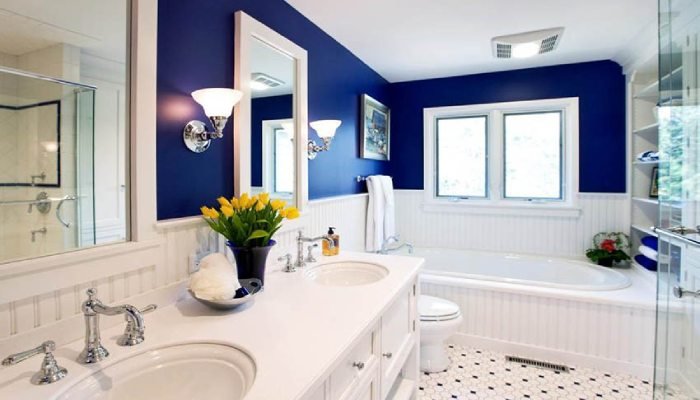 A wall treatment that looks like shiplap may help create a beachy atmosphere, and a mirror in the manner of a porthole can lend a whimsical touch. Install a ship wheel or choose an art piece with a nautical motif to serve as the centrepiece of the design.
You may also know: Toilet seat direction as per vastu
Rustic Retreat
Embrace aspects of rustic design to create a warm and inviting atmosphere in your half bathroom and transform it into a rustic retreat.
Opt to have the vanity or wall accents made out of salvaged wood, and go for earthy textures such as stone or finishes that have been distressed.
The rustic look may be finished off with an antique mirror and a tap with a vintage-inspired design to create a refuge that is evocative of a quaint rural cabin.
Modern Monochrome
With a modern monochromatic colour scheme, you may make your half bathroom look more streamlined and elegant. Use a black and white colour scheme since it radiates a classic elegance that will never go out of style.
Put in some geometric tiles for a modern look, and make sure that all of your fixtures and decorations have clean lines. Adding a wall-mounted washbasin with a minimalist design and a pendant lamp with a geometric pattern will further improve the modern appeal.
You should also know: Small bathroom ideas
Artful Accents
Accents de l'Art Turn your half bathroom into a little art exhibition by adding in a variety of one-of-a-kind accents that draw the attention. 
If you want to imbue the room with character, use a wallpaper with a compelling design or paint a mural of a vivid colour on the wall. Choose works of art or sculptures that appeal to your sense of style and can stimulate guests' interest in a topic of discussion.
Vintage Glam
To create an appealing and fashionable half bathroom, combine the vintage allure of the space with a dash of glamour. Include components such as an antique vanity, an elaborate mirror, and fittings made of crystal or glass. 
Add an antique rug or a plush velvet chair for a sumptuous twist, and strike a balance with the design by using a colour palette that is gentle and understated.
Here you can consider these: Jaquar bathroom fittings
Fusion of Eclectic Style
Unlock your creative potential by adopting an eclectic approach to design. Create an environment that is aesthetically engaging and engaging to the senses by mixing and matching a variety of styles, colours, and textures. 
Mix and match a variety of tiling materials, play around with wallpaper patterns, and include a wide variety of accents and finishing touches. The objective here should be to produce a balanced combination that satisfies your own preferences.
Industrial Chic
The spirit of industrial design may be captured by embracing raw materials, exposed pipes, and utilitarian fixtures when going for the industrial chic look. 
Use concrete counter-tops, metal accents, and open storage for a style that is reminiscent of an industrial warehouse. Utilise old industrial lights as well as finishes that have been given a distressed look to offer character and authenticity.
Also know about: Washbasin design
Creating a Zen Sanctuary
If you have a half bathroom, you may turn it into a peaceful sanctuary by borrowing influence from Zen aesthetics. Pick hues that will help you relax, such as soft neutrals or subdued earth tones. 
Use elements of nature in your design, such as bamboo, stone, or wood, to produce an environment that is peaceful and harmonious. Bring the outdoors inside by cultivating some indoor plants or starting a bonsai tree from seed.
Conclusion
Half bathrooms, often known as powder rooms or guest bathrooms, are often overlooked despite their importance.
The half bathroom, with its restricted space, has a special chance to display originality, inject flair, and provide convenience for residents and guests.
This blog will lead you through a handpicked collection of half bathroom ideas that span design, décor, and functionality, whether you're wanting to update an existing half bathroom or develop one from scratch.
Consider reading: