When it comes to interior design and décor, the bathroom should not be overlooked. To elevate the visual appeal of your bathroom, a stylish shower curtain can make a significant difference.
Shower curtains not only serve a practical function but also provide a chance to infuse your personal style and character into the space.In this blog, we will delve into various types of shower curtains for bathrooms, showcase popular choices with examples, and delve into pricing considerations.
This comprehensive guide will assist you in selecting the ideal curtain that perfectly complements your bathroom's aesthetics and meets your preferences.
Types of Bathroom Shower Curtains
There is a wide array of shower curtain options available, encompassing diverse materials, patterns, and designs.
Familiarising yourself with the various types will enable you to choose the ideal one that perfectly complements your bathroom's style and fulfils your specific requirements.
Below are several sought-after choices for your consideration: 
Fabric Shower Curtains
Made from materials like cotton, polyester, or a blend, fabric shower curtains offer a softer and more luxurious look. They are available in various patterns, colours, and textures, allowing you to customise your bathroom's aesthetic.
Vinyl Shower Curtains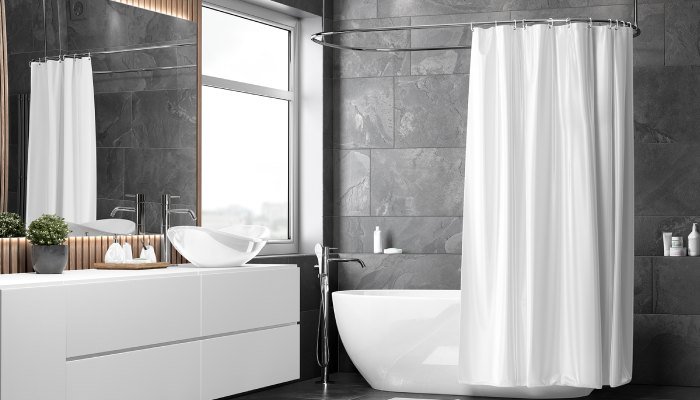 Vinyl curtains are highly durable and water-resistant, making them ideal for bathrooms with high moisture levels. They are easy to clean and maintain and come in a wide range of designs, including solid colors, patterns, and even textured options.
PEVA and EVA Shower Curtains
PEVA (Polyethylene Vinyl Acetate) and EVA (Ethylene Vinyl Acetate) curtains are eco-friendly alternatives to traditional PVC curtains. They are free of harmful chemicals and emit no odor. PEVA and EVA curtains are available in various colors, designs, and patterns.
You should also read: Bathroom door design
Hookless Shower Curtains
Hookless curtains feature built-in grommets or specialised attachment systems, eliminating the need for shower curtain hooks. They provide a sleek and modern look while offering convenience during installation and maintenance.
Examples of Bathroom Shower Curtains
To inspire your selection process, here are a few examples of stylish bathroom shower curtains along with their prices:
Classic Striped Fabric Shower Curtain
Product: "Marina Stripes Fabric Shower Curtain"

Material:

Cotton or polyester blend

Design: Timeless navy blue and white vertical stripes

Price Range: INR 899 to INR 1499
Nature-Inspired PEVA Shower Curtain
Product: "Meadow Breeze PEVA Shower Curtain"

Material: PEVA

Design: Features a

serene meadow landscape

with colorful flowers and butterflies

Price Range: INR 499 to INR 799
Modern Geometric Vinyl Shower Curtain
Product: "Metro Grid Vinyl Shower Curtain"

Material: Vinyl

Design: Contemporary

black and white grid pattern

Price Range: INR 599 to INR 999
Elegant Ruffled Fabric Shower Curtain
Product: "Serena Ruffles Fabric Shower Curtain"

Material: Polyester or cotton blend

Design: Ivory curtain with cascading ruffles for an elegant touch

Price Range: INR 1299 to INR 1999
Hookless Waffle Weave Shower Curtain
Product: "Simplicity Hookless Waffle Weave Shower Curtain"

Material: Polyester or cotton blend

Design: Textured white waffle weave pattern with a hookless attachment system

Price Range: INR 1799 to INR 2499
Coastal-Themed Vinyl Shower Curtain
Product: "Seashore Delight Vinyl Shower Curtain"

Material: Vinyl

Design: Depicts a tranquil beach scene with seashells, starfish, and coastal elements

Price Range: INR 699 to INR 1299.
Shower Curtain Accessories and Enhancements 
Take your bathroom shower curtains to the next level by incorporating these accessories and enhancements that enhance both functionality and aesthetic appeal.
Shower Curtain Rings and Hooks
Discover a diverse selection of rings and hooks that ensure a secure and stylish hanging of your shower curtain. Explore a variety of choices such as ornamental hooks, roller rings, or materials designed to resist rust, providing enhanced durability and longevity.
May you also know: Bathroom tiles design
Curtain Rods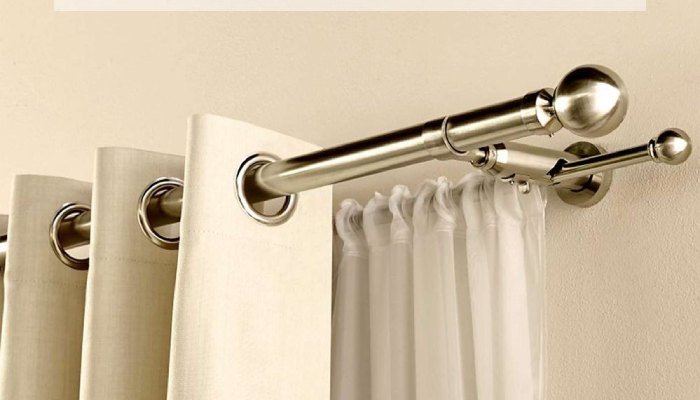 Upgrade your curtain rod to match the design of your shower curtain, ensuring a cohesive and stylish look. Choose adjustable or tension rods that are simple to install and offer a stable foundation for your curtains.
Tie-Backs and Hold backs
Add decorative tie-backs or hold backs to keep your shower curtain neatly tied to the sides when not in use. This can create an open and spacious feel in your bathroom.
Curtain Valances and Trims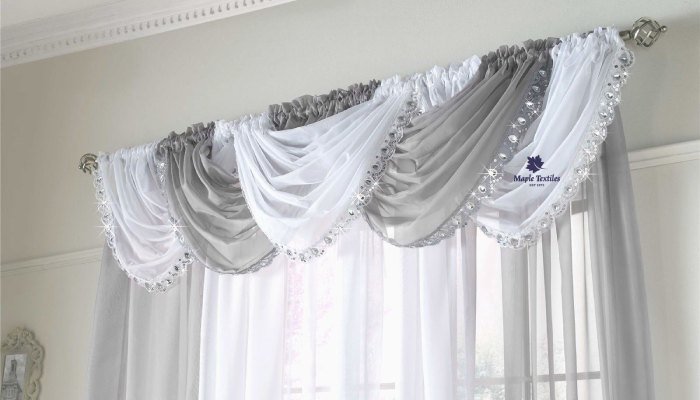 Elevate the visual appeal of your shower curtain by adding valances or trims. These decorative elements can enhance the overall design and create a polished look.
Shower Curtain Hooks with Storage
Optimise the utilisation of space in your bathroom by opting for hooks equipped with integrated storage compartments. These innovative hooks enable you to conveniently hang and access shower essentials such as loofahs, brushes, or razors while keeping them within reach.
Factors Affecting Shower Curtain Prices
Several factors influence the price of bathroom shower curtains. Here are some key considerations:
Material Quality
Shower curtains made of high-quality fabrics or durable vinyl alternatives tend to be priced higher due to their longevity and resistance to wear and tear.
Design Complexity
Intricate patterns, detailed graphics, or unique designs often come at a higher price due to the additional manufacturing and printing costs involved.
Brand Reputation
Established brands or designer shower curtains may have higher price tags due to their reputation for quality, craftsmanship, and design expertise.
Size and Dimensions
Larger or customised shower curtains may be priced higher than standard-sized options.
Also know about: Toilet direction as per vastu
Additional Features
Some shower curtains come with features like weighted hems, built-in liners, or antimicrobial properties, which can impact the price. Revamping your bathroom from mundane to remarkable can be accomplished by selecting the perfect shower curtain.
By taking into account your personal preferences, exploring an array of designs and patterns, and comprehending the pricing factors, you can discover a shower curtain that not only enhances the visual appeal of your bathroom but also fulfils your functional requirements.
It's essential to consider your budget, the durability of materials, and the desired style you wish to achieve.
With the vast assortment of choices available, choosing a bathroom shower curtain presents an exciting opportunity to showcase your unique taste and elevate the overall ambiance of your bathroom, creating a space that reflects your personality and preferences.
Consider reading: