Your almirah is not just a mere storage space; it is much more than that. It is a multifunctional unit that is a significant aspect of your bedroom interiors and keeps your things organized. 
There are infinite almirah designs, such as flower printed Almirah designs for different types of people, per their preferences. 
However, too many options prove confusing as you have difficulty narrowing it to one. That's why we have tried to keep this list concise. 
We will also highlight the different types of wardrobe designs with the dressing table. Let us find what kind of cupboard you need in this blog. 
Almirah designs: Shop your comprehensive unit 
We shall look into some latest Almirah designs that are worth buying. Let us get into the designs. 
Sliding Wall Almirah
If you want to try these sliding wall door almirah designs, get one with a sliding door. Wall almirah designs with a sliding door are contemporary and sleek, a must-have in an urban home.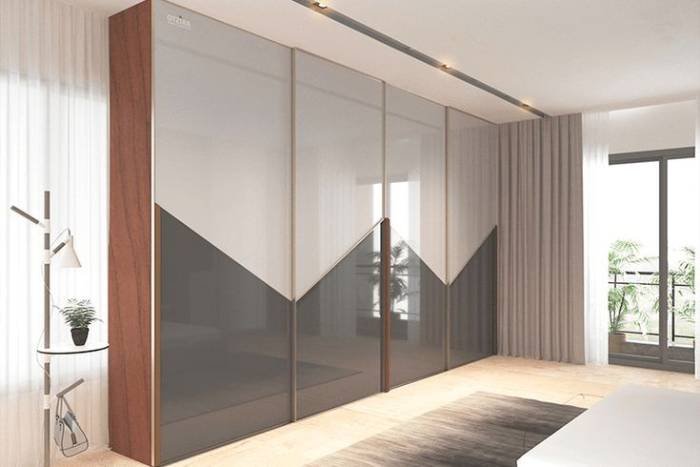 These almirahs also have ample space for your stuff- clothes, shoes, accessories, and more. 
Hinged Almirah Design
If you are quite the modernist, we suggest you go for the traditional hinged Almirah design. A hinged design is the best option for your bedroom.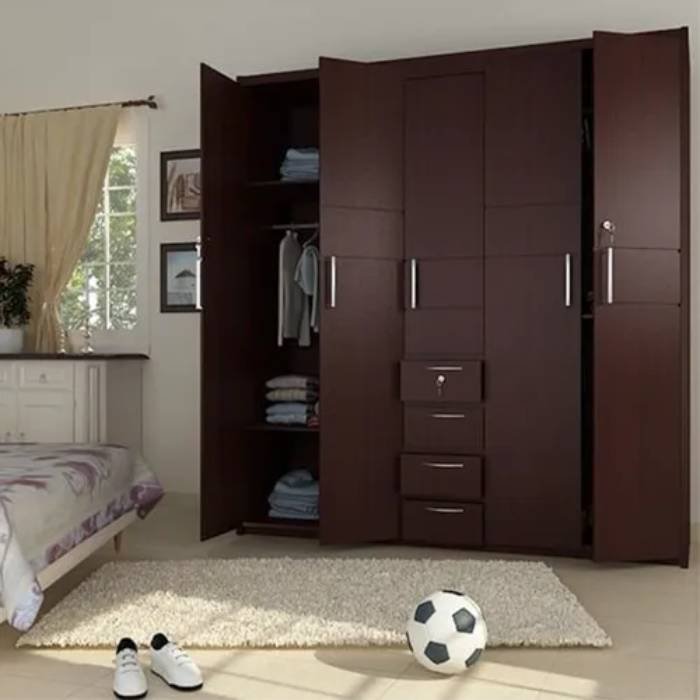 This is a conventional and safe design for your bedroom, matching any and every kind of wardrobe. Adtinolly, there are varieties of colors and finishes in these almirah designs. 
Fitted and Latest Almirah
This type of almirah design is extremely spacious and stylish. It is a fitted wall almirah design that serves many pros. You can find Fitted designs in almost every house these days. 
The most significant benefit, however, is the amount of vertical space the Fitted design gives. Also, using the empty corners of your room is a great idea. 
Freestanding Almirah Design
Freestanding almirah designs were off the market, but they have recently made a surprising comeback. This is because these cupboards are available in various designs and styles. 
They can fit right into your bedroom and go well with the other interiors. Herefore, if you are someone who loves to experiment with your furniture, a freestanding almirah is just what you want. 
Wooded Almirah Design 
Wooden cupboards are gaining many positive responses as they are durable and add a warm and rustic look to your bedroom. 
These wooden almirah designs go will bedroom styles, which is why they have been used so much. You can also pick the color of wood you want for your bedroom. 
However, it would help if you went for one that has a better storage space. They are also ecologically sustainable and look good in any setting. However, they may be subject to pest infestations, warping, and moisture. 
Dressing Table
This almirah design saves you a lot of space as it is a wardrobe design with a dressing table.
If you possess a small bedroom, this is one almirah design with a dressing table that can help you adjust well in a small space. You can also add a mirror along with the dressing table. 
Floral Printed 
Flower-printed almirah designs can light up a dull room just with its looks. Similarly, we give you a beautiful almirah made of an elegant bone inlay almirah that has exquisite craftsmanship of handmade Indian bone inlay. 
It is incredibly spacious and can be placed in any bedroom. It also has two large drawers on its top and looks rich. 
Latest Floral Printed Almirah designs for a Kitchen Cupboard
A kitchen is where you cook food and spend a lot of time. Shelves in the kitchen are open, so they are prone to dust. Now you can protect the items by placing them in cupboards. 
Here are G shaped modular kitchen designs photos. 
Not only this, you can get these cupboards in many styles and designs.
Small Spaces can have them now
You're mistaken if you have a small kitchen and think you cannot include a cupboard. This is an intelligent kitchen cupboard design that will help you get a smart design cupboard. 
It has an inbuilt stove and a dishwasher also. It also includes an oven and is unicolor. 
This kitchen cupboard design is covered with a wooden cover and has fiberglass in its center. People who use delicate crockery daily.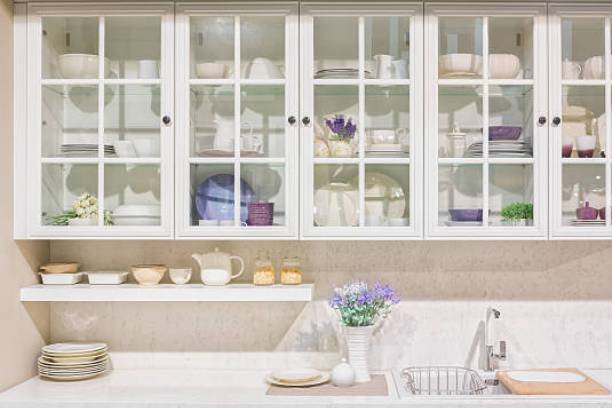 In this Kitchen cupboard design, where aluminum is used instead of wood. It is made of foggy glass in its center, supported by aluminum sheets handled in a push-and-pull form. You can store many things in it. 
Colorful kitchen cupboard design
Your kitchen means your choice of design. So it is a picturesque option that you can opt for where there is a presence of bright colors. There is also some space for chopping and a tap on its side. 
You may also like to read – Color on Open Shelves: Appealing Kitchen Visuals
Kitchen cupboard design: Chinese style
This is a perfect kitchen cupboard design if you have a kitchen attached to the dining space. Its downward cabinets are wood with space in between for the oven. 
The cupboards also have a dual-fitting option with see-through glass and fiber doors. 
Traditional kitchen cupboard design 
If you are a simplistic person with no loudness of choice, then this kitchen cupboard design is the one you should go for. 
It has cupboards made of timber wood, giving your kitchen a sturdy feel. You can store utensils and groceries in it. You can also store groceries in it. 
If you want to see some more designs then these kitchen almirah designs are perfect for you. 
When it comes to home décor, every little thing matters. Each aspect, from the colour of the walls to the furniture, contributes to the overall appearance and feel of your room. A flower-printed almirah is one thing that may significantly improve the beauty of your house.
In this blog post, we will look at the advantages of including a flower-printed almirah in your home design.
What exactly is a Flower-Printed Almirah?
Before we go into the advantages, let's define a flower-printed almirah. An almirah is a traditional Indian storage cabinet where clothing, blankets, and other household belongings are kept.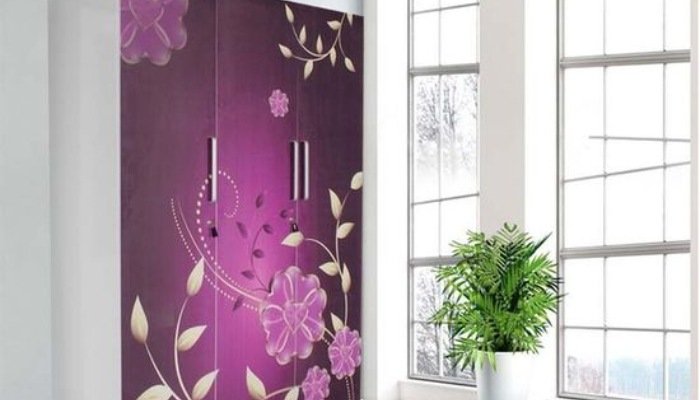 A flower-printed almirah, as the name implies, is an almirah with flowery patterns on it. These designs may come in a variety of colours and styles, making the almirah a lovely and one-of-a-kind addition to any home.
Benefits of an Almirah with a Flower Print
Pops of Color are Added
One of the main advantages of a flower-printed almirah is that it gives your home decorating a splash of colour. Bright and colourful flower designs are the ideal accent to any space that is bland or monochrome.
Colours can be chosen to blend in with the decor of the space or to stand out and draw attention to the almirah.
Declares a Position
The usual piece of furniture is not an almirah with floral prints. It stands out in any environment since it is distinctive and striking. The almirah will catch everyone's attention right away, making it a fantastic topic of conversation.
Provides room for storage
An almirah is mostly used for storage, as was already stated. A flower-printed almirah adds elegance to your home interior design while also adding more storage space this is especially useful if you have a tiny living space and need to optimise your storage options.
Adds a Touch of Tradition
Traditional Indian designs are frequently the inspiration for the floral prints on an almirah with floral prints. You may give your home's design a touch of heritage and culture by bringing this piece of furniture into it. This is a wonderful way to demonstrate how much you admire Indian art and design.
You may also like to read: Transform Your Home with Modern Floating Bed Designs
Versatile
An almirah with floral prints is also adaptable. It may be utilised in a variety of spaces, including the bedroom, the living room, and even the dining room. Additionally, it may be utilised for a variety of things like storing clothing, dishes, or books.
Where to Place a Flower-Printed Almirah
Bedroom
An almirah with floral prints looks lovely in the bedroom. While also giving the space a splash of colour and design, it may be used to store clothing, bedding, and other objects.
Family Room
You might also put an almirah in the living room with floral prints on it. In addition to being functional as furniture, it may be used to hold books, board games, or other objects.
Dining area
Finally, the dining area might include an almirah with floral prints. Dishes, glasses and other eating utensils may be stored in it, and it also gives the space a traditional and cultural feel.
You should also know: Best Corner Almirah Designs to Elevate Your Home Decor
How To Choose The Right Size Of Flower Printed Almirah
A flower-printed almirah must be purchased in the proper size to accommodate your room and satisfy your storage requirements. Measure the space where the almirah will be placed and take your storage needs into account to get the ideal size. 
In order to prevent the almirah from dominating the area or leaving insufficient room for other furniture, consider the almirah's height, breadth, and depth. Additionally, be mindful of the almirah's accessibility and make sure the doors and drawers may Open freely. 
You may pick the appropriate size of flower-printed almirah for your area by taking these variables into account.
A flower-printed almirah is a lovely and functional addition to any home's décor, in conclusion. It provides storage space, adds a classic touch, adds a pop of colour, makes a statement, adds a burst of colour, and is adaptable enough to be utilised in various places for varied reasons. So why not include an almirah with floral prints?
In Conclusion 
Summing up, these are some Almirah designs that are sure to fulfill your choices and wishes. In this blog, wardrobe designs with dressing tables are also mentioned. Some wall almirah designs can give your walls a good look. The kitchen is a space that every home has. So why not make the best of this small and simple kitchen space? This blog also gives you a brief list of options for kitchen cupboard designs that can liven up every kitchen space!