Factors to Consider Before Choosing the Main Gate Entry Doors 
The modern main gate design is an amazing element of any home that gets noticed. This gate design help create an impression of the occupants and the house. Also, it offers protection and security for the residents. It also offers a central role in the overall aesthetics of any house.
For choosing the main gate design, the first thing one needs to consider is the property type. Apart from that security is also considered the main factor for any entrance gate design. Here we are going to discuss some important points that you need to consider before choosing a front gate design.
Style: Entry doors with Fiberglass are available in wide range of styles. So, if you are looking for an entry door to match the home's particular architectural style such as craftsman-style entry doors, etc you will find a lot of options available. 
Check the ease of opening: An ease of opening the gate will help determine whether you want an automatic or manual gate.
Here the ease depends a lot on the occupants of the house. Therefore, it is much easier to go for electronic ones.
Pick Low-cost Main Gate Design: Any simple main gate design has an element of functionality, beauty, and a lighter tone. 
Security:  Whenever it is about security, it doesn't matter whether you choose a modern entry door made up of wood, steel, fiberglass, or wood, they are somewhat equal when it comes to strength.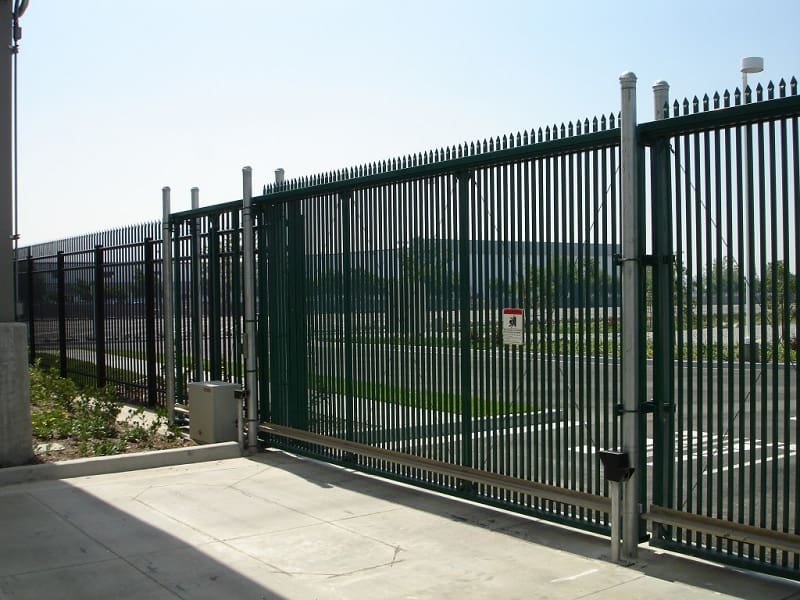 Pick the door with a deadbolt that is at least one inch long. Locking mechanisms matters a lot when it comes to security.. 
Color Combination: If you choose the main gate design, then color matters a lot. One can easily pick natural varnished wood and opt for bold colors such as red, blue, green, orange, high-gloss black, etc. 
For the main iron gate color combination, you can easily pick colors that fall on the metallic side such as grey, dark brown, black, etc. One must take into account the style and local climate as well for the design of your home. 
Choosing Hardware: Picking up the hardware for any door is just like choosing the accessories for any outfit. Door hardware consists of locks, handles, latches, and hinges. 
One can find different styles of handles such as simple knob as it will add elegance. Door hardware can be found in different variety of finishes from brushed to polished, and other points in between. Pick a range of colors such as silver, copper-nickel, gold, black, white, etc. 
Functionality: Be it name plate designs for main gate, or other functionalities such as pivot lift gates, sliding gates, swing gates, etc.
There are various styles, designs, and functionality that one needs to keep in mind. 
Budget: It is very important factor. It can effect other factors also. In addition, to that door size and material also matters the most. Depending on the installation, fee changes. So, look for the material you are choosing and look for the pricing goes into it.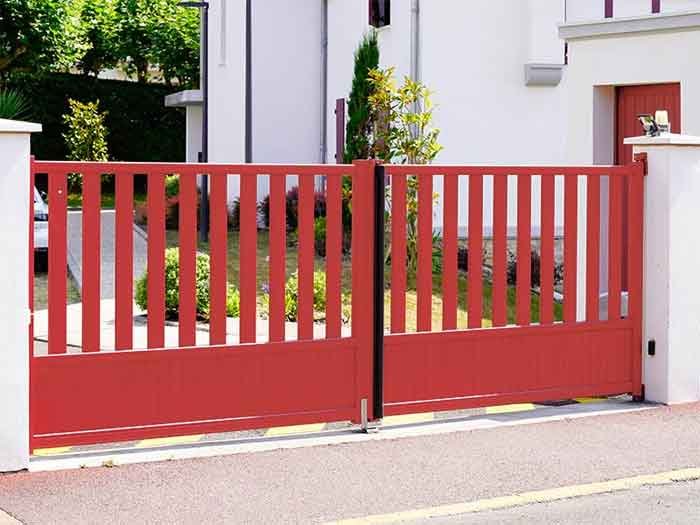 Main Door Designs are something that reveals a lot about your sense of style and your personal taste in decoration. It depicts how well you have prepared your lifestyle inside the home. 
Whether you have knowledge about modern trends and home design or not, you know a good front main door when you see it. In the coming year, there are a series of modern main door designs and trends that will lead the way.
You can easily select the entranceway of your house because, in this blog, we will be sharing some modern main door designs and trends to upgrade the look of your home. 
Main Door Designs With Grill 
If you are someone who likes to keep it elegant and simple, then go for grillwork as it is a great way to enhance the look of your plain wooden door. It will immediately elevate the style quotient.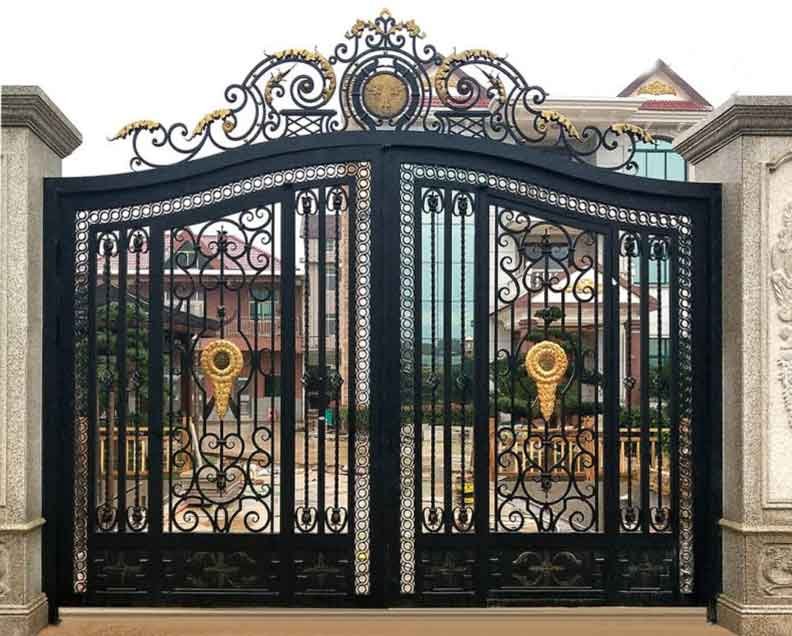 Choose between a range of grillwork to give your Main door a traditional touch. You can even go with a classic theme and choose a pattern of intricate metal design.
Go for a modern gate design if you want to create a balance between elegance and a straightforward wooden door. A grill framework also adds more security. 
Go With a Carved Wooden Door 
In our Indian heritage, carved wooden doors were quite popular. You must have come across these intricate wooden designs in the temples. So, if you are someone who loves antique work then these kinds of doors for your main gate are just perfect for you. 
Add a showpiece or wooden framework to showcase more detailed woodwork. But, one thing that you need to keep in mind is that wood is often attacked by termites so, they need maintenance.
They also absorb moisture and there are chances that they get swell. So, for safety purposes, wooden doors need to be polished and sealed periodically. In addition, wood is an expensive material but it goes well with both traditional and modern homes. 
Follow Color Trends 
Color plays an important role in the look of your front door. There are several color trends that have become popular this year such as Natural wood stain. No matter what type of door style you have or what material you choose, having a natural wood stain look is something that is extremely desirable for homeowners. 
You can also choose the gray color and is considered one of the most popular trends in the front door colors. Gray stains give your door a modern look. You can even try bright colors as they create a certain type of mood.
Go for colors like blue, purple, and charcoal palette that are very popular. Plus, you can change the look of your door without replacing it. Homeowners are adding smart features to ensure that main doors also add smart features to ensure protection and security. 
Use Golden Motifs or Metal Designs on the Door 
Golden Metal or motif patterns look really amazing. You can embellish the entrance door of your house with elegant and intricate design patterns. The golden motifs will give your door an elegant and sophisticated look. 
The best part about golden motifs is that they will also highlight the color of the wood. You can choose a golden metal door handle to accessorize your wall. Complete the look of your main door with a brass bell or other wall art. 
Create a Wonderful look With Glass 
You can use glass for your front main door and it is a type of residential modern gate design that will instantly enhance the look of your home. You can also create a wooden panel to ornament your main door. 
For creating a perfect look for your entrance, go for a combination of wood, grillwork, and glass. It will surely create an elegant look. One can even use stained or frosted glass as it will give you privacy as well as light. 
Choose a transparent glass for your main entrance and remember that fiberglass doors are easy to maintain since they are highly durable. Oversized glass elements have become popular this year as they allow more natural light to enter from the front entryway. Plus, you will have a better view of the outside from within. 
Iron Doors and Sliding Doors
They are one of the best options to consider apart from the wooden doors. That's why in modern designs, iron doors are something that doesn't compromise the security for style. 
You can even go for Sliding doors if you want to have the main door entrance that is easy to operate and look classy at the same time. They are one of the trendiest style trends used in main door entrances nowadays. So, if you are planning to include a sense of modern touch in your home decor, then go for sliding doors. 
Designer Doorways
Designer home doors make your living better and more beautiful. These doors are ideal if you want to have a theme for your interior. Design your walls in such a manner that it will compliment your door and the main entrance. 
But, if you are looking for a budget-friendly option for your main entrance door then go for a single-door entranceway. You can choose a simple and pretty door design according to your taste. Try to match it with the wall design and give the entire decoration a wonderful theme.
For instance, you can choose a Dark wooden entrance door. It will substitute the regular gateway that you are having. 
Doors with wider footprints are becoming more and more popular. You can set up a whole new vibe with wider doors. So, if you are planning to change your main entrance or shift to your new home then do consider wider doorways for the main entrance.
Suggest the best colors for Main Gate designs?
Some popular colors to choose from for the entry gate are blue, red, yellow, white, black, and green. 
What are the benefits of Iron gate designs?
Iron entry gate designs are long-lasting and have solid strength. There are various intricate shapes and designs available in Iron gate designs that you can have a look. 
Why do we prefer grill gate designs?
A grill gate design is good for the design features, simplicity, and cost-effectiveness.