From big multinational brands with various monitoring centers to the Do-It-Yourself systems that you can watch from your smart devices, there are in fact a variety of home security solutions available to choose from. With the best Home Security System you can keep your home protected and comfortable and your life safer without breaking the budget or feel over complicated. It is extremely necessary that you consider several important things before making the right selection of a security system for your house.
Home Security System Features
Prior to choosing any kind of Home Security system, it is necessary that you know its purpose, applications, and budget. These security solutions for homes not only keep the intruders out but also allows you to communicate with your family members and kids when you are out for complete peace of mind. The right security device for home, features and payment plan depends on what you need to do with the security system. There are three different types of security systems available in the market today.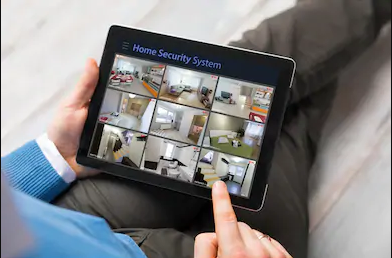 It is equipped with smart technology that allows you to customize the security system as per your family's preferences and schedules. It helps you to keep the lights on when you are out of the house and let the dog walk around for the safety and security of the house.
There are traditional security devices like burglar alarms, outdoor cameras, glass break detectors, and other Home Security Alarms that can keep your home protected from vandalism, theft, and intrusion.
Devices like pipe freeze detectors, smoke alarms, leak detectors and more fall under this category. The old homes with elderly members must have these devices installed for the safety and security of their families.
Some Of The Common Security Equipments And Its Features
Today, there are different models of Home Security Devices available in the market and each comes with its own pros and cons and additional features. Some of these security devices are mentioned below.
This is the security camera that records who stops by the front step and lets you speak with the person remotely without opening the front door.
This is the type of Home Security Camera that brightens up the area when it senses any activity or motion in the surrounding. It is good for watching intruders, stopping the animals from entering premises and grounding sneaky teenagers.
This is a wearable security device that acts as a shortcut to emergency services. This is a good security device that helps people who are elderly or have a disability in an emergency situation.
This is the Home Security Doors and Windows sensor device that lets you know who is on the door or window before opening it. This device is good for preventing kids from accessing off-limits areas and guarding entrances.
This security sensor intimates you when it detects motion in any area of your house and it is good to keep kids and pets out from the dangerous areas and it also alerts you about intruders.
This security system uses radio signals to connect devices in your home. It is the type of In-Home Security solution that enables the sensors to send alerts to the base station and monitor the center, right from the device to alert the users. This is a great security solution that can be used to make installation easier, functioning during power outrage and simplifying the moves.
This is another type of alarm system that alerts the users about fire, smoke or severe heat in any room so that necessary steps can be taken to avoid it. This is a good security system that prevents fire in homes and saves lives.
So, these were some of the security solutions that you will find today for securing your house from intruders and buglers. There are also other professional monitoring solutions available that are worth considering for monitoring any area of your house remotely using the CCTV security cameras. This will help you to catch the emergencies before it turns out to be a disaster for your life and property.
Also Read: Glass Films For Safety And Security