2BHK is a sweet space for a neutral family. You can design and decorate your abode according to your likes. But nowadays, different plans and designs have come up which assist you in choosing a design plan for your home. In this blog, we will look at some of these styles for home design that are easily available in India.     
These plans are in your budget and focus on the 900 x 900 square feet area. These plans are for north-facing, south-facing, and east-facing areas. These come in a square shape of 30 x 30, an Indian style. If you want to build your dream house with a proper landscape, you can take help from these designs.      
As soon as any Indian starts earning, all they think of is, when will I have my own house? And why not? A house is the biggest investment of your life and holds sentimental value too. You reside there with your family and make memories too. 
Many families do not want to go for a large house because they think it costs a lot. Well, it is true for most cases, but did you know that you could also design a low-budget house for a single floor in India?     
You need a plot and the house design. You can also construct a house within 10 lakhs with the right blueprint.
The First 30 x 30 House Plan
This house is a north-facing house. It has one floor, that is the ground floor. This is an east confronting 2BHK house. This house will let you accommodate all the necessary rooms you want.

You get two rooms here. A separate room is reserved for the couple. You also get a limited wall 3 feet away from the room. There is space for planting, gardening, and other things on the entryway.
You get the following rooms with it: Lining room, Kitchen with dining room, Master bedroom, Attached toilet, Guest bedroom, Common toilet, and a staircase.
The Second 30 x 30 House Plan
This one is west facing house. It has one floor and falls in the 2BHK category. It has the following rooms: Guest Room, Living Room, Kitchen with dining, Master bedroom, Common toilet, and guest bedroom. In total, there are five spaces here. It also comes with a garden and clothes drying space. 
The Third 30 x 30 House Plan
This one faces the east. It has a single floor and falls in the 2BHK category; when you want to plan out a 2BHK, whether, with a single or double story, you may find it challenging to plan out the house design.
You can use this plan to arrange your home. Check out the financial budget first. Let us see the rooms you get in here: Car parking space, Living room, Kitchen, Master bedroom, Common toilet, Bedroom, Verandah, Dining hall, and a staircase. 
You will also need material for the development of the house such as steel, concrete, sand, blocks, etc. there are additional costs of designing, coom work, and more.
The Fourth 30 x 32 House Plan
This house plan is developed north facing. It consists of a single floor, no storey, and is a 2BHK home. There are absolute development costs of building, establishment, materials, irrigation, etc.
Let us know the rooms you get: car parking space, Living room, Kitchen, Master bedroom, Common toilet, Bedroom, Verandah, Dining hall, and a staircase. The cost of house development may be INR 400 to INR 700 for each sq. ft. cost of security, flame resistance, fixing of windows, etc. are also there. 
You may like to Read: – 25×50 House Plan East Facing As Per Vastu
House designs for a single floor     
Let us see these low-budget houses for single-floor homes. we will also learn about the modern single-floor house design, which you can use to take an idea before going for the actual work.  
The Open Single Floor House Design
The open structure never fails to make an impression. These consist of two or more spaces joined together to make a more spacious place.
You can use floor-to-roof glass windows to make the space look bigger than its actual size. There can be enough entry of sight and air in that space. You can see everything from one spot also.   
Single Floor House Design with Multiple Sections
If you have a large plot in your ownership, you can construct a house with multiple sections and many floors. You can use the space for constructing a garage too.
You get more carpet area, and thus, you do not have to spend a lot on building a new floor.     
L-shaped Single Floor Design 
This one is an easy-to-build compact house. You can perfectly use a rectangular plot by building an L-shaped space.
If you have a small space but want to keep space for a garden, this is the space for you. 
Box and Strip House Plans
If you do not have the time and money to frame a housing plan or traditionally set up a housing plan. In this case, the box and strip housing plan is a must to check out. Ti house can be constructed within a budget of 10 Lakhs.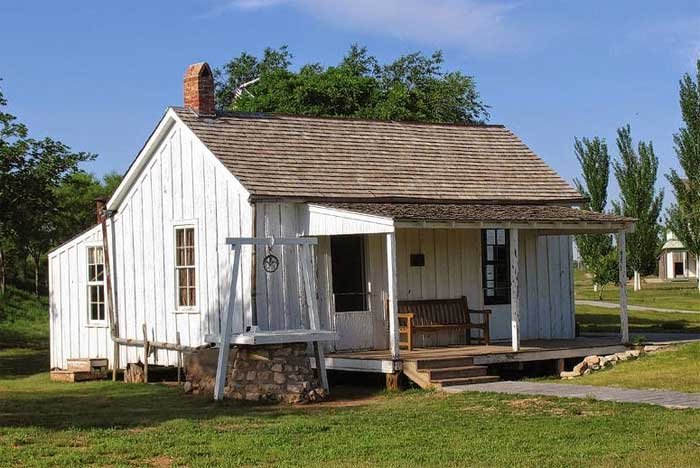 A box and strip design use standard wooden blocks to construct houses instead of frames. It doesn't use cement or traditional materials either. The wooden blocks are fixed together using ails to create a framework. You can remove these houses within some days and reconstruct them; this is one of the biggest advantages. 
Also Read: – 30 by 35 House Plan: Best 30×35 House Plans for Your Dream Home
Conclusion 
To sum up, we can say that these were some designs you can go for above, we have mentioned some houses of 900 x 900 sq. ft. you can also extend up to 1000 square feet house if you have enough land at your disposal. You can follow the budget restrictions and choose your plan accordingly. Most of these houses have been mentioned keeping in mind the budget range of 20 Lakhs which is easily affordable if you want to invest in a small space.