Curtains are a thing that makes the appearance of the kitchen more pleasant. If you want to enhance the beauty of your kitchen then you must try updating your kitchen curtains. Curtains can simply add a touch of beauty.
One needs to pay attention to the aesthetics of the kitchen so that the curtains can match them. Various patterns and designs are to be chosen.
One needs not to be confused about the patterns or designs. By simply keeping the specifications or your requirements in mind one can select the best curtains.
In this design we will share some beautiful kitchen curtain designs and we will make it easier for you to choose the best kitchen curtain for your kitchen.
So let us start revealing the best kitchen curtain designs.
What kind of Curtains are Good for the Kitchen?
Firstly let us talk about what kind of curtains are good for the kitchen.
Various types of kitchen curtains are available .
The types of kitchen curtains good for your kitchen are as follows-
Cafe curtains just for

covering the window region

of your kitchen. They are 45 inches long and one can install them for just covering the windows.

Balloon valances are the puffed curtains that will look good on top of the windows of the kitchen. They look classy in design.

Shades curtains act as insulators and one can

protect the inner environment

just by uploading them.

Roman shades are best for kitchen windows as they save kitchen things from extreme sunlight.

Sheer curtains

are lightweight in nature

. They come in varied ranges and options.

Floor length curtains can be chosen if your kitchen is big and you want to add a more elegant look in your kitchen.
All these are types of kitchen curtains and one can choose wisely.
You should also read: Kitchen cupboard design
What are Kitchen Curtains Called and what are their Benefits?
Kitchen curtains can be called cafe curtains or half window curtains.
They are best suited for kitchens and are specifically designed to be in the kitchens.
The benefits of kitchen curtains are as follows-
Kitchen curtains are good as they act as insulators.

Kitchen curtains look beautiful.

They are eye-catching.

They can

decorate the kitchen well

.

They can maintain and regulate temperature.

They can be hanged easily.

Extreme light can be handled with kitchen curtains.
These are the benefits of using kitchen curtains in your kitchens.
Besides adding beauty they can do wonders by saving your kitchen.
Designs of Kitchen Curtains
Let us now talk about various designs that can be used while choosing kitchen curtains.
One can consider these points while looking for kitchen curtain design.
The designs are as follows-
Neutral blinds can be suitable for your kitchen if you are into neutral colours and want a clean and modest look in your kitchen. Choose from neutral shades.

Patterned curtains with

various different patterns

can be helpful for those who are a great fan of colourful patterns. Various patterns can be seen and one can simply select the desired one.

If you love blue and a blue touch in your kitchen then you can go along with blue floral patterns. The blue in your kitchen will definitely look great.

White curtains and the modesty associated with white colour is beyond the peace. You can add a touch of

bliss in your kitchen

by installing white colours. Be careful about their maintenance.

Mini printed curtains look adorable and decent altogether. One can select the perfect mini curtains of their choice and one can simply install them in kitchens. Colours and patterns can be chosen accordingly.

Mint colour mid length curtains can

again double the glory

of your kitchen. Choose the mint colour and match it with aesthetics.
May you also like to read: Kitchen pop design
One can choose the colours and patterns of their choice.
Kitchen Curtain diy ideas
If you want to do diy and want to have some creativity with your kitchen curtains then follow these steps that are shared as follows-
First choose the type of material that you want to make curtains of.

After that measure the dimensions of that cloth.

Cut in and make

arrangements accordingly

.

After this step you will need to measure the window of your kitchen for accuracy.

After this simply adjust the curtain in the rod of your choice.

Now choose the curtain hanger accordingly.
Simply you will be done with the curtains of your choice.
It is easy to make curtains of your choice in a simplified manner.
Kitchen Curtain Set
Kitchen curtain sets are to be bought online or offline.
One can choose the perfect kitchen curtain sets from various sites.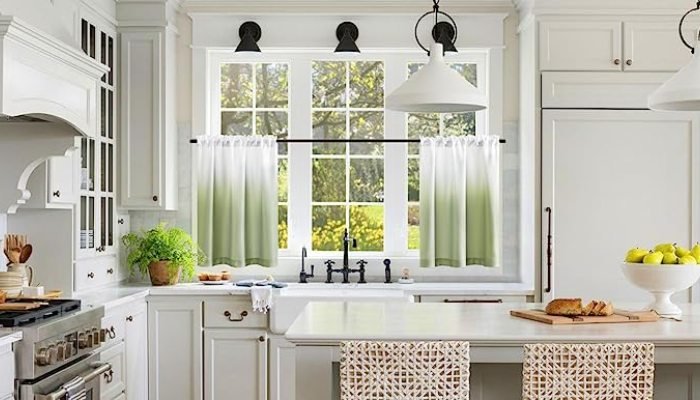 Here is the list of kitchen curtain set that one can look at-
Cotton checked curtain set in

red and black pattern

at the range of Rs 285 only.

Premium cotton curtain set in blue colour at just Rs 795.

Lace designs of curtain for kitchen window at just Rs 1,347.

Sheer strip sting pattern of curtain at just Rs 600.

Stackey sheer curtain with

varied ranges and prices

at just an affordable range of Rs 700 only.
Also read: Kitchen colour combination
One can choose from all these options and one can match the aesthetic of their kitchen with ultimate curtain designs.
How to choose the best Material for a Kitchen Curtain?
One needs to pay attention to the details of the curtain and one should make sure to choose the best material for the curtains.
One can consider these points for choosing the best material for a kitchen curtain.
The points are as follows-
Choose the best

fabric of curtains and one

should rely on durability.

Light colour curtains can be proven good.

Velour is a good material for kitchen curtains. One can proceed with  this curtain material for its aesthetic appeal and look.

Rustic style curtains look good in the kitchen and one can choose the best type of kitchen curtain.

Pleated kitchen curtains can be preferred too. The plates look elegant and perfect.
One can choose the best kitchen curtain by considering the right type of material.
Consider reading: