A Balcony safety grill design is one of the most important factors that you must consider. And, you must opt for a balcony grill design that is functional and it can beautify your home design. 
One can either go for traditional balcony grill ideas or for modern balcony grill designs based on their preferences. In addition, there is a list of options that you must consider in balcony grill design where you hang out a little more than usual. 
Also, Home offers a sense of security and with the rise in burglaries and thefts, Balcony safety grills are becoming even more popular. There are various factors on which a balcony design matters such as material, budget, number of safety doors, etc. One can easily select these aesthetic balcony safety grill designs from the following options:
Mesh Grill Designs
Mesh grill designs are one of the best designs that look attractive and offer immense safety and security. So, whether you are having younger kids or pets in your family, Mesh Grill designs can be found in different patterns including small mesh designs and large mesh designs. One can easily opt for these mesh grill designs.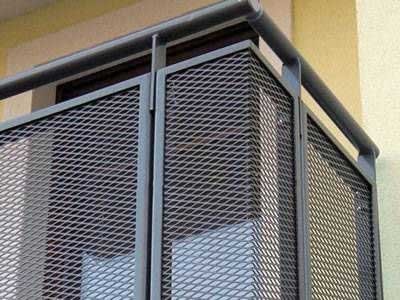 There are several mesh grille designs available for bedrooms, kitchens, or living areas. One can easily choose these types of mesh grills suited for all spaces. In addition, the mesh pattern also works perfectly with the hanging doors.
Stainless Steel Balcony Grill Design
Stainless steel is another material that is used in balcony railings. It is one of the best balcony safety grill designs that is widely used in balcony railings. These balcony grills have durable and sturdy material.
Also, the maintenance of these stainless steel balcony grill designs is quite low. One can either go for solid stainless steel railings, glass railings, or steel railings.  
All these grill designs look absolutely eye-catching and attractive. One can easily find tempered glass railings with steel or aluminum frames. They are one of the stylish Stainless steel balcony grill designs that you can try out with ease. 
Here, the stainless steel balcony grill designs offer you an aesthetically pleasing look and offer you extra safety. If you are fond of the private spaces then you can have a look at the 6 Summer Time Balcony Tips. 
Raised Railing Balcony safety Grill Design
If you live on a sky-high and upper floor of a building, then add an extra layer of security with these raised railing balcony safety grill designs. These designs are quite versatile and look amazing with various styles and exteriors. 
One can easily decorate their private terrace, balcony, etc with outdoor rugs, pillows, furniture, etc. Here, on the raised railings, you can enjoy the unobstructed view and spend the best moments with your loved ones. 
Minimalistic style Balcony Safety Grill Designs
These designs are one of the most popular grill designs that one can find in modern homes. If you are more into contemporary style and looks then you can opt for a Balcony safety grill design that provides you with a minimalistic and statement look.
These grill designs are one of the best options to consider as it offers a soft yet structured look. In the Balcony safety grill designs, there are various gorgeous geometric patterns and symmetry that you can find.
So, go with the modern grill design for the balcony that offers a full cover pattern. These designs will fully cover the entire balcony and offer maximum safety. Here, the grill design also transforms the balcony area and also creates a sense of openness with safety.
One can also have a look at the Indian Balcony Railings Looks and Their Types as well if you want to check out the stunning options in them as well. 
Metal Balcony Safety Grill Design 
There are various safety grill designs that you can find in metal. These metal designs are the sleek minimalist solutions for your balcony area. You can easily opt for these metal grill designs available in different types.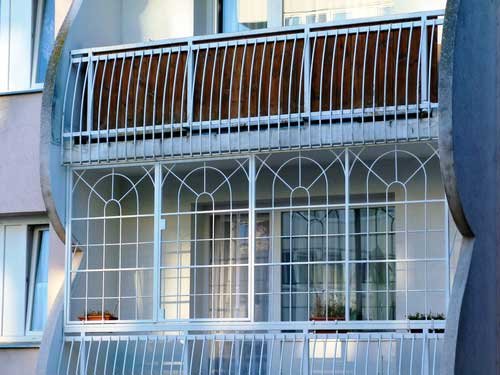 The best thing about these metal balcony grill designs is that they work great even in small spaces. It will make your home balcony look spacious. 
Go for the horizontal bars in metal across the balcony as it will offer your apartment a tasteful and modern look. You can take a glance at the homes and see how gracefully these metal wire railings are being used.
One can easily place a small coffee table, chair, and other decorative elements as well to make your space ready for enjoying the outdoors. Also, you can have a look at the Vastu Tips for a perfect Balcony and Chajja. 
Full Coverage Balcony safety Grill
If you are looking for a stunning balcony safety grill design, then try out full-coverage balcony safety grill designs. It is one of the best designs available in balcony safety grill design. It is covered with a steel cage as well that can be customized according to the design inclination.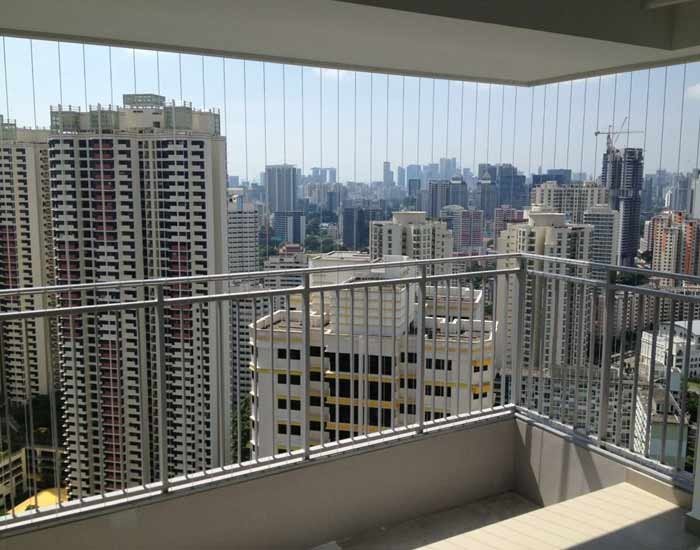 These designs are one of the best balcony safety grill design that doesn't stop the inflow of light, fresh air, etc in any way. Also, these designs just add a feature of security and privacy with ease. It is a very common design that you can add to your balcony design list.
There are various ways in which you can decorate your space. And, to help you with that, we have listed out the Top 20 trending balcony decorating ideas. 
Conclusion
There are various balcony safety grill designs that you can find easily. If you are a fan of rich look design then don't be afraid of going a little bold as the design offers heavy craftsmanship. These designs are one of the top style statements along with the modern decor. In addition, if you are not sure what to do with your balcony? Here are some decor ideas for the balcony.