On the second number, for a place where we spend the most time, the bathroom is a space not only used for essentials but also for styling and transformation. 
Taking that into consideration, this blog presents you with the ultimate guide to choosing the perfect bathroom mat that is to your taste and theme, as well as non-slip, anti-skid, and more! 
This guide will help you navigate through the different types and features to find the perfect mat for your bathroom.
So, let's dive in and discover the best options.
Importance of Having a Bathroom Mat
A bathroom mat or a rug may not be a very fancy addition to our space, but it adds to the vibe. They are designed with utmost planning and care to provide multipurpose.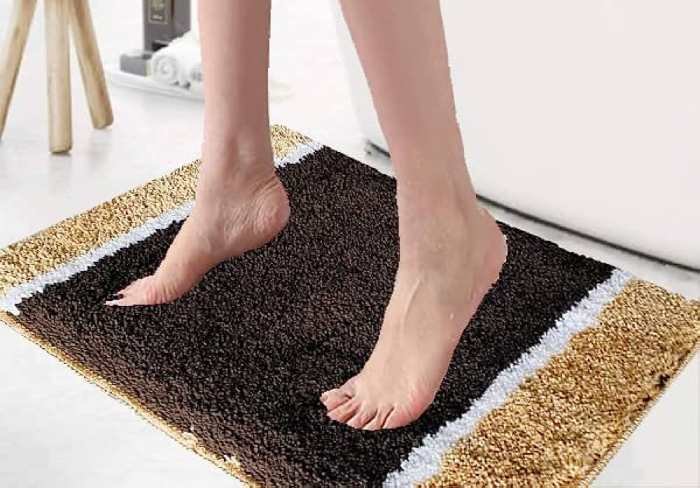 Here are some of the important and multi-purposes of having a bathroom mat in our space:
The only and most important reason to have a bathroom mat is safety. Now you might be thinking what is safety? Like who is going to rob me there?
But the answer is that it helps you prevent injuries from slipping and falling. There have been several cases where people have attained deep injuries because of slipping in the bathroom.

It is not like we going to take a bath without water, therefore it is unpreventable for the floor to be dry all the time and that increases the chances of slipping and falling, especially for children, the elderly, or individuals with mobility issues. Here you can style your bathroom door locks to ensure your privacy and security. 

With certain materials in the market, now bathroom mats and rugs hold the property to absorb water and moisture. These kinds of mats are particularly important for the places where we step out after taking a shower or washing our face.
Absorption of water not only helps reduce the fear of slipping and falling but it helps reduce water damage to the floor. 
As I mentioned above the bathroom is a place where we spend our time a lot, so it might a bit uncomfortable to stand in a single place for a long period of time.

Bathroom mats with cushions or forms help you reduce the pain and make it easy to stand and get your style done. They also help relieve pressure from joints and feet.
Even without all these important reasons, people tend to have a bathroom mat or rug in their space to match the theme and add an extra element.
Here you should also know about the vastu for the bathroom as per your location. 
Different Kinds of Bathroom Mats
Well that you now know all the reasons to have a bathroom mat, it is time for you to decide your ideal one. As with colors, bathroom mats also come in a lot of varieties and different types. Here are a few of them:
Non-slip Mats
As the name suggests, the non-slip mats have anti-slip properties. They are designed and manufactured to provide stability and prevent the next accident in the house. Along with mats you should also consider the your bathroom lighting. 
Ideal for:
They are ideal for houses that have children and senior citizens as they often cannot take care of themselves alone and having such mats would avoid accidents.
Made up of:
They are normally made up of a textured surface or a rubberized bottom to enhance the grip.
Anti-Skid Mats
Anti-Skid mats and rugs are very similar to non-slip mats as they share the same qualities and properties.
But anti-skid mats offer additional features to them, that is traction and stability even on smooth surfaces to prevent slipping and skidding.
Ideal for:
Same, they are ideal for houses with children and elders.
Made up of:
They are normally made up of rubber or any other slip-resistant materials. You should also know about this Bathroom layout and plan for small spaces. 
Water Absorbent Mats
The most preferable and commonly used mats are the water absorbent mats because they help absorb the water and moisture after a session to yourself.
They are designed not only to observe water but keep the floor clean and dry.
Ideal for:
They are ideal for every house.
Made up of:
They are often made up of materials that include cotton, microfiber, or any material which have high absorbency
Rubber Mats
These mats are designed to be highly durable, which means you will not have to buy the mats every other month! Hurray, Money saved!
Additionally, they are also water-resistant and provide a comfortable and slip-resistant surface to stand on, and are easy to clean.
Ideal for:
They are ideal for every house and even are very affordable.
Made up of:
Though you might already, these are made from rubber.
Memory Foam Mats
After having every possible material mat, it is time for comfort. They conform to the shape of your feet and provide relief from pressure.
Ideal for:
Houses with elderly people, or someone who takes a little extra time to get ready.
Made up of:
Cotton 
Decorative Mats
"Why have a boring bathroom mat, when you can have a stunning piece of art," anyway decorative mats add a touch of style and personality to the bathroom. They come in various colors, patterns, and designs, allowing you to coordinate them with your bathroom decor.
Ideal for:
Every possible person who cares a lot about aesthetics and style.
Made up of:
Different designs are made from different materials.
Do you know about these top 10 tiny bathroom ideas? 
Conclusion
Bathroom mats are essential for ensuring safety, absorbing water, providing comfort, and enhancing the aesthetic appeal of the space. 
With various types available, such as non-slip, anti-skid, water absorbent, rubber, memory foam, and decorative mats, choosing the right mat can reduce slips and falls, keep the floor dry and clean, add comfort, and personalize the space.
Investing in a high-quality mat can create a safer, more comfortable, and visually appealing bathroom environment for yourself and your family. Consider factors like material, durability, maintenance, and compatibility with your bathroom's decor when selecting a mat.
Consider Reading

:-