We spent a lot of money decorating our bathroom interior but often we miss out on the most significant requirement in the bathroom. Restroom ventilation is crucial for moist less and odor-free modern washrooms. 
Without proper ventilation, the luxurious bathroom will very soon turn into a breeding place for mold and other funguses. The wooden accessories will form mold and the tiles will have splotchy stains. 
The classy washroom will have an unpleasant smell, making you move out of it as soon as you can. All these are clear signs of improper ventilation or lack of ventilation in your toilet. 
Inadequate bathroom ventilation will lead to several diseases too. Moreover, you will have a huge expense in repairing or renovating your once aesthetic washroom.
The bathroom is the place where we take a shower, wash our hands and feet, brush our teeth and flush after using a commode. Such a place where the use of water is too high leads to moisture and dampness. 
It is necessary to keep it moist and damp-free through the best restroom ventilation ideas. There are a lot of bathroom ventilation ideas that come at an affordable price. Such bathroom ventilation ideas will ensure proper ventilation, making it moist-free and odor free.
7 Popular Bathroom Ventilation Ideas in India
We have suggested some best and most stylish bathroom ventilation ideas that are very popular in India and also come at an affordable price.
1. Exhaust Fan
An exhaust fan is the most common bathroom ventilation idea at an affordable price. Exhaust fans are widely used in India as it is considered to be one of the best ideas for bathroom ventilation.
The size of the exhaust fan depends on the size of your washroom. Exhaust fans should be mounted at the top of your bathroom wall.

Try to vent it opposite to the washroom door or airflow for the best result. Here you can also apply these artificial grass wall decoration ideas to your bathroom. These ideas will also cover your exhaust fan and give it a unique look.      

The exhaust fan will extract moisture and odor from your washroom, making it damp-free and fresh. The exhaust fan will also circulate fresh air in your bathroom. There are various exhaust fans available online with beautiful styles, colors, designs, and sizes to meet your needs.
2. Jalousie Window
This type of bathroom ventilation idea is mostly preferred by Indian people. They are also called louver windows. They are glass or metal horizontal blades that remain parallel to each other.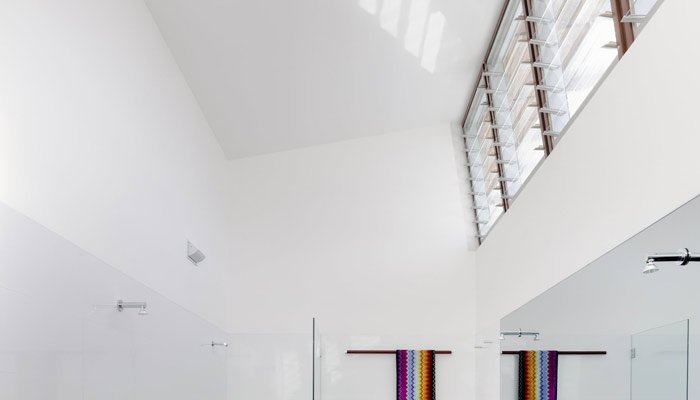 These blades are adjustable and can be opened and closed. Such a window in its open condition enables sufficient light and fresh air to enter your restroom. 
This is the best cost-efficient idea for washroom ventilation. You don't have to compromise your privacy due to its louver design.

You may also like to read – Ventilation Window For Room: Latest Designs, Types, And Images
3. Vented Skylight 
A Vented skylight is also one of the best bathroom ventilation ideas that can be used. Skylights are actually a kind of window on the roof of your restroom.

Some skylights are fixed, but you cannot open them. While vented skylight is one which you can open and close according to your requirement. A vented skylight is a better option because you have full control over the flow of air.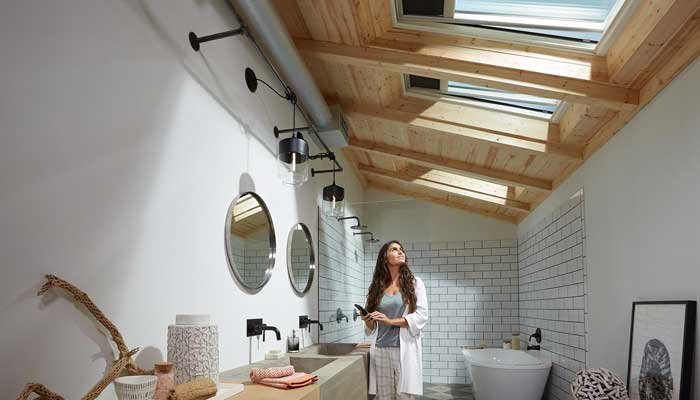 A vented skylight is also a good bathroom ventilation idea from the point of view of elegance. This looks extremely gorgeous giving you the opportunity to have a view of the sky.

Skylight is also very easy to maintain because most of the time it is cleaned by the outside rainwater. Skylights can be controlled by a wall switch, button, or remote.

It allows sufficient sunlight and plenty of fresh air to come inside your bathroom, making it dry and fresh. The steam produced during hot baths also evaporated through the vented skylight.
4. Vented Door 
A Vented door is a good idea for restroom ventilation. The vent is mounted at the bottom part of the door. This type of bathroom ventilation idea is suitable for very small bathrooms. You can see such types of ventilation on the trains and public urinals.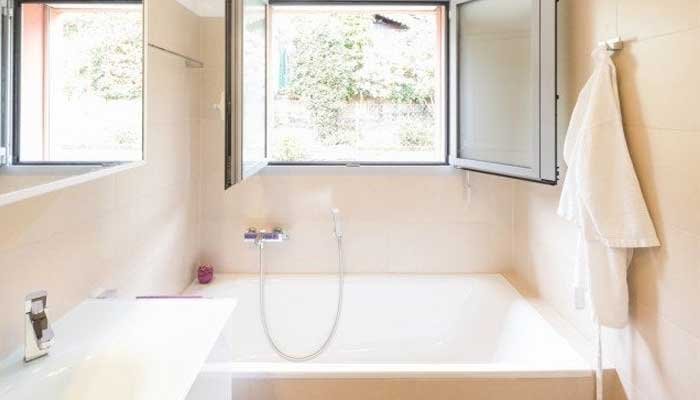 Here are some Small Bathroom Flooring Ideas which will help you to make your washroom more beautiful.

You can opt for this type of bathroom ventilation idea if you have a very small bathroom in your home. You may not have sufficient space in your bathroom for a window. The vent will allow sufficient air and light to enter in, allowing proper ventilation in your washroom.
5. Half-Portion Window
Imagine a window cut into two portions – the top and the bottom part, and placed one portion at the upper part of your bathroom than how it will look like. As the name suggests, the half-portion window will look the same as this. 
You can use this type of window not at the center but on the topmost part of your bathroom. The half-part window at the top looks extremely beautiful with complete privacy. Also, no one can peep through it due to its height. 
6. Slide Glass Window
A window is the natural bathroom ventilation idea which is also a very inexpensive option for the sunlight and fresh air to come in. Sunlight and natural air are always good for living a healthy life rather than air conditioners.
Whether big or small your bathroom is, you can have a glass window with a slide which will not only look classic but will also save your space. In a modern luxurious big bathroom, you can enjoy viewing nature while taking a bath in your premium bathtub. 

For privacy purposes, you can opt for glasses that don't have a clear view of the inside from the outside, while you can see the trees, birds, and other natural objects from in. You can also put on a curtain for your privacy.

Also Read – Bathroom Cabinet With Mirror: Choosing The Best Designs!
7. Roof Less Bathroom
This type of bathroom is a good example of luxury and beauty. You can choose such a type of bathroom on your terrace. It will be a fine bathroom ventilation idea. You will have a sun-kissed bath. You will receive plenty of fresh air and sunlight.
This type of restroom ventilation idea will give you an aura of rural life. For a more rural effect, you can place some potted plants which will also add beauty to your bathroom decor.
So, choose these bathroom ventilation ideas which have elegance too to make your modern bathroom well-ventilated without losing its style.