The bathroom, which is typically seen as a utility space, actually has a lot of opportunity for luxury and practical design. A bathroom bench is a simple addition to your bathroom that can completely change the way you feel about spending time there. 
In addition to serving as extra sitting, a bathroom bench can add a touch of class, neatness and even relaxation to your private oasis. In this in-depth article, we'll explore several different designs for bathroom benches that can completely transform your personal spa.
The Wooden Storage Bench, a Wonder in Many Forms
Stylish and functional, a wooden storage bench has it all. It can be used as a seat, and it also has storage space underneath. Towels, toilet paper and other bathroom necessities can all be stored conveniently under this bench. 
Because of its timeless beauty, it may be used in either a classic or modern bathroom without looking out of place.
Here is wainscoting bathroom.
Relaxing Teak Shower Bench, Fit for a Day Spa
Envision entering your bathroom and finding a soothing spa environment waiting for you in the shower. A teak bench is ideal for this purpose. 
This teak wood bench will last for years in the shower and will make you feel like royalty every time you use it. When installed in the shower, it serves as a perch from which to enjoy the water, a shelf for toiletries, and a conversation starter that conveys calm.
Floating Stone Bench, a Symbol of Contemporary Elegance
A stone bench that appears to float in midair is a revelation for a strikingly simple aesthetic. This bench, hewn from a single block of stone, defies the laws of physics while exuding an air of refined simplicity. 
The bathroom can be transformed into a modern haven with the help of its sleek lines and textured surface.
Reclaimed Wood Bench, Full of Old-World Charm
An antique-looking reclaimed-wood bench adds character to any lavatory. Reclaimed wood's aged textures and distinctive grains reveal its history even as it serves as a practical bench. 
This seat embodies a charmingly rustic aesthetic, making it ideal for washrooms decorated in the cottage or farmhouse style.
Also read about – Basement with Stunning Bathroom Ideas
Chic for the City: a Concrete Bench
A concrete bench is a great way to embrace the urban, factory look. Simple yet durable in construction, this fixture is a top pick for any cutting-edge contemporary bathroom. 
A fascinating visual contrast is created by the rough, urban material and the sophisticated bathroom environment, both of which contribute to the uniqueness of your space.
Retro Delight: A Benches for a Clawfoot Tub
Think of a bathroom from the past, complete with a clawfoot tub. Putting in a bench for your clawfoot tub is the icing on the cake.
The seat is a classy addition to the tub, providing extra space for a drink or a book while you soak.
Oasis in the City: A Bamboo Bench in the Garden
Add some bamboo furniture and some plants to your bathroom for a relaxing, Zen vibe. The bamboo's organic texture matches the plants' natural beauty, turning your bathroom into a tranquil haven. It's a great strategy for making a spa-like environment at home.
Stylish and Relaxing: An Upholstered Makeup Bench
Add some class to your bathroom vanity. Comfort and elegance can be yours every morning with the help of an upholstered vanity bench.Pick a fabric that goes with the rest of your bathroom, and enjoy the refined atmosphere it creates while you get ready in the morning.
You should also know – Allure of a Purple Bathroom
Bench, Metal and Wood, with an Air of Industrial Charm
Create a bench that combines urban and rural styles by combining metal and wood. Strong metal legs support a comfortable oak seat in an attractive composition.
This bench works just as well in a transitional bathroom as it does in a modern loft-style one.
Modern Opulence: A Marble Slab Is Used As A Bench
A marble slab can be used to create an elegant bench for your bathroom. Marble's classic good looks, especially its veining patterns, lend an appearance of opulence to any room they're installed in. The bench's polished finish and sophisticated shape make it an instant conversation piece.
Charmingly Bohemian Woven Basket Bench
Use a woven basket as a bench to channel your inner hippie. Its handmade quality and textural appeal will make a welcome addition to your bathroom's quirky decor. 
This bench not only provides a place to sit, but it also provides an innovative place to store things like towels or accent pieces.
Read about – Bathroom Design Ideas
Subdued Luxuriance: A Plush Velvet Bench
Recline on a velvet-upholstered bench for the height of refined comfort.
Velvet's sumptuous feel and clean, classic lines make for an opulent setting. Put it beside the wash basin or tub to add a touch of class to your bathroom.
Smart Furniture: A Collapsible Shower Stool
A shower stool that folds up is a space-saving option for bathrooms with limited floor space. It's a convenient way to get a seat in the shower without having to commit to leaving it there. 
Simply fold it up and store it away when not in use. If you need a seat for a small space but don't want to sacrifice style, this one is perfect for you.
Acrylic Bench, With a Touch of the Future
Acrylic benches are a modern and eye-catching addition to any bathroom. Its see-through design brings a dash of sci-fi chic to the lavatory. The bench seems to vanish into thin air, giving the impression of more room and highlighting other architectural features.
White Oak Scandinavian Bench
The hallmarks of Scandinavian style are minimalism and practicality. A white oak bench elegantly exemplifies these ideas.Its muted wood tones and simple design provide for a relaxing space in the bathroom.
Also consider reading the bathroom plant ideas.
Rope Benches for a Relaxing Getaway by the Sea
A bench covered in rope might give your bathroom a beachy feel. The rope's rough surface and seafaring connotations evoke thoughts of laid-back days at the beach.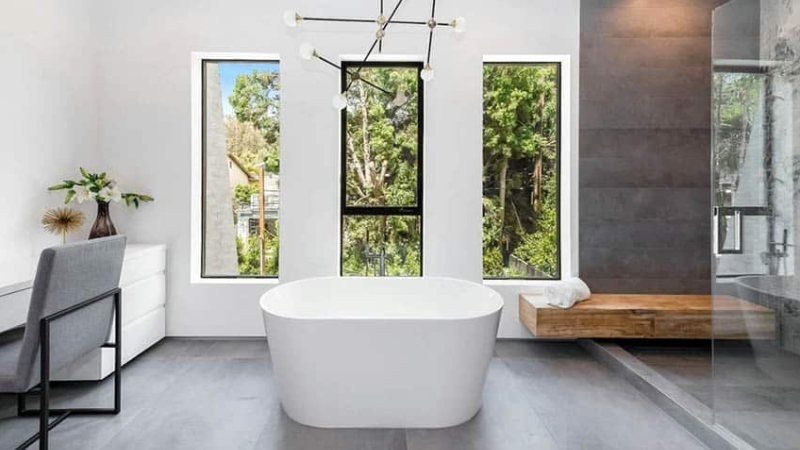 This seat is great for adding a touch of airy charm to any washroom, wherever you may be.
An Innovative Bench Covered with Mosaic Tiles
A bench covered in mosaic tiles is a work of art for the discerning eye. The various tiles used in its construction allow you to create a one-of-a-kind work of art that expresses your personal style. The creative potential of bathroom design is well realised in this bench.
Embraced by Nature: Live Edge Bench
A live-edge bench celebrates the unrefined elegance of wood. The polished top makes good use of the wood's natural properties, while the raw edges show off the material's organic character. 
This bench is an ideal compromise between traditional and modern design, making it suitable for a wide range of powder rooms.
Explore more about – Taps and Shower Mixers for Your Bathroom
Bright and Fun: A Ceramic Bench
Put in a ceramic bench for some whimsy and colour. This bench brings a burst of colour and joy to your bathroom, and it comes in a broad variety of styles, patterns, and materials.
It's a great decorative accent regardless of whether it's set up next to the washbasin or the tub.
Stunningly Elegant, Vintage Metal Bench
An ornate metal bench is a classic choice for retro-style lovers. The ornate metalwork and vintage coating give it an air of antiquity. This bench is a beautiful detail that will take your bathroom back in time.
Get information about – Bathroom Décor with Stylish Shower Curtains
Conclusion
Adding a bathroom bench is a great way to update the look and feel of your bathroom. The potential for change is inherent in every bench concept, from classic oak storage benches to cutting-edge acrylic wonders. 
There is a seat out there that will complement your bathroom no matter what your aesthetic preferences are, whether they be rustic, minimalist, or eclectic. Take this chance to completely rethink your bathroom's aesthetic by implementing one of these unconventional bench concepts.
Although they appear to be inconsequential, toilet benches may completely transform the feel of your space. They provide more than just a place to sit; they may be the focal point of a room's decor, a practical storage solution, and a means to unwind. 
These benches come in a variety of designs, so you may pick the one that best fits your bathroom's decor and your own tastes.
Consider reading -