Bedroom Curtain Design – Every homemaker is the interior designer in itself and they only show their creativity when they are asked to decorate their bedroom.
If you are looking for something improved and new for your bedroom decor, check out these below-mentioned Bedroom Curtains design ideas which can give your bedroom a complete makeover without making a hole in your pocket.
Neutral Tones Curtain
If you are looking for a unique tone for your bedroom that can speak volumes of calm and composed nature, then Neutral Design for Home is always preferred because it adds an allusion of minimalistic splendor. So, you must ensure adding neutral and warm designs in your bedroom and you can improvise its look by including solid colour bedroom curtain as it complements the neutral tones on the Bedroom Walls.
Patterned Curtains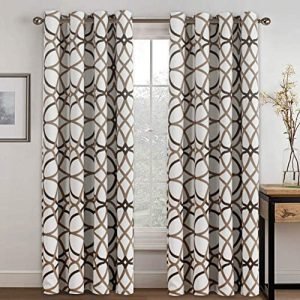 The patterned curtains are rather busy as they are best for breaking the insipidness of single tone or hues in bedroom. This type of design has lots of beige and tan and hence the colour of the valances, curtains and comforter usually brings in some audacity and bravery in the bedroom. The patterned designs for Bedroom Window Curtains are very unique and you will not easily find it unless you custom made it.
Dividers Curtains
Using of curtains in bedroom window is the age old tradition. Larger bedrooms today use white panels as divider from one part of bedroom to the other. This design of curtain blocks the bed and also gives some extra privacy required by couples. If you don't want to use it for privacy you can use it as accent piece. This is the affordable way to block off the bed instead of constructing a wall or door.
Floral Window Curtains
As the summer months approaches, new refreshing decors are highly preferred by homeowners. So, this summer you must prefer choosing Floral Curtain Designs for Bedroom. You can give a complete floral makeover to the bedroom windows by including a beautiful floral design drape that comprises vibrant flowers on its surface.
White Over Tan
This is another very beautiful and elegant curtain design that can be added in your bedroom. In most of the cases, homeowners only make use of sheer white window curtains in order to avoid overdosing it. So, in such case these blinds are optional. But if you see that sheer panels are not sufficient to block the lights then you may either draw the blinds or simply make use of it along with window panels.
Blackout Curtains
This is the window Curtain Design that is mainly for men who want complete darkness in their bedroom even when it is sunny outside. The tone of the walls must be overly dark and you must ensure adding thick dark blue or grey panels to make it even look darker. This design goes well with overall flow of the bedroom and matches the colour scheme well.
Epoch Elegance Curtains
You can also upgrade your bedroom with some epoch elegance by adding vintage style window curtains which are available in baroque and jacquard designs. These are the subtle motifs which usually go long way in offering the bedroom a sophisticated and regal look which is considered ultimate for opulence of recent season.
One-Beat Elegance Curtains
The best method to provide a chic and fashionable look to your bedroom is by choosing all-matching appearance. So, ensure to choose the designs and styles of curtains that amalgamate the bed sheet drapes, table cloth and pillow covers. You can also choose the upholstery items that are extracted from same fabric to achieve the perfect and complete look.
Conclusion!
Well, now you have it all 8 curtain designs for bedroom. These 8 unique and stylish bedroom curtain design ideas can be used for all modern homes and apartments. Remember, for every colour and style room, there is a different and unique type of curtain to choose from. Whether it is patterned, light, and dark or sheer, you will definitely find plain or Printed Designs Online that can go well with your bedroom design and colour. You can also check online for some more design ideas which you can add to your bedroom to give it a complete makeover without breaking your bank account. Check online for more design ideas to keep changing the window designs of your bedroom.