In the ever-changing environment of interior design, the kitchen stands out as a focal point, requiring both utility and aesthetic elegance.
The selection of materials is an important factor in attaining this balance, and in recent years, quartz counter tops have developed as a popular and fashionable alternative for discriminating homeowners. 
This blog seeks to give an in-depth investigation of some of the major quartz counter-top companies in India, providing a thorough reference for those wishing to infuse their kitchen areas with a perfect balance of durability and style.
Top Quartz Brands
Classic Marble Company (CMC)
Classic Marble Company, a pioneer in the Indian natural stone sector, has smoothly incorporated quartz into its product line. CMC's quartz counter-tops come in a wide range of colours and patterns that have been precisely designed to accommodate a wide range of design preferences. 
CMC is known for its dedication to quality, and each counter-top not only emanates beauty but also withstands the rigors of regular kitchen activity. 
The brand's commitment to workmanship and innovation makes it a popular choice among homeowners looking for a classy yet durable kitchen surface.
CMC's quartz countertops have a timeless appeal that complements a variety of design styles, with selections ranging from subtle neutrals to strong statement pieces.
You should also read: Modular kitchen design
KalingaStone
KalingaStone has developed a place in the quartz counter top industry by pulling inspiration from natural stone's intrinsic beauty. The brand's dedication to creativity is obvious in its broad spectrum of designs, with each counter-top a one-of-a-kind work of art. 
Homeowners may select from a variety of patterns, ranging from delicate veining to startling, bold motifs, to create a personalised and elegant kitchen environment.
Quartz counter tops from KalingaStone not only improve the visual appeal of kitchens, but also demonstrate the brand's commitment to quality and innovation.
The combination of creative expression and functionality distinguishes KalingaStone as a leading contender in the quartz surface market.
Quantra by Pokarna
Quantra, a Pokarna Group company, has become synonymous with accuracy and excellence in the world of quartz counter tops. Quantra's quartz surfaces are precision-engineered to improve the visual appeal of kitchens while also providing unrivalled durability. 
What distinguishes Quantra is its commitment to sustainability, which ensures that your kitchen not only looks excellent but also adheres to eco-friendly practices.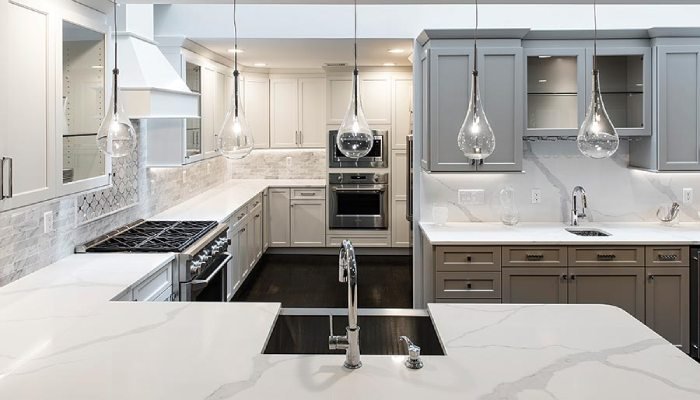 The brand's wide variety of colors and finishes appeals to a wide spectrum of design sensibilities, making it a versatile choice for homeowners.
Quantra's quartz countertops perfectly blend into your idea for the perfect kitchen, whether you like contemporary simplicity or a more classic design.
May you also like to read: Open kitchen design
Compac
Compac, which is based in Spain, has had a big effect on the worldwide quartz counter top sector by introducing revolutionary designs to the Indian market.
The brand's dedication to cutting-edge technology is shown in its vast selection of quartz surfaces, which appeal to a wide range of homeowner preferences.
Quartz counter tops from Compac strike the right combination of elegance and utility. Compac offers timeless alternatives that improve the entire ambiance of your kitchen, whether you want a sleek, modern style or a more classic aesthetic.
Because of the brand's global reputation for quality and design innovation, it is a top choice for people looking for a touch of European elegance in their kitchens.
Cosentino – Silestone
Cosentino, a global pioneer in innovative surfaces, enters the Indian market with its renowned Silestone brand. Silestone quartz counter tops are well-known for their exceptional resistance to stains and scratches, making them an excellent choice for high-traffic kitchens. 
Beyond utility, the brand's dedication to sustainability and design innovation guarantees that your kitchen is both fashionable and ecologically conscious.
Silestone's diverse color palette and finishes provide homeowners a wealth of possibilities for expressing their individual style.
Silestone's quartz counter tops have the freedom to bring your design aspirations to life, whether you want a clean, monochromatic style or a bright, patterned surface.
You should also read: Kitchen cupboard design
Tips for Choosing the Right Quartz Counter top
Color Scheme: The colour of your quartz counter top is very important in creating the overall appearance of your kitchen. Choose a quartz surface that compliments and improves the current colour palette, cabinets, and flooring.
Edge Profiles: The edge profile is a modest yet significant accent that may be added to your counter top.
Depending on your stylistic choices, you may select straight, beveled, or rounded edges. A straight edge may complement a sleek, modern kitchen, whilst a decorative bevel may benefit a more classic room.
Upkeep Needs: One of the primary benefits of quartz counter tops is their minimal upkeep. When choosing a brand, keep cleaning and care in mind.
Most respectable products, including those described above, provide stains and scratch-resistant surfaces, simplifying your everyday kitchen care routine.
Budget Considerations: Because quartz counter tops are a long-term investment, it is critical to examine your budget. Investigate the options of several manufacturers to strike a balance between quality, design, and pricing.
Many manufacturers provide a variety of solutions to accommodate varied financial limits.
Conclusion:
Adding quartz counter-tops to your kitchen design requires careful consideration of both beauty and functionality. In the Indian market, the brands featured in this article represent the peak of quality, innovation, and design. 
Choosing a recognised quartz counter-top brand guarantees that your kitchen becomes a timeless beauty, whether you're renovating or building a new house.
Classic Marble Company, KalingaStone, Quantra by Pokarna, Compac, and Cosentino's Silestone combine beauty and utility to create kitchen environments that are not only visually attractive but also durable and easy to maintain. 
Consider the different offers of these top quartz counter-top brands as you begin on this path to turn your kitchen into a room that reflects your distinct taste and lifestyle. This will ensure a kitchen that stands the test of time, both in terms of style and endurance.
Consider reading: