Some of us have very artistic hands since childhood. We make different crafts out of various objects. Some of us turn a waste material or an old used object to something very creative and artistic.
 Woodcraft is a great work of art. Wood is something which is not only durable and valuable but it has a unique beauty. You may get inspired by various woodcraft works displayed in various exhibitions. 
If you ever visit the Bishwa Bharati University of Rabindranath Tagore, you will see an extremely beautiful old woodcraft made by the students of the university which is a great piece of art. 
If you have a passion for craft works you can choose wooden crafts which enhance the beauty of your house. 
We will suggest outstanding DIY wooden craft ideas that have a mesmerizing beauty and they are so simple and easy that they are ideal for beginners. 
You can decorate your house with your handmade wooden craft that will save your money. 
Appealing Wood Craft Ideas for Beginners
A Simple Wooden Showcase 
Cut the wooden piece into rectangular shapes and join the pieces with glue. Make different sizes boxes and join them one above the other in such a way that it will look like shelves.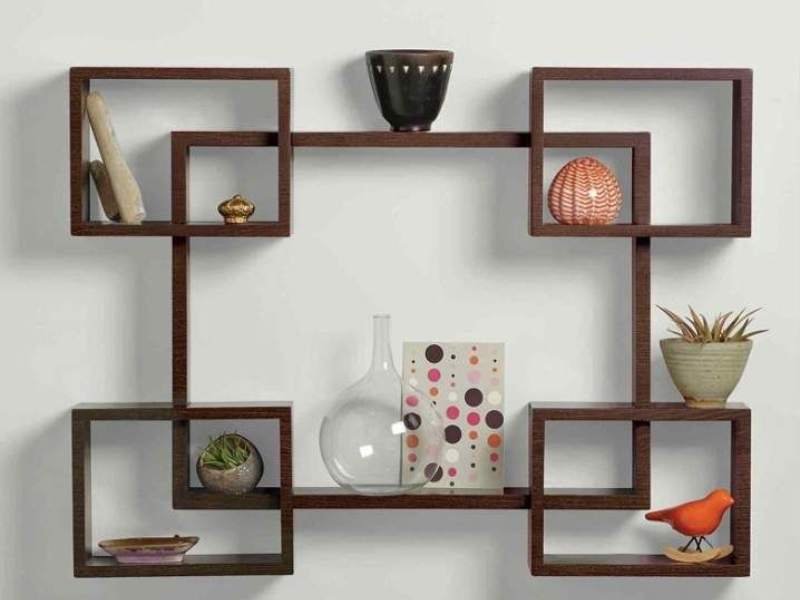 Keep the front side open. This is a very simple wooden craft but looks amazing. You can use the wooden craft idea to display showpieces and other stylish objects on it. This project is an ideal choice for beginners.
Apart from that, here are some modern, stylish & elegant center table designs for living room. These wooden center table designs are very unique and looks very fashionable. You can see these center table design with images here. 
Wooden Landscape Holder
If you are good at painting you can do a painting of a landscape with water colour. Now instead of hanging it on the wall, do something new. Make a wooden holder that is very simple. 
Just measure the size of your landscape and make a holder such that the landscape will fit into it. This is a beautiful woodwork idea for beginners.
Hooks on Wooden Frame 
You can stick some hooks on a beautiful wooden frame and hang it on the wall. Cut a few rectangular pieces of wood in the shape of long bars. 
Place three bars horizontally and three vertically above them to create a beautiful wooden frame for the hooks. You can keep your valuable keys, bags and other objects of necessities hanging on the hooks.
You may also like to read – Modern Name Plate Designs for Main Gate
Wooden Pen Stand 
You can create a beautiful pen stand to keep in your bookshelf. Just make a wooden long rectangular box and drill a few holes on the top of it so that it can hold your pens. 
You can burnish it to look more attractive. This is an extremely simple idea yet stylish looking woodcraft for beginners. 
Wooden Bench for The Garden
You can make a bench which will suit your garden. Just cut a few pieces of wood in the shape of a bench and join those using nails. For extra comfort join a wooden support on the back. Now to make a comfortable sitting, make it padded with something.
Bathroom Shelf
You can decorate your bathroom with wooden shelves to keep essential bathroom accessories. Making a shelf out of wood is very simple. You can also color it to enhance its beauty.
Also Read – Bathroom Shelf Designs: Things to Know and 5+ Design Ideas
Earring Keeping Storage 
This is a brilliant idea for beginners. Ladies mostly have a collection of huge earrings. If kept in a drawer, such a huge collection of earrings can turn messy, making it difficult for you to find it in times of need. You can make a beautiful and stylish holder to keep your earrings.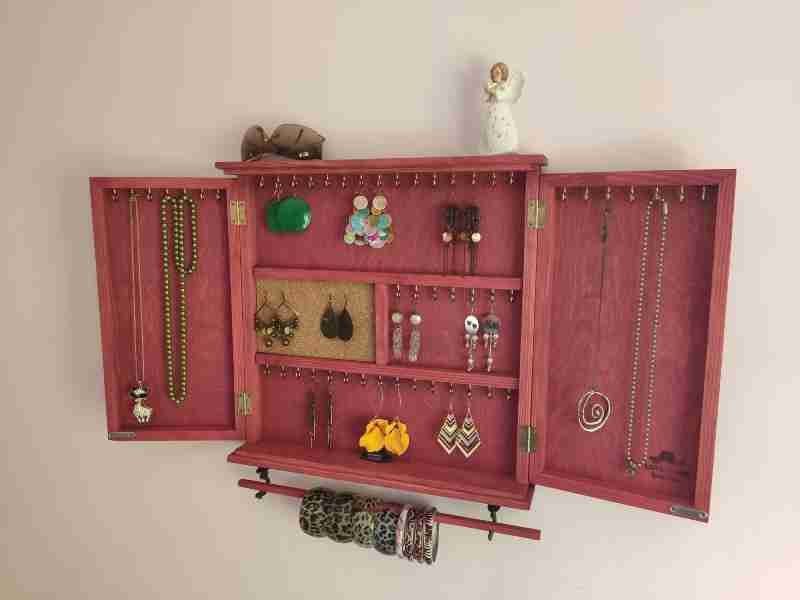 This creation adds beauty to your dressing table. Make a wooden frame like that of a photo frame. Now stick a net cloth on the middle of it like a photo on the photo frame. Pierce the earrings on the net part of it.
You can also try these latest tv stand designs to solve your storage problems. It mainly comes with large storage capacity with different designs. 
Key Ring 
Perhaps you have seen wooden key rings in a fair ( mela). You can try it out which is an amazing woodcraft idea for beginners. Take a small piece of wood in a small square shape.
 Drill into it and attach a key ring to it. Now you can write your name in calligraphy over the woodwork to decorate it. This wooden key ring, although simple, looks very stylish.
Wooden Ear Ring 
Hand-made ear rings are trending recently. You can create beautiful earrings out of wood. All you need is to cut small pieces of wood finely into many shapes. Use multiple colours or you can use your various nail polishes to colour them.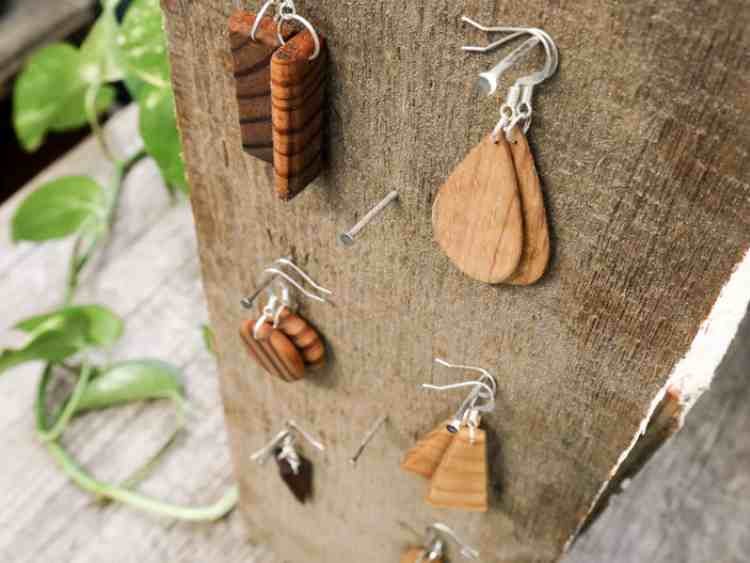 Now add some wooden beads to adorn them and finally attach earring hooks to each one of them. Your beautiful pieces of earrings are ready to use for a party. Also different almirah design comes with ear ring storage case. You can easily find this storage case in almost every modern almirah. 
Swing in Your Garden 
You can make a swing in your garden which is very simple. If you go to the rural areas you will often find such swings tied to a branch of a tree. 
Take a piece of the wooden slab and cut it finely. Drill four holes on the four corners to tie ropes and finally tie it to the branch of a big tree. You can use artificial flowers to decorate the ropes of the swing. 
To give support to your back while you are on the swing, mend another wooden slab in the size of the swing and using a hammer and nails attach it to the swing. You can color it or burnish it for more beauty.
These are some of the woodcraft ideas for beginners. Such ideas do not require a professional wood carving man. What you need is enthusiasm, creativity, patience and hard work. 
Always keep a hammer, nails and saw ready for creating woodcraft projects. Initially, you may take time to complete one project but gradually you will master the skill and take to more advanced projects from the beginner's woodcraft works.