Selecting bathroom tiles is a big decision, especially as the bathroom is a room where you spend time each and every day. Gone are the days when we tried to pass less time in bathrooms as they were the tiniest and drab and dullest space in our homes. But nowadays the bathrooms are stylish and elegant. Bathroom tiles are suggested because of their cost-effective factor and their beauty against many other human-made materials. Bathroom tiles are in trend because of their beauty, durability and non-slippery quality.
When you are going to pick the size of your bathroom tiles, certain sizes will work better in small areas to give a vision of space. Commonly large bathroom tiles have less adhesive lines and give your bathroom a smoother finish. As such there are no rules when it comes to decorating your bathroom with bathroom tiles.
There are two kinds of bathroom tiles
Rectified tiles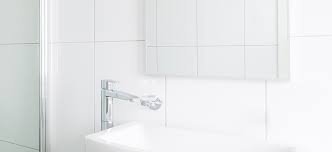 Chamfered tiles
Chamfered bathroom tiles have round edges that look pretty but, they leave more space between the tiles and ultimately more adhesive is used up. Rectified bathroom tiles have right-angled sharp edges, so less adhesive is used and it leaves lesser spaces between tiles. Rectified bathroom tiles are the most popular and suitable ones too. Rest from these basic categories, bathroom tiles comes in a large range of materials to choose from.
Most of the bathroom tiles come in ceramic material. These Ceramic bathroom tiles are easy to maintain and very cost-effective. These Ceramic bathroom tiles come in a wide range of colors, sizes, patterns and of course designs. Ceramic bathroom tiles give a clean and sharp look to the bathroom. They are usually used on walls and floors.
Nowadays, ceramic tiles come with an art pattern to be put up in your bathroom. Although not all ceramic tiles are cost-effective and some finely designed ceramic bathroom tiles may be expensive too but, they never leave you disappointed.
Granite tiles are also becoming a popular material for bathroom tiles. They are chosen because of their longevity and are suggested to be the toughest one in all of the other types of bathroom tiles. The next plus point of granite bathroom tiles over the other ones is that they are almost scratch-resistant and are immune to easy breakage.