Pooja rooms are the space in a house or an apartment that holds a very crucial role in almost all Indian households. 
Whether you are a believer or not, the essence of a pooja room with incense sticks and Diya plays a very important role in enlightening and brightening your house or apartment with positive energy.
It not only brightens your spirit but also the vibe of your home. The need for a pooja room is so great that even the smallest apartments, which do not have much space, now have a beautiful pooja mandir where the members can worship.
How to select a puja room design perfect for your houses and apartments?
As it is important to have a pooja room or a Mandir in a house or apartment it is equally important to choose the most suitable Pooja room designs for your spaces.
Sometimes, it may not be that easy to pick the perfect design for your apartment that goes well with the design of the walls and the room.
However, if you have the best knowledge about things to select right for the pooja room design or wooden pooja mandir designs for home, things can be different.
Here are some ways to choose the perfect pooja room design in apartments:
Making good use of the available space.

Choosing the perfect design according to the availability of the space.

Playing with a lot of colors according to the vibrancy of the room of the area.

Be sure of the direction of the pooja mandir if you are a believer in the Vastu Shastra.

Choose the best design that can go with your personality and your Vibe.
So here we have bought a few ways through which you can charge up your homes and spaces with small Pooja room designs which will be wall mounted or in many different designs. Try these mandir designs for home and get positive vibes in your apartment.
Box-shaped Wall-mounted pooja mandir design
If you love box shapes, then this box-shaped wall-mounted mandir is a perfect design for your home.
This wall-mounted Mandir is designed with a beach with jali that opens towards the outer side giving you enough space to carry out all your day-to-day rituals.
Have a look at latest mandir design in wall here.
This pooja mandir does not only have space but also has some inbuilt shells which allow you to place diyas. This wall-mounted Mandir is designed for the provision of jobs so that you can place all your holy items safely and securely in them.
Dome-designed Mandir for your Living Room
Dome lovers, there is good news for you. The dome-shaped mandir for the wall is made of dark wood and has a perfect design that you can put in your living room.
This Mandir can be placed on a wall with some traditional wallpaper. This dark wood design Mandir has some jali design that was inspired by the Mughals and there is sufficient space to place all your god idols.
A mandir design with a triangle top
If you believe in cosmic energy, then this wall-mounted pooja mandir design is made for you.
This design with a triangular top has been known for its nature of absorbing energy from the Sun. The base of the pooja mandir can be made of marble to give a unique look as well. In case you want to go with a marble mandir design, have a look here.
This Mandir can be designed with some white wood and LED strip lights. And also drawers are given so that you can store your devotional books and other holy items safely and securely.
Bells have been neatly constructed at the top of the Mandir which gives a more devotional and traditional vibe.
Consider reading about Home Tulsi Mandir Design
Wall-mounted Shelf Pooja Mandir
Lovers of esthetics we have something for you. A very easy and convenient way to make your pooja room look prettier and sleeker is to use shelves.
This is a very common pooja room design for apartments where people try and use the shelves already given according to the pooja room vastu.
The way you use your place shelves for placing decorative items or showpieces is the same way you can use them for making your pooja mandir.
You can normally rely on the Vastu tips for the pooja rooms in the flats and be sure about whether you are moving in the right direction.
You can choose wider shelves or broader shelves depending on your need for space in the Pooja room.
Also, read about the latest tv stand designs for living rooms.
Either you just want to keep the idols or also want some shells to keep the holy items safe and secure.
Wall-mounted ledge Pooja Rooms for Apartments
The idea of setting up a pooja room in small apartments is quite difficult these days, but we are here to solve your problem.
This pooja mandir in small flats is becoming quite a trend because of its convenience to use. You don't need any special thing to design and that is the main reason why most of the smaller apartments are using this idea of having a Mandir in their place.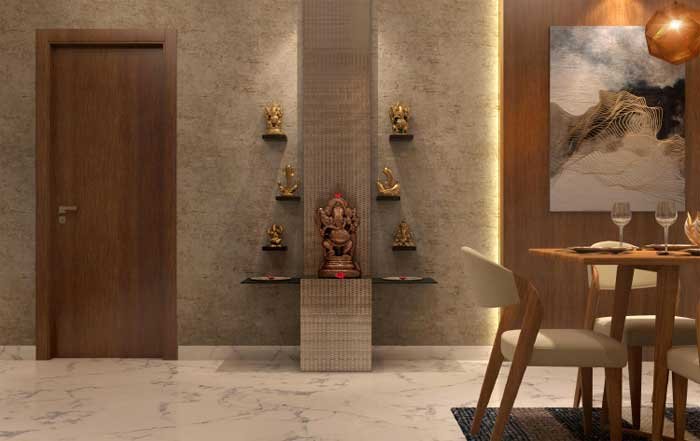 Just need to make sure that there is enough space to keep the essentials and the necessary Holy things for the mandir that you need and then you are all done.
Consider Reading:
And why not make it more attractive? just add some decorations as you like and you can also try a different background color to get the feel of the pooja room in the apartments.