Colour is one of the most important aspects of interior design since it can completely transform the mood of a room. Orange is one of the most striking colours because of the positive emotions it evokes. 
Whether you want to add a jolt of optimism to your home or take a more creative and risky approach to interior design, orange may help you achieve any of these goals while also making your space more inviting and exciting.
In this post, we'll discuss how to use orange in your home décor, from small touches to large focal pieces, to create a warm and inviting space.
Understanding the Psychology of Orange
It's important to understand the thought processes underlying the use of orange in interior design before jumping in headfirst. The fiery vitality of red and the sunny warmth of yellow merge to become orange. 
It's full of life and energy and originality and excitement. Orange, a colour commonly associated with fall and the harvest, creates a warm and welcoming atmosphere.
It works wonderfully in places where you want to encourage conversation, innovation, and vibrancy.
Also read about: Wall colour combination for hall
Choosing the Right Shade of Orange
The colour orange isn't universally flattering. It's available in a variety of tones, each one suggesting a unique feeling. If you're looking to decorate with orange, think about using one of these shades:
Add a splash of energy to any space with the tangerine burst shade of orange. Utilise it as a pop of colour in the form of throw pillows, artwork, or other small accessories to direct the attention to certain areas of the room.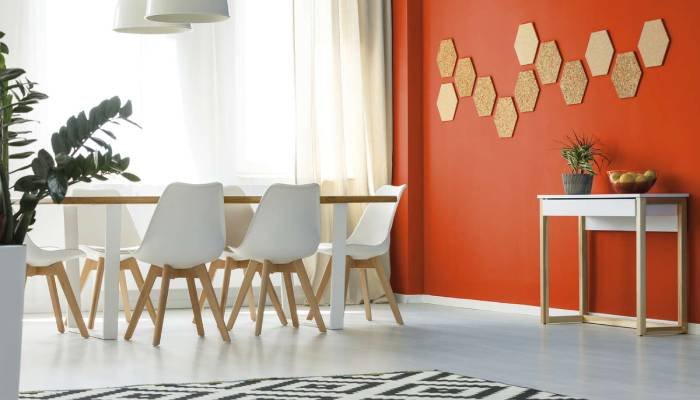 Colours like terracotta and burnt orange make people think of the soil and make them feel cosy. Larger pieces of furniture or accent walls might benefit from this colour, which creates a warm and welcoming atmosphere.
Adding a sense of sophistication and refinement, coral is a gentler orange with pink undertones. Curtains, carpets, and ornamental vases made from coral may help create an elegant setting.
Orange may be overbearing, but muted peach tones can add a subtle hint of orange without overpowering the room. These colours are ideal for a bedroom because of the tranquillity they bring.
You should also know: Curtain designs for living room
Infusing Orange into Various Spaces
Now that we've covered the meanings and variations of orange, let's look at some ways to work it into your decor.
Living Room Delight:
Sofa that Makes a Statement: If you want to make a statement in your living room, use an orange sofa. To counteract its vividness, surround it with calming neutrals and complimentary patterns.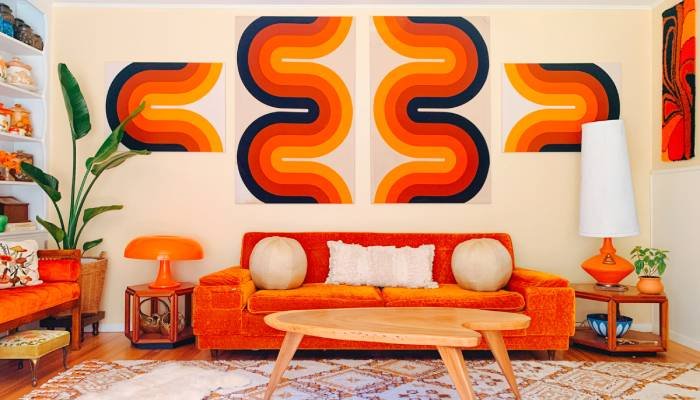 Accessory Accents: Place orange throw cushions, blankets, and rugs about the room. These little features provide vitality to the room without dominating it.
A Cosy Kitchen:
Brilliant Backslash just takes a few minutes to transform your kitchen into the centre of your house when you use orange tiles as a back splash.
Brightly-hued pots and pans: Exhibit orange cookware and cutlery for a stylish and welcoming kitchen.
Also like to read: Window curtain
Calm in the Bedroom:
The orange tones in your bedding will help provide a warm and welcoming mood. Use with calm neutrals like gentle greys and creams.
Accents in the Arts: To inject imaginative vitality into your private haven, hang orange-themed artwork or include orange-themed decorating items like lamps and couches.
Revitalised Workplace at Home:
Pick an orange desk or chair if you want to work in an environment that inspires energy and productivity. Use earthy tones of wood for a calming effect.
Motivating Wall Color: Paint an accent wall in a soft orange to enhance productivity.
The Power of Orange Accents
Accents may be an excellent opportunity to explore with this energising hue, especially if you are still getting ready to use orange for bigger design components.
Creating a visually compelling and interesting focal point may be accomplished by using artistic expressions such as hanging pictures or artwork with an orange theme on your walls.
Put bouquets of orange flowers, such as marigolds or dahlias, in various spaces to provide a splash of colour and a sense of vitality into the space.
Patterns of Play: If you want to give your room more dimension and personality, consider getting orange-patterned pillows, drapes, or carpets.
May you should also know: Front wall tiles design in indian house
Harmonising with Complementary Colours
Orange is a hue that looks great on its own, but if you match it with colours that are its complements, you may increase its effect and create a more pleasing aesthetic.
The warm tones of orange are counterbalanced by the contrasting coldness of blue. Create a visually attractive contrast by using several colours of blue into your design, whether that be through artwork, furniture, or ornamental accessories.
Orange's classy and well-balanced appearance may be achieved by combining it with neutral tones such as beige, grey, or white. These neutral colours create a soothing background against which the orange highlights may stand out.
Conclusion
Orange is a daring and exciting option for decorating, and it has the potential to completely transform your living spaces into colourful and welcome havens.
Orange offers a wide range of opportunities for artistic expression, ranging from the energising bursts of tangerine to the calming tones of terracotta. 
This hue has the ability to imbue your house with a sense of cosiness, vitality, and even a dash of excitement; all you have to do is decide whether you want to make orange the focal point of the room or use it in whimsical accents. 
Hence, regardless of whether you're redecorating a full space or merely looking for a new update, don't be afraid to delve into the world of orange decor and discover a whole new universe of potential design applications.
Consider reading: