Curtains may appear to be a straightforward improvement to your house, but they have a big impact on the look and feel of any room. The curtain rod, who keeps the drapes in place, is an unsung hero who frequently goes unrecognized. The appropriate curtain rod improves the aesthetics and usability of your room while also supporting your window treatments.
We will delve into the world of curtain rods in this thorough guide, covering everything from their various types and materials to styles and design concepts.
Introduction
In this article, we delve into the world of curtain rods, examine their role in home decor, and explain why it's so important to pick the appropriate curtain rod for your room.
Have a look at corner window curtains.
The Value of Curtain Rods in Interior Design
Although curtain rods are frequently forgotten in interior design, their influence on a room's overall aesthetics should not be disregarded. Here is a more thorough explanation of their significance in interior design:
Curtain rods offer useful support for window coverings, ensuring safe hanging, simple access, privacy, control over light and temperature in a space.

By framing windows and providing decorative detail, curtain rods improve the visual attractiveness of a space. The choice of material, style, and finish has a big impact on the overall look and feel.
Customization possibilities for curtain rods include conventional, contemporary, or eclectic designs and ornate finials to represent individual preferences and harmonize the interior design scheme.

When carefully selected, curtain rods can improve a room's decor by harmonizing with other furniture, resulting in a unified and well-placed look.

A room's perceived size can be increased by strategically arranging curtain rods to give the impression that it is taller and larger.
Do read about curtains with orange walls for your reffrence.
Why Pick a Good Curtain Rod?
Let's examine the importance of choosing the proper curtain rod for your own requirements:
Improved Aesthetics: Choosing a curtain rod that matches your decor will make your space look more attractive and provide an extra layer of design.
Functionality and Durability

: Choosing the appropriate curtain rod guarantees proper function, durability, and prevention of sagging or bending, ensuring curtains perform well for light filtering, room darkening, or sheer ornamental purposes.

Cost-Effective

: Buying high-quality curtain rods up front can save money in the long run because they are reliable, need little upkeep, and rarely need to be replaced or repaired.

Energy economy: By controlling indoor temperature and lowering heating and cooling expenses, double curtain rod designs that allow layering of curtains, including thicker thermal or blackout curtains, improve energy economy.
Personalization

: Choosing the appropriate curtain rod enables you to customize your room and express your distinctive style in minimalist, industrial, or traditional designs.
Read about – Living room curtain design
Types of Curtains Rods
Curtain rods exist in a variety of types to accommodate diverse window treatments and tastes in interior design; they are not a one-size-fits-all item.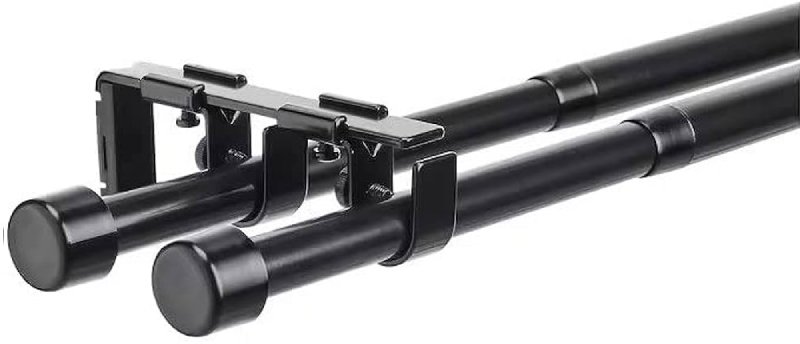 We'll examine the various kinds of curtain rods that are offered on the market in this area, each with its own special characteristics and advantages.
Rods for single curtains: The most typical and basic style of curtain rod is the single rod. They are made up of a single rod that crosses the window's breadth. These rods are appropriate for the majority of simple window treatments because they are made to support one layer of drapes or curtains.
Advantages

: Simplicity, Versatility and Budget-Friendly.

Use Cases:

Bedrooms and Kitchens.
Double Curtain Rods: Double curtain rods consist of two parallel rods attached to the same set of brackets. This design allows you to hang both sheer and heavy curtains or drapes on the same window, providing both light filtering and privacy options. The inner rod typically holds the sheer or lightweight curtains, while the outer rod accommodates heavier curtains.
Advantages

: Versatility, Light Control

and

Design Flexibility

Use Cases

: Living Rooms and Master Bedrooms

.
Adjustable Curtain Rods: Adjustable curtain rods are designed to fit various window sizes. They often come with telescoping or extendable features, allowing you to customize the rod's length to match your window's width. These rods are versatile and eliminate the need for precise measurements.
Advantages

: Flexibility, Convenience, and Easy Installation.

Use Cases:

Rental Homes and Homes with non-standard window sizes.
Decorative Curtain Rods: Decorative curtain rods are designed not just for function but also for adding an aesthetic element to your window treatments. These rods often feature ornate finials (end caps) and intricate designs along the rod itself, making them a decorative element.
Advantages

: Style Statement, Unique Finishes, Customization, Formal Spaces and Custom Home Décor.
You should also know – How to choose curtains for living room
Curtain Rod Materials
This section explores various curtain rod materials like metal, wooden, plastic, and glass, highlighting their unique features and advantages, to help you make an informed decision when selecting the perfect rod for your windows.
Rods for metal curtains: Steel, aluminium, and brass curtain rods are strong, adaptable, and simple to maintain, making them perfect for heavy curtains and several layers.
Rods for wooden curtains: Wooden curtain rods are appropriate for lightweight to medium-weight curtains and can be matched with furniture or trim. They also offer aesthetic appeal, personalization, weight concerns, and ease of maintenance.
Rods for plastic curtains: Plastic curtain rods are appropriate for humid areas and short-term fixes since they are lightweight, affordable, simple to install, and easy to maintain.
Rods for glass curtains: Glass curtain rods are an unusual and opulent option for window decorations because they give transparency, light play, weight capacity, and maintenance.
Note – Luxury modern curtain designs
Curtain Rod Design Ideas
Matching Curtain Rods to Window Treatments:
Selecting the right curtain rods that complement your window treatments is essential for achieving a cohesive and aesthetically pleasing look in your living space. Here are some considerations:
Colour Coordination

Material Matching

Decorative Finials

Double Rods for Layered Curtains
Creative Curtain Rod Styles:
Experimenting with unique curtain rod styles can elevate your interior design. Here are some creative ideas:
Curved Curtain Rods

Traverse Rods

Customized Rods

Branch or Nature-Inspired Rods
Curtain Rods as Decorative Elements:
Curtain rods themselves can serve as decorative elements in your room. Here's how:
Bold and Decorative Rods

Layering and Valances

Tiebacks and Holdbacks
Consider reading -