Vastu colors and home directions based on Vastu Shastra do not just provide the perfect palette but much more to your kitchen. Their colors open your mids, calm your thoughts, and make you feel better. You should know the best colors for your kitchen to bring positive energy and give a warm and happy space for your family.      
Food is revered in the Indian household as many sayings are related to food only. So the place where you are cooking needs to have perfection in its structure and coloring. According to Vastu. A kitchen not having the proper color can cause financial stress and other issues. 
Vastu shastra colors for Kitchen 
Colors ad to the desired vatu energies you need for your home. They also bring positivity and create balance. The colors of the kitchen interiors like slabs, paint walls, etc, have an impact on the members of the family. Let us have an insight into the colors advised by Vastu for your kitchen. 
Orange color brings a sense of optimism and healthy relationships to your home. This goes with the optimal kitchen direction as per Vastu which is south-east. 
So, a saffron orange tinge gives a hint of power and courage, and a muted orange tone channels energy and stimulation. 
White gives a sense of purity and positivity. It also oozes cleanliness and light. A functional kitchen should have white for its kitchen color as per Vastu. 
It disseminates positive vibes throughout the home and you can also use it for floors. The kitchen should face the northwest direction as per Vastu for this color to work. 
Consider green before you finalize the color of your kitchen as per Vastu. It symbolizes hope and harmony.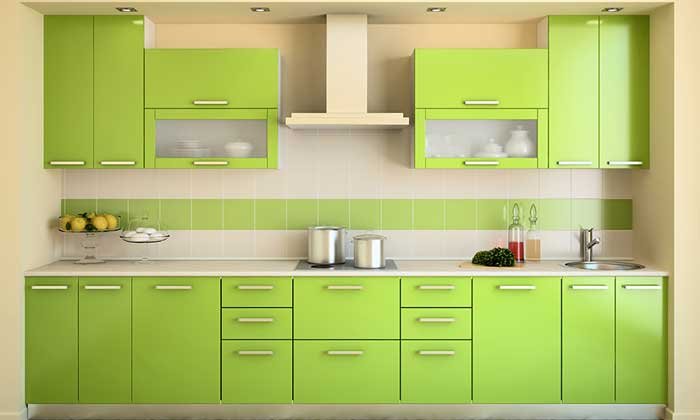 It is also a representation of nature which gives a soothing vibe to your beautiful kitchen. You can also use green by way of other elements such as green Feng shui which encourages proper digestion. 

When in doubt, Yellow it out! According to Vastu, yellow exerts freshness and happiness in the home. So you can be sure that there will be no lack of positivity in your house. 
It works well in the kitchen which does not have access to direct sun rays. It mimics the rays of the sun without reflection of the same and does not lead to harsh illumination. So you can include this no in your kitchen safely. 
Also, Know About:- Color on Open Shelves: Appealing Kitchen Visuals

Pink and peach color for kitchen
Pink is the color of love which invokes in us similar feelings in kitchens of happy houses where all the family members gather for a fun time and warm conversations. 
So you can add this hue to your kitchen as it brings positivity and love to your house. Pink s made from two beautiful colors red and white, which are important colors for Vastu. White signifies purity and red fire.
Chocolate brown color for kitchen
Chocolate brown is not a very common choice in choosing colors for the kitchen. However, this color is perfect for your kitchen according to Vastu shastra.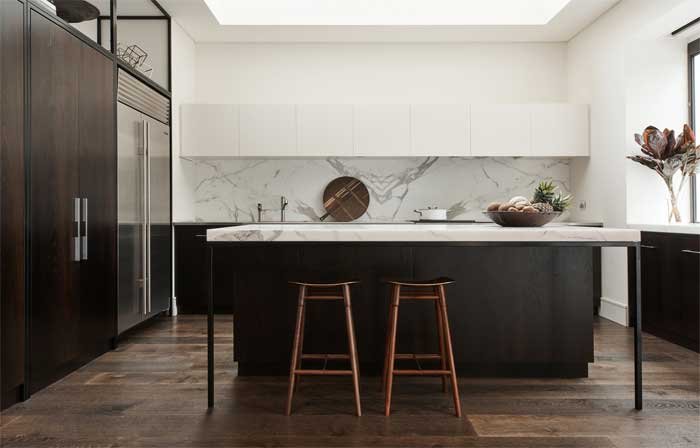 It has the qualities of warmth and contentment. So a southwest-facing kitchen can have this color and it also complements other kitchen designs.
Metallic Hues color for kitchen
Metallic elements indue positivity, calmness, and clear thoughts. You can introduce thee hues to faucets, handles of drawers, and other appliances. 
Materials like stainless steel and brass are a great choice for this. Metal also complements the granite, wood, and marble work in your kitchen. 
Most Popular Vastu colors for kitchen 
Green:

it is trending as it is associated with nature and brings peace. You can go for mint or sage whichever suits you.

Two-tone:

Now these kitchens look super modern. You can include the colors like light pink and green, orange and white, and yellow ad brown for your kitchen. You can also use grey and muted green and bright orange and white. 

Natural:

Colors like wood colors, white, cream, ad pale grey are the best choices in this arena. Use

patterned tiles with designs

and shading. Use subtle brown and blush pinks too

.
White:

This can be used for the ceiling. It creates balance as opposed to

dark-colored ceilings

or beams which are said to bring bad luck

. 
Textures:

Unique textures of marble and granite are usable for floor coverings and backsplash. Countertops can be beige and green. 
Platform colors according to Vastu shastra 
Vastu plays should be considered before deciding upon the color of our kitchen slabs and platforms in addition to the walls. Your kitchen platform should have elements of granite or quartz according to Vastu shastra. The choice of colors for these platforms can be green, orange, and yellow.     
A Vastu-friendly kitchen induces good health and affluence. You should always o for natural colors. Avoid black granite and replace it with green, orange or yellow. Of your kitchen faces eat, you can go for brown slab too. For south and southeast-facing kitchens, you can use brown or maroon slab colors. For the west, you can go for a grey or yellow slab. 
Avoid these colors as per Vastu for kitchen
As we have discussed above, inculcating these colors can bring positive vibes to your home as per Vastu. The best colors have been discussed above in the blog, however, there are some hazardous colors that you should definitely avoid. These are black, grey, and blue. 
Colors impact the minds of the family members so you know that they are quite important. Dark and bright colors can disturb the energy in your home. Color imbalance can also be harmful. A black wall is considered depressing and dark blue is considered unstable. 
Conclusion 
 As discussed above, we have shown you the best Vastu shastra for home. You can use these for setting up your kitchen in the perfect way to avoid all sorts of mishappenings ad physical and financial losses. These ideas are a guide to have which enhances modernity and also maintains balance among the family members of the house. Do check these ideas out and use the various color combinations in the accordance with the house directions that have been mentioned above