A stacked stone fireplace is a great installation for your home if you want to add something fresh to your home decor for your house. Whether it's a conventional living room or a contemporary bedroom, these fireplace ideas may give a good look and a luxurious feel to your house.
We'll look at several stacked stone fireplace design ideas that you may utilize to remodel your house.
Stacked Stone Fireplace Designs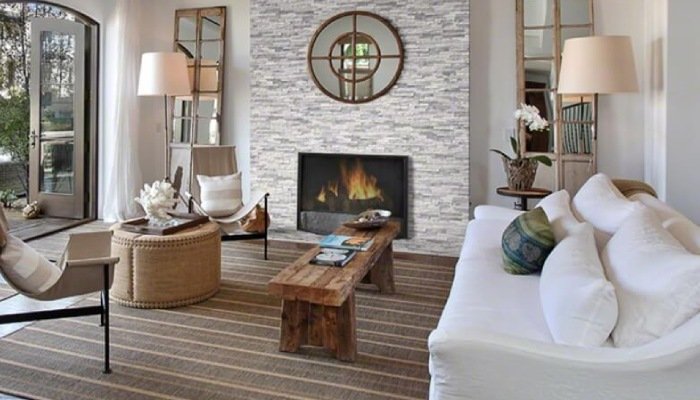 For a Natural appearance, stones are layered on top of one another in a stacked stone fireplace design. The stones come in a range of colors and sizes and may be genuine or fake. Here are some uses for stacked stone fireplaces that you may like:
Rustic Charm
If you wonder what a stacked stone fireplace is, It is a fireplace built of natural stones that have been put on top of one another to give it a stunning and great appearance. These stones' varied textures and colors give the fireplace a cozy, welcoming atmosphere.
You will love this if you are a person who spends time outside or in nature. This form of fireplace uses natural stones, which were not created by people.
They have a unique appeal that cannot be compared to anything created by man since they were produced over thousands of years by nature. By adding this Fireplace, it is possible to enter your home with a warm feel!
A stacked stone fireplace adds warmth to any room in your house. You can relax by enjoying the Warmth of it. It will be useful to spend time with friends and family if they come over.
Therefore, think about installing a stacked stone fireplace if you want to bring a little bit of nature inside. It's a lovely feature that will give your house a homely and lodge-like atmosphere.
May you also like to know: Koi Pond Design Ideas to Transform Your Backyard
Modern Elegance
A stacked stone fireplace doesn't simply belong in a lodge or comfortable cottage. It can also give a great look to your house with a touch of class! You should select smooth, dark stones with clear lines if you want to add a stacked stone fireplace. 
The fireplace will seem tidy as a result. The space will also get elegance from the dark stones. A modern stacked stone fireplace is both pleasing and useful. It may warm the space up, which is particularly good during the chilly winter evenings. 
Yet even when not in use, it may serve as a good-looking centerpiece for your home. Thus, install a stacked stone fireplace if you want to add class and refinement to your house. It's a lovely and useful addition that will make your house seem cozy and more welcoming.
Focal Point
Having a stacked stone fireplace at your home make create a center of attraction, so you can utilize it as the focal point of your living room or bedroom and decorate around it with items that go well with it.
Stone Veneer Fireplace
A stone veneer fireplace could be an excellent choice if you don't want to spend your time and energy installing actual stone. Stone veneer is lightweight, cost-effective, and can create the appearance of genuine stone without the expensive price. These are some designs for stone veneer fireplaces: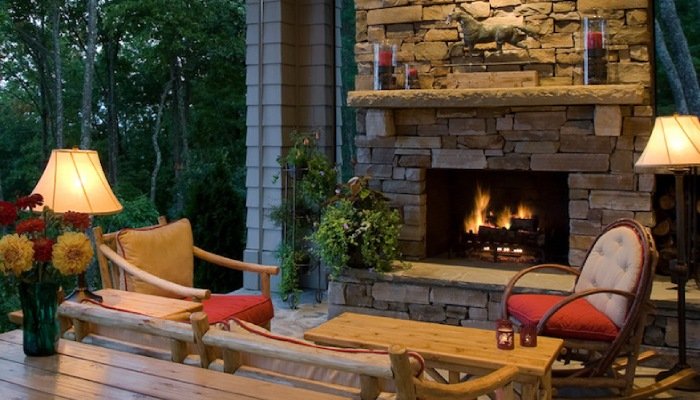 Simple Elegance
A fireplace with stone veneer may be just as real as one with actual stone. It gives a clean and timeless look. so, you can install a stone veneer if you want a simple and real look.
Color Pop
On the other hand, a stone veneer fireplace gives you a bright look and if someone visits your home it might create a great impression.
Easy Installation
It is very easy to install, and this feature makes the Stone Veneer Fireplace a special one.
You may also read: 20 Best Floating Shelves Decor Ideas
Faux Stone Fireplace
A faux stone fireplace can be the best choice if you're searching for something even more cost-effective. Although faux stone is constructed of foam or plastic, it may imitate the appearance of natural stone. These are some benefits of fireplaces made of faux stone:
Budget-Friendly
This is an affordable Stone fireplace that helps you in without spending a lot of money and can give you a beautiful fireplace.
Flexible Design
You may construct a fireplace with faux stone since it is available in a wide range of colors and textures. 
Low Maintenance
For people who are busy, faux stone is an excellent alternative since it requires less care. The stones won't need to be cleaned, and they'll maintain their excellent appearance for many years.
Outdoor Stone Fireplace
If you're fortunate enough to have a balcony or other outdoor living area, a stone fireplace might be a great addition to your place. Here are some uses for outdoor stone fireplaces 
Comfortable atmosphere
A cozy atmosphere may be created by an outdoor stone fireplace that is ideal for gathering with friends or spending a peaceful evening at home. You can create a welcoming ambiance by using natural stone.
May you should also know: Your Ultimate Guide to Kitchen Bar Designs and Layouts
Cooking Station
A stone fireplace outside may use as a cooking area. Use the fire to prepare dishes that you can consume in your outdoor living area either with your friends or with your family.
Why it is important to Consider this Article before buying a stacked stone Fireplace for your house:
Here you Learn

about many possibilities for stone

, including stone veneer, artificial stone, outdoor stone, and more.

You can Obtain ideas for your subsequent home

renovation thorough explanations

and images from here.

You can recognize the benefits of having a stone fireplace surround, such as improved visual appeal and a comfy look.

You can Discover fireplace stone selections and dark stone fireplace alternatives to give your house a new look.

You can find this

article both interesting and instructive

and can get a clarity on suitable Fireplace for your home.

You can get a better knowledge of how to choose a suitable Fireplace for your home.
To Conclude, if you are thinking about installing a Stone Fireplace in your home, this article will help you by considering it before buying one.
Consider reading:-