In a world that's constantly evolving, our living spaces are being redefined to adapt to our changing needs.
As remote work becomes more prevalent and the demand for creative solutions to space constraints rises, the concept of transforming small corners into functional workspace has gained significant traction.
Enter the realm of closet offices and office nooks, where ingenuity meets efficiency to create personalised havens of productivity.
This comprehensive guide is your key to unlocking the potential of small spaces through the lens of closet offices and office nooks. 
So, if you're ready to embark on a journey of space transformation, creativity, and adaptability, read on. Discover how to turn even the smallest spaces into dynamic realms of inspiration and productivity with the transformation magic of closet offices and office nooks.
The Rise of Compact Workspace: Embracing Closet Offices and Office Nooks
The idea of conventional workplace spaces has been redefined in an ever-evolving environment where flexibility and adaptation have become crucial.
Closet offices and office nooks are emerging as cutting-edge ways to incorporate work functionality into the home environment as a result of the development of remote work, urban living, and effective space management.
Closet Offices: Turning the Common into the Useful
Dedicated work spaces for professional duties are being created out of closets by converting them into effective workstations. This novel strategy makes the most of the available area, encouraging concentration and production.
You should also read: Dussehra rangoli
Office Nooks: Creating Quiet Spots for Productivity
Office nooks are compact offices that are integrated into home designs and offer a sense of intimacy and privacy. 
The Benefits of Compact Work-spaces
Efficiency

Flexibility

Minimal Disruption

Personification

Enhanced Work-Life Balance

Inspired Creativity
Making the Most of Your Closet: Creating a Functional Closet Office
Finding practical solutions to set up a home office is crucial as the boundaries between business and personal life become hazier.
This section investigates the process of converting closets into useful work-spaces, concentrating on essential components to optimise your closet's potential as a useful and motivating workstation.
Getting Rid of Clutter and Increasing Storage:
Start by clearing and organising a tidy closet office. To make the most of your space and maintain organisation of your office supplies, use storage options like shelves, containers, and organisers.
May you also like to read: Office chair design
Selecting the Proper Desk and Chairs:
For small workstations, choose the appropriate desk and seating, such as fold-down, corner, or wall-mounted desks, and match them with ergonomic chairs for support and comfort. Make sure the desk's size and design correspond with the closet's dimensions.
Lighting and ergonomics optimisation
An ergonomically sound workplace must have good lighting. To reduce eye strain, use task lighting, such as adjustable lamps or under-cabinet illumination. For a comfortable posture, adjust your keyboard, chair, and workstation.
Individualisation and Inspiring:
Makeover your closet into an office with unique additions that encourage motivation and creativity. Include vision boards, art, quotes, and decor that speaks to your sense of style. For a special workspace, incorporate little plants or natural accents.
Dual-Purpose Design: Integrating Closet Offices and Nooks into Any Room
Modern living rooms frequently incorporate dual-purpose design, which combines functionality and beauty. It entails incorporating office nooks and closet offices into different spaces to increase their functionality and aesthetic appeal.
These little workplaces can be easily incorporated into other rooms of the house, increasing their functionality and aesthetic appeal.
Combinations for living rooms: Incorporating a closet office into the living area can strike a balance between work and play and foster harmony. Consider hidden workstation options like wall-mounted or fold-away desks to provide a smooth transition from work to play.
Also like to read: Office interior design
Blends for bedrooms: You may create a practical and relaxing workspace in your bedroom by adding a closet office or office nook, which will also improve privacy and tranquillity. For the best relaxation, it's essential to keep the working and sleeping spaces separate.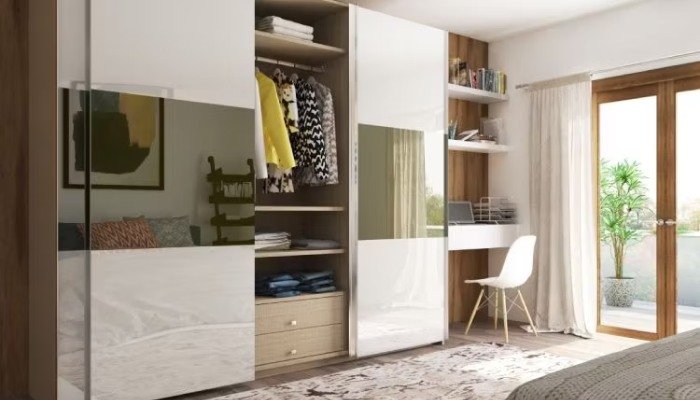 Kitchen Relationships: Your kitchen's functionality can be improved by incorporating a closet office or office nook, allowing you to manage domestic chores, bills, and recipe planning while also concentrating on cooking or homework.
Small Space, Big Impact: Inspirational Closet Office and Nook Designs
Innovative ways to turn small rooms into elegant and practical work-spaces include closet offices and office nooks. The productivity and use of space can both be dramatically impacted by these small workstations.
A unique visual and practical appeal can be achieved by seamlessly integrating several design aesthetics.
Styles that are minimal and monochromatic:
The minimalist design aesthetic places an emphasis on simple shapes, clear surfaces, and basic components. A quiet, concentrated work environment is created by using neutral colours, modern furniture, and a well chosen set of tools. 
This minimalist design ethos is supported with wall-mounted desks and concealed storage spaces.
Read about: Office wall color
Warm and Rustic Aesthetics:
A pleasant workstation is produced by rustic designs that use natural textures and materials like recycled wood and woven linens. An inviting atmosphere is created by using warm colour tones and antique furnishings. 
This design creates a haven-like sanctuary inside the home by fusing functionality with nostalgia.
Contemporary and Sleek Methods:
Closet offices have modern architecture with clean lines, geometric shapes, and modern materials. A balanced aesthetic appeal is produced by using ergonomic furniture and neutral colour schemes. 
Ergonomic seating, metal accents, and glass-top desks combine to create a dynamic work environment that encourages productivity and forward-thinking.
A World of Possibilities: Tailoring Your Closet Office or Nook to Your Workflow
The appeal of small workstations is found in their adaptability. It's crucial to plan the area to meet your unique workflow, whether you're creating a closet office or an office nook.
This section explores the countless opportunities that arise from matching your workstation to your everyday activities and routines.
Essentials for the Home Office and Organisational Advice:
To design an effective workspace, it is essential to comprehend your needs. Storage options, ergonomic chairs, and good lighting are needed.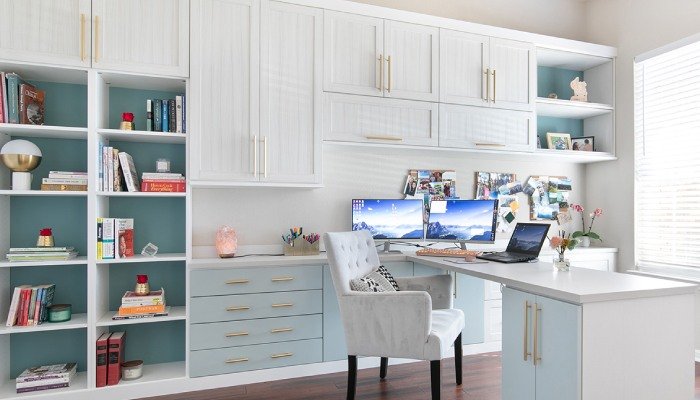 A neat and productive atmosphere can be maintained with the help of organisation tricks like cable management systems and drawer dividers.
Adapting Technology Effortlessly:
Technology is at the core of our daily work routines in the digital age. Learn how to incorporate technology into your closet office to improve its look and use.
Cable management, charging stations, and clever workstation solutions like monitor mounting and printer stations are examples of strategies.
Creating a Motivating Work Environment:
A motivating and inspiring workspace should include features like colour psychology, vision boards, inspirational art, and plants. The workplace can become more inspiring and motivating with personification because it can increase energy and concentration.
Consider reading: